Fuzz and I are back from our excellent adventure. Yesterday afternoon we drove to a nearby town and worked as "extras" on a TV show. It was loads of fun, but we didn't finish until midnight so we checked into a Holiday Inn Express. In the commercials, people who stay at a Holiday Inn Express wake up with an amazing new skill. I kept hoping that would happen to me, but all I woke up with was a craving for banana bread.
This banana bread must be fool-proof because reviewers made a lot of changes and still gave it good reviews. My only adjustment was to mix the sift the ingredients first and add some pecans. The end result was a perfectly good banana bread that doesn't taste or feel low in fat. It's moist, has chewy edges, and doesn't have that oily/greasiness you get in some full fat banana breads. But what I really liked was the flavor from the vanilla, buttermilk and bananas. Some of the Epicurious reviewers thought it wasn't banana-y enough, but what do they know? They didn't stay at a Holiday Inn Express last night.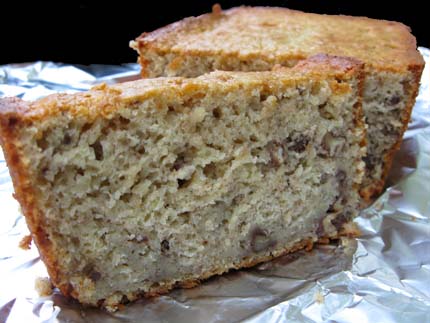 Low Fat Banana Bread (adapted from Epicurious)
1 3/4 cups flour (7.7 ounces)
2 teaspoons baking powder
1/2 teaspoon baking soda
1/2 teaspoon salt
2 large eggs
3/4 cup granulated sugar
3 ripe bananas — 1 cup smashed or pureed in processor
1/3 cup buttermilk
1 tablespoon vegetable oil (generous)
1 tablespoon vanilla extract
Preheat oven to 325°F. Spray a 9×5 inch metal loaf pan with flour-added cooking spray.
Sift together flour, baking powder, baking soda and salt; set aside.
Beat eggs and sugar with an electric mixer until fluffy and light (about 5 minutes). Mix in smashed bananas, buttermilk, oil and vanilla. Add flour mixture to banana mixture and stir just until blended. Transfer batter to prepared pan.
Bake bread until golden brown on top and tester inserted into center comes out clean, about 1 hour. Turn bread out onto rack and cool.
Makes 1 loaf.
Related posts: