If you're a grain-free baker or just watching gluten, here's a terrific recipe for banana bread made with cassava flour. It's a moist, sweet, banana loaf that is perfect for breakfast and sweet enough for dessert. You can make a full 8 ½ by 4 ½ loaf with 3 bananas, or use 1 banana and make a small loaf. My dog HAL and I (and sometimes Emma) are the only ones who eat banana bread, so I made the small loaf. Recipe is for the regular size.
Jump to Recipe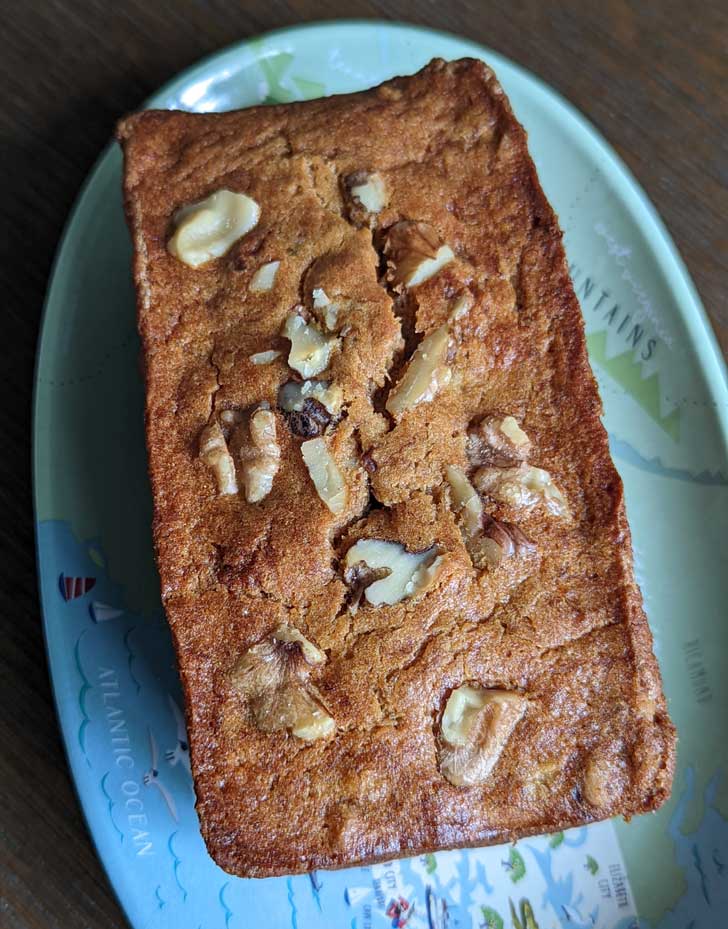 100% Yuca Flour
I've been trying to nail down some food sensitvities lately and baking with wheat flour alternatives. One minor challenge is that most gluten-free flours are blends, so if a gluten-free baked good causes problems, it could be because of just one ingredient in the blend -- maybe the potato starch? Maybe the buckwheat? Not that this has stopped me from using blends, but there's definitely an advantage to baking with one-ingredient flours like cassava, and I'm having fun baking my way through a bag of it.
So What is Cassava Flour?
Cassava is also known as yuca. It's a root vegetable grown all over South America and the Caribbean where it's used in many native dishes. It is not safe to eat raw cassava, so the root is often sliced, boiled, dried and ground into flour. The word cassava is sometimes used interchangeably with tapioca, which also comes from the yuca plant. The difference between tapioca and cassava is that tapioca is a starch extracted from the root of the yuca, while cassava flour is the ground whole root.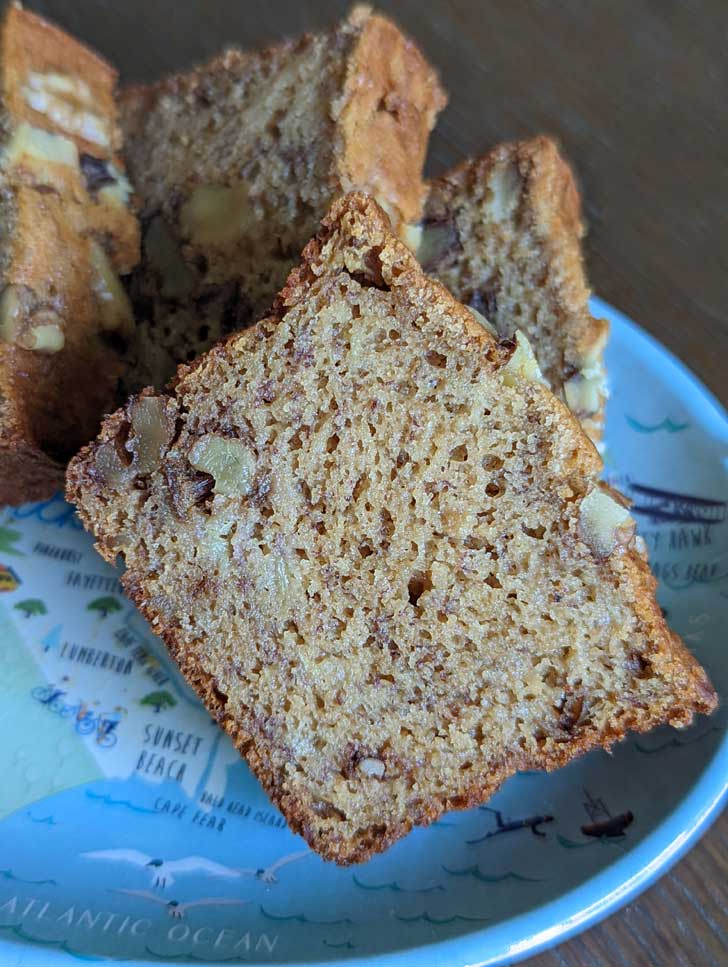 Otto's Cassava Flour Banana Bread
I use Otto's brand cassava flour, which advertises itself as 100% yuca. Otto's can used as a 1:1 wheat flour substitute in many recipes, though I admit I've mostly been using recipes from Otto's and haven't experimented much. So far I've made biscotti, brownies, this cassava flour banana bread and even a French baguette. Of them all, i think the banana bread was the one that tasted most like a wheat flour baked good. The French bread was definitely not like a traditional baguette (though very tasty) and the brownies were delicious, but had a strong coconut sugar flavor.
Recipe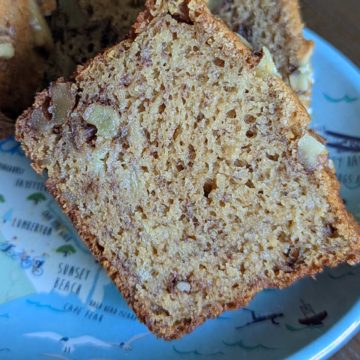 Cassava Flour Banana Bread
A really good banana bread made with cassava flour in place of wheat flour.
Ingredients 
1

cup

cassava flour (otto's brand)

1 ½

teaspoon

baking powder

½

teaspoon

baking soda

½

teaspoon

salt

3

large

bananas

(350 grams)

¾

cup

coconut sugar

(95 grams)

½

cup

oil or melted pasture butter

(120 grams)

3

large

eggs

1

teaspoon

vanilla extract

⅔

cup

chopped walnuts
Instructions 
Preheat oven to 350 degrees F. Grease and flour with cassava flour) an 8 ½ by 4 ½ inch loaf pan.

Whisk together cassava flour, baking powder, baking soda and salt. Set aside.

In a mixing bowl, mash the bananas. Beat in the coconut sugar, eggs, oil (or butter) and vanilla. Mix well.

Add flour mixture to banana mixture and stir until combined. Fold in nuts.

Pour into loaf pan. Bake at 350° for 45 to 55 minutes or until golden brown.