I found this cake Saturday night while going through a 1997 Better Homes & Gardens. At first I thought it was a chocolate cheesecake recipe, but the introduction to the recipe said it was a much-requested chocolate layer cake recipe from a 1975 issue of BHG. I hadn't heard of it, so I did some research and found that the popular BHG cake was actually a spin on an old 1951 Bake-Off cake called Peppermint Double Delight; a recipe made interesting by the technique. You first make a cream cheese mixture, scoop that out to use as the frosting, then use the rest of the "frosting" as part of the cake batter. The Bake-Off cake was called Peppermint Double Delight. Along with the addition of mint, it was two layers and had slightly different proportions. I decided to try BHG's cake first.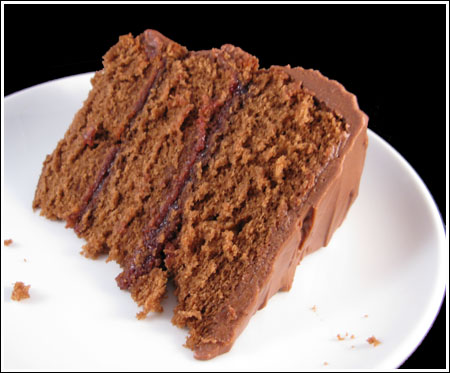 Since I made a few minor changes, I re-typed the recipe as I made it but you can find the original recipe here.
If you want to stick with Pillsbury's cake, the slightly smaller mint version of the cake is here.
As for my cake, it was very good. It wasn't as chocolaty as some other cakes and it took a while for the flavors to meld, but after it sat on the counter for a while (frosted), it absorbed a little more moisture and was even better. About the raspberry filling, at first I thought I'd leave it off because no one in the family cares much for jelly or preserves in cake, but I found a high end brand and told everyone it was pureed raspberries so they didn't mind.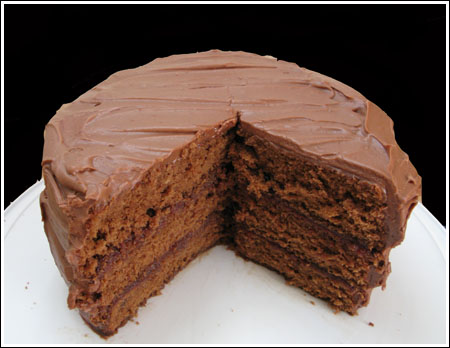 Chocolate Cream Cheese Cake
2 1/2 cups all purpose flour (11.25 oz)
1 1/2 teaspoon baking powder
1/2 teaspoon baking soda
1 teaspoon salt
8 oz cream cheese, softened
11 tablespoons unsalted butter, softened
1 teaspoon vanilla
8 cups sifted powdered sugar (1 3/4 pounds) plus an extra cup optional**
1 1/3 cup whole milk, divided use
5 oz unsweetened chocolate, melted and cooled
3 large eggs, room temperature
1/2 cup seedless raspberry preserves or cherry pie filling
Preheat oven to 350 degrees.
Spray three 8 or 9 inch round cake pans with flour-added cooking spray. I used 8 inch pans, but my cake was freakishly tall, so I recommend using 9 inch.
Combine the flour, baking powder, soda and salt; stir well to distribute leavenings and salt; set aside.
Beat cream cheese, butter and vanilla together in a large mixing bowl using high speed of electric mixer. Beat in the powdered sugar alternately with 1/3 cup of the milk. Stir in the melted chocolate. Measure out 2 cups of chocolate mixture (or weigh out 1 pound) and set it aside in another bowl. This will be used for frosting the cake. Keep it chilled while you bake the cake.
To remaining chocolate mixture, add eggs one at a time, beating well after each egg. Using lowest speed of mixer or with a mixing spoon (I used a spoon) add about a third of the flour mixture and stir until mixed in. Add some of the milk and stir, then repeat, adding flour mixture and milk alternately until mixed.
Pour batter into prepared pans and bake for 25 to 30 minutes. If you are using 9 inch pans, you'll want to go with the lower number, but if you are using 8 inch pans you'll need 30 minutes. Cook until a wooden skewer or toothpick inserted comes out clean. Cool in pan 10 minutes.
Remove and cool on racks. Remove frosting from refrigerator 15 minutes before frosting cake. Whip the frosting with a hand-held mixer. At this point, you can add 1 cup of additional powdered sugar if you feel it needs it or you can add in the following: 1/2 cup powdered sugar and 2 tablespoons sour cream. This will give you enough frosting to ice the sides of the cake, but it's not quite enough to ice the middle.
Spread raspberry preserves or pie filling between cake layers and stack. Spread chocolate frosting over top and sides.
NOTES
–Make sure not to use more than 11.25 oz of flour because that was plenty. If you don't have a scale, spoon and sweep the flour without shaking the cup.
– The original BHG recipe called for only ¼ teaspoon of salt but the Pillsbury recipe called for 1 teaspoon. I used 1 teaspoon. If using salted butter or margarine, you should probably use ½ teaspoon.
– Sifting the confectioners' sugar is important because it gives you the right amount in volume. If you don't sift, weigh out 1 ¾ pounds. But it's probably best to sift.
–The reserved 2 cups of icing is barely enough to ice the cake, and BHG advised that you add 1-2 cups of powdered sugar to that before icing. In my opinion, that would have
Related posts: