I found this cake Saturday night while going through a 1997 Better Homes & Gardens. At first I thought it was a chocolate cheesecake recipe, but the introduction to the recipe said it was a much-requested chocolate layer cake recipe from a 1975 issue of BHG. I hadn't heard of it, so I did some research and found that the popular BHG cake was actually a spin on an old 1951 Bake-Off cake called Peppermint Double Delight -- a recipe with an interesting technique. You first make a cream cheese mixture, scoop that out to use as the frosting, then use the rest of the "frosting" as part of the cake batter.
Since mint is not my all-time favorite flavor, I decided to try the original Better Homes and Gardens version of the cake recipe. Update: Link no longer works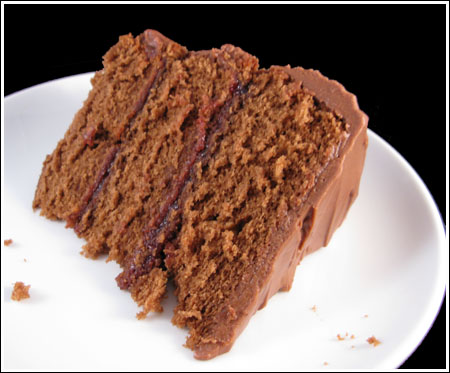 Since the link to the BHG cake doesn't work, here's the mint version of the cake.
Old Notes on Cream Cheese Chocolate Cakes
As for my cake, it was very good. It wasn't as chocolaty as some other cakes and it took a while for the flavors to meld, but after it sat on the counter for a while (frosted), it absorbed a little more moisture and was even better.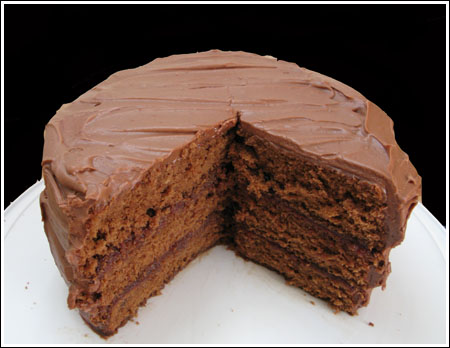 This cake is kind of confusing. It's a novelty cake in that you use a portion of the batter (before egg and flour are added) as frosting, but I think this technique makes the cake less accurate. Particularly, the measuring by volume of the icing that goes into the cake batter and the measurement for the confectioners' sugar. My old notes are so wordy and confusing I had to read them 3 times.
I'd probably just scrap this recipe, but since Nadia made it and left a comment with tips, I'm going to try again. It was a pretty good cake after all and fun to make. It's just that there are so many great chocolate cake out there I want to go with one that is really great. Then again, this one has received prices so....
Old Notes. Blah, blah, blah,
For instance, the end of step one says "Reserve 3-½ cups of the mixture to use in the cake; set aside." and then the beginning of Step 2 says "To the remaining mixture (you should have 2 to 3 cups mixture), beat in enough of the additional 1 to 2 cups sifted powdered sugar to make of spreading consistency. Cover and refrigerate the frosting." I don't think the recipe will be the same for everyone because measuring out exactly 3 ½ cups of batter is tricky. It would be better if the recipe said to "weigh out XXX ounces or grams of batter to use in the cake" and then you'd be using the perfect amount for the cake batter since weight is so much accurate that volume. But this is an old recipe so it makes sense that there would not be a weight.
Another thing which gives this cake a high margin of error is that it has 9 ½ cups of sifted confectioners' sugar. Like flour, the weight per volume of confectioners' sugar can vary. Volume is not that accurate, while a weight would be. Since there's not weight on the confectioner's sugar, it's easy to use too much or too little. That being said, the cake worked for me and we enjoyed it. So bake at your own risk and let me know what you think!
A few notes to go with the original recipe
- If using unsalted butter, add about ½ teaspoon of extra salt plus a pinch to make up for the salt missing in the butter. The original was made with salted butter.
- Measure the flour very carefully. My 2 ½ cups of flour weighed 11.3 oz. If you don't have a scale, stir the flour and aerate it before measuring.
- Make sure to sift the confectioners' sugar before measuring since the original recipe calls for sifted confectioners sugar. If you use volume measurements and do not sift, you'll be using way too much sugar. Sifted confectioners' sugar takes up more room in a cup, therefore you need more of it (as in this recipe).