I didn't come around to fresh beet cake until I accepted two things. First, it doesn't have to be a substitute for Red Velvet. Second, it tastes like beets, and that's okay. If you (also) grew up eating Red Velvet Cake with red dye, buttermilk, vinegar and cocoa, you have to go into beet cake with an open mind. It is its own thing.
Jump to Recipe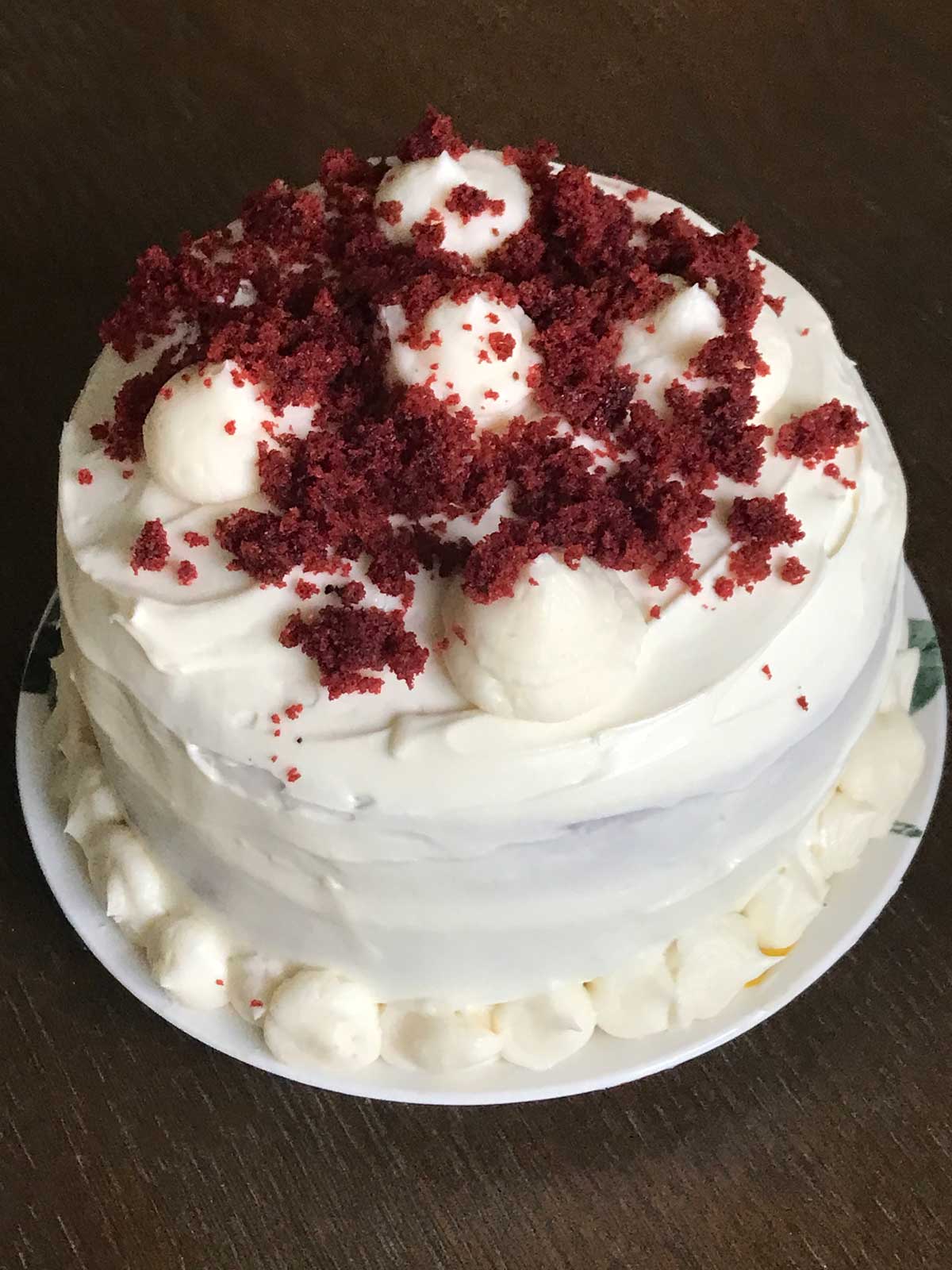 Years ago I tried to make a red beet cake and was not impressed. The color was a pinkish purple and it barely any flavor. I tried it again with another recipe that was delicious, but tasted like chocolate cake. Not a bad thing, but I'd been hoping for red. I was just never satisfied with the color, texture and flavor until I tried this one, which is a spinoff of a cupcake recipe from Southern Living. And I've already made it twice!
Fresh Beet Cake Flavor and Texture
It's flavor is something like beets, chocolate, buttermilk and a punch of lemon, with the lemon being key. I will say that the beet flavor settles down by the second day. Or maybe I just got used to it. The texture is wonderful thanks to the cooked, pureed beets which provide moisture and softness. And no doubt the cream cheese icing helps. I probably wouldn't even make this with anything other than a tart cream cheese or maybe lemon icing. Save the Ermine for actual Red Velvet.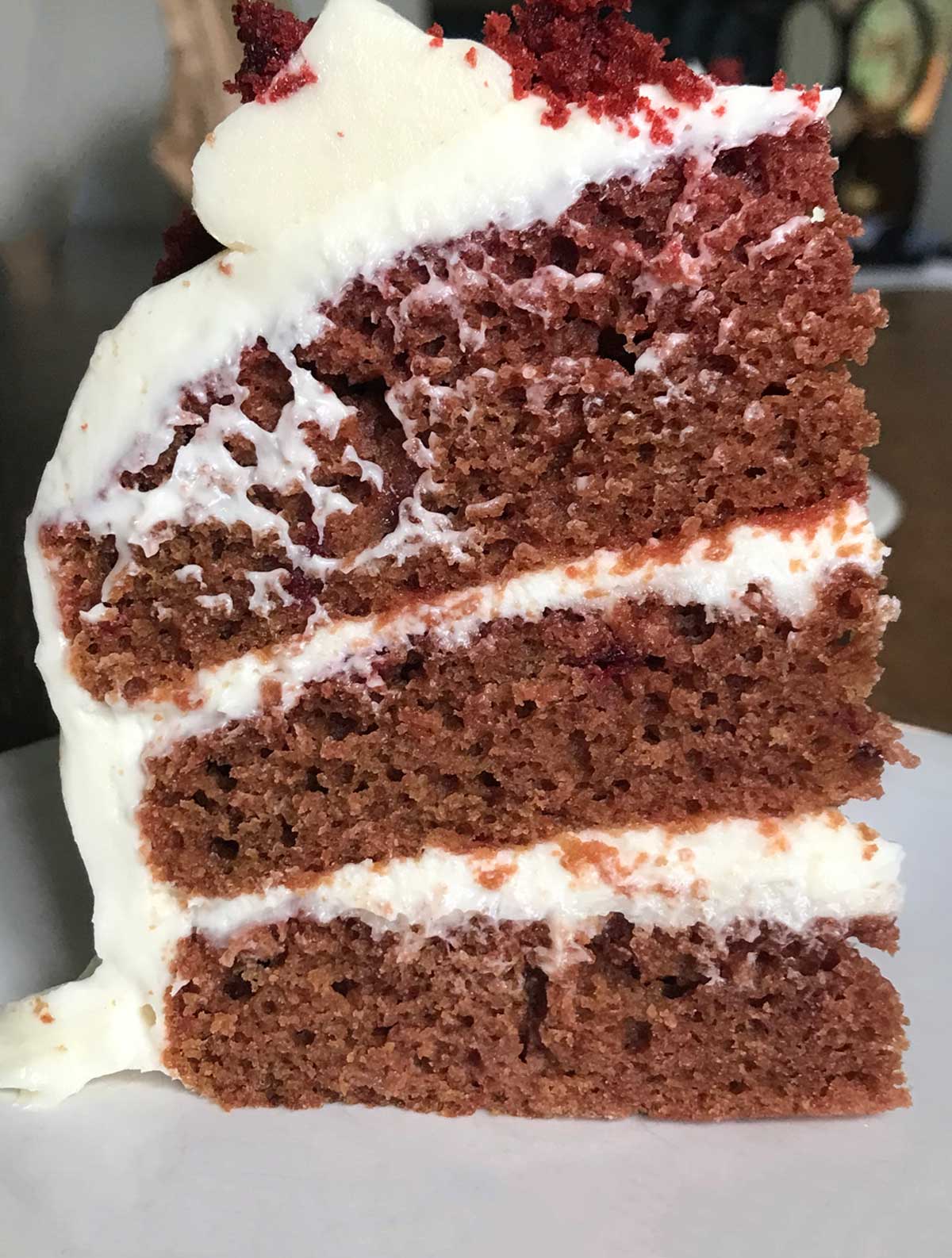 Cooking The Fresh Beets
You can cook the fresh beets using your favorite method. If you've never done it in the microwave, there are tutorials on how to do it. However, I find it just as easy to boil them whole (or halved, if extra large). It takes 30 to 40 minutes depending on how strong a simmer and the size of your beets, but you don't have to babysit or turn them. Once cooked, you drain the red water, let cool, then peel, puree and strain again. The straining just rids the beets of excess juice which helps prevent the cake from having a steamed texture.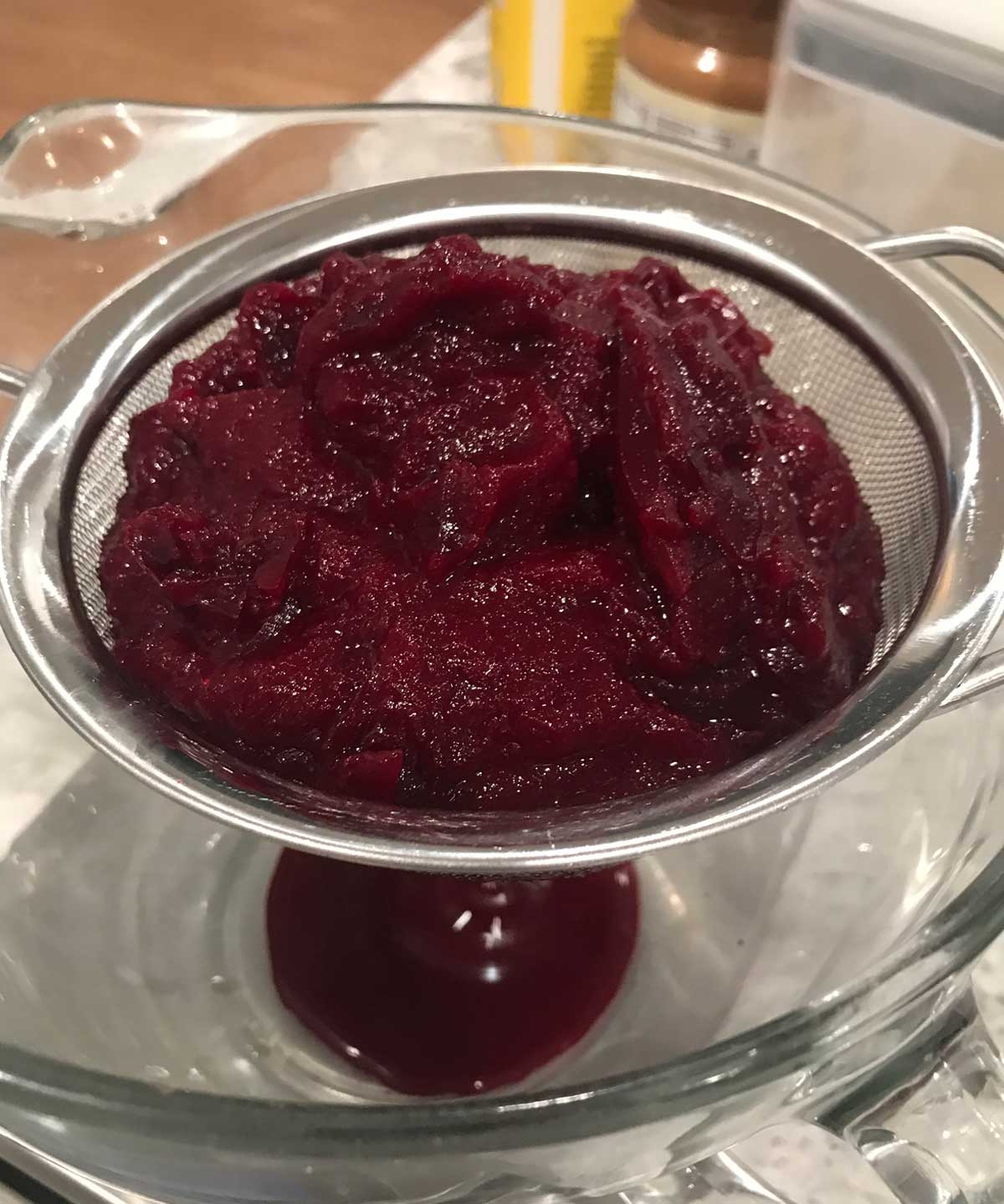 Weight of Fresh Beets When Cooked
Anyhow, since I cooked the beets ahead of time I took some weights. My 8 oz beet cooked down to about 6.2 oz, so it lost about 23% of its weight from cooking. Once extra steam evaporated and the peel was removed, it was about 6 oz. After being pureed, scraped from the machine and drained, there were 5 oz. So if a beet cake recipe starts with 1 pound of fresh beets, you may end up with as little as 10 oz cooked, pureed and drained beets. For this recipe, the final weight of the pureed beets should be about 5 oz. To make sure you have at least 5, you might want to start with 10 oz of beets rather than just 8. And who is to say a greater or lessor amount of beets wouldn't work? Maybe the cake would be even better.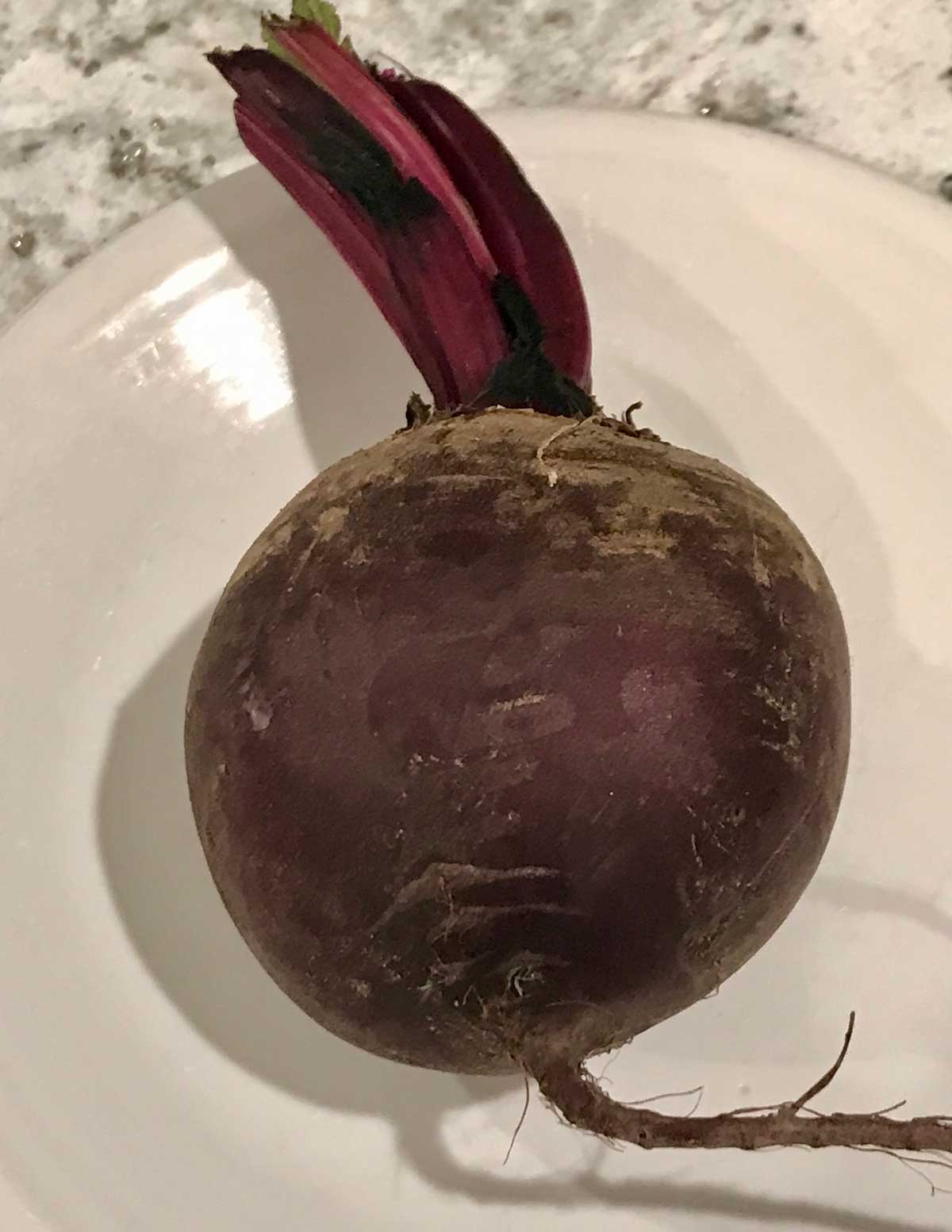 I said way more than I wanted to about cooking beets, but honestly that's the only cumbersome step of this recipe. From there it's smooth sailing all the way!
Pan Size
I adapted this from a cupcake recipe that was double this, so it will work if doubled. For us, a six-inch three layer cake was just right. I tested it again as two 8-inch layers. They were thin layers, but they baked up nicely. You could also do it as a one layer 8 or 9-inch square, but I think this cake might lose something as a thicker cake because the icing is a big part of what makes it so good. But if you are a real beet fan and like less-sweet cakes, you may like it as one thick layer. If making one layer, cut the icing recipe in half. Interestingly, my second cake came out much less red! All I did differently was add lemon zest and change the shape of the pan. The batter was red, but the cake was almost orange. Looks like I'll have to make it again to solve the color mystery.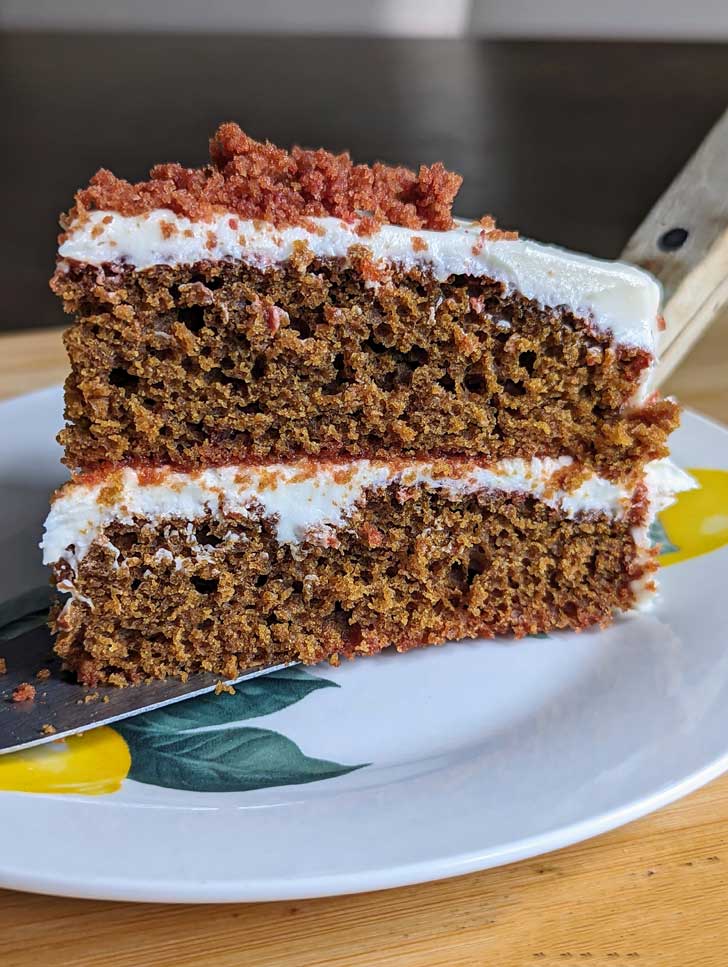 Cream Cheese Icing
This icing is not overly sweet and it does have a bit of lemon flavor. Because there's so much cream cheese the icing, it's best to keep it refrigerated until close to serving time. Also, you can use Neufchatel cheese rather than regular cream cheese. I almost never use Neufchatel, but I'd bought some on sale and was pleased with how it worked in the cream cheese icing.
Ingredient Rundown
Beets -- Haven't tested with canned beets because the fresh ones work so well, but I can see the appeal of canned. Still, even with canned you'll have to puree them so if you can get fresh beets you might as well just use fresh.
Lemon Juice -- Fresh on Nellie & Joe's in a pinch. It's pretty good for bottled.
Flour -- All-purpose, bleached or unbleached. Bleached flour might give you a slightly redder hue.
Cocoa Powder -- Natural, I have been using Navitas
Baking Powder -- Rumford
Baking Soda
Salt -- Morton kosher that measures like table salt
Eggs -- Large
Oil -- I use Wesson pure vegetable because it has a neutral flavor. Canola tends to develop an off flavor pretty quickly. It's fine, I just like Wesson.
Vanilla -- Kirkland
Buttermilk -- I've been using Bob's Red Mill powdered buttermilk mixed with water lately.
Cream Cheese --Been testing with Neufchatel because I bought some on sale.
Butter -- Unsalted, any brand
Powdered Sugar --
More vanilla, more lemon juice
Recipe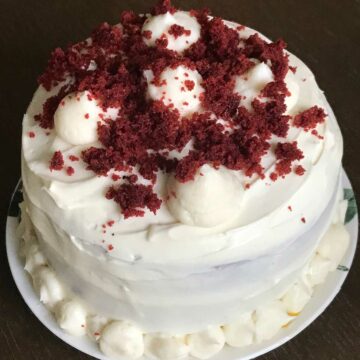 Fresh Beet Cake
A red three layer cake with cream cheese icing.
Ingredients 
8-10

ounces

fresh whole beets (one large or two medium)

5

teaspoons

fresh lemon juice

¾

teaspoon

lemon zest (optional)

1 ¼

cups

all-purpose flour

(160 grams)

1 ¼

cups

granulated sugar, scant

(235 grams)

1 ½

tablespoons

unsweetened cocoa, natural type

not Dutch process

1

teaspoon

baking powder

¼

teaspoon

baking soda

½

teaspoon

salt

2

large

eggs

6

tablespoons

neutral oil such as Wesson**

½

teaspoon

vanilla extract

6

tablespoons

buttermilk
Cream Cheese Frosting
12

oz

cream cheese, softened (Neufchatel works too)

(336 grams)

3

oz

unsalted butter, softenend

(84 grams)

2

cups

powdered sugar

(8 oz/225 grams)

1

teaspoon

vanilla extract

1

teaspoon

lemon juice
Instructions 
Cook the beets ahead of time. Cut the beets in half, boil until tender, then let cool and peel. Puree the cooked beets, then put the puree through a strainer and drain as much excess juice out as you can. You may have more, but for the cake you'll need 5 oz/140 grams of cooked beets. Stir the lemon juice and zest into the cooked beets.

Preheat oven to 350 degrees F. Grease and flour three 6-inch round cake pans or two 8-inch round pans.

Whisk together flour, sugar, cocoa, baking powder, baking soda and salt and set aside.

Put the eggs in the bowl of a stand mixer and begin beating with the whisk or paddle. Drizzle in the oil and beat until thick and lemon colored (about a minute). On low speed, beat in the pureed beets, vanilla, and buttermilk.

Add the flour mixture and stir by hand until blended, then beat on low for about a minute or until smooth and evenly blended.

Divide the batter between three greased and floured 6-inch cake pans (a little over 9 oz per pan). Bake at 350 degrees F. for about 22-25 minutes. The cakes should puff up a little. If baking in 8-inch pans, check at 20 minutes.

Let cool for 10 minutes in the pan, then loosen and invert onto a cooling rack.

When cake is cool, beat softened cream cheese and butter in the bowl of a stand mixer fitted with the whisk attachment or paddle. Gradually add powdered sugar, beating on low speed until blended and scraping bowl often and light and fluffy. Beat in vanilla and lemon juice.

Frost the cake and keep refrigerated until ready to serve.
Notes
I mostly use olive oil, but when I need a neutral oil Wesson oil seems to be the best (in my opinion). It also seems to stay fresher longer than canola.