Update: I'm keeping this recipe here for people to look at, but I've found a much better red wine cake.
This is a basic red wine cake modified from a recipe I found while looking for Red Wine Cakes.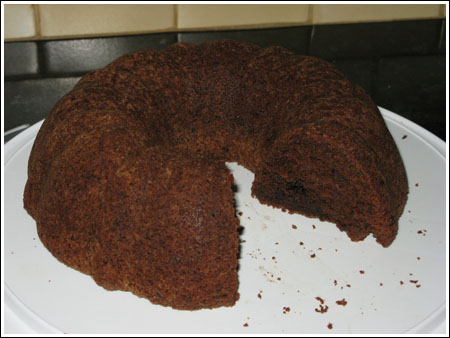 Red Wine Chocolate Bundt Cake
2 cups all-purpose flour (9 oz)
1 teaspoon baking powder
3/4 scant teaspoon salt
1/2 teaspoon cinnamon
1/4 teaspoon freshly ground nutmeg
3/4 cup unsweetened natural cocoa powder
8 oz unsalted butter, softened (2 sticks)
2 cups granulated sugar
1/4 cup vegetable oil
4 large eggs, room temperature
1/2 cup red wine
1/3 cup miniature semi-sweet chocolate chips
Powdered sugar for dusting (optional)
Preheat oven to 325 degrees F. Spray a 10 inch Bundt pan with flour-added cooking spray.
Stir together flour, baking powder, salt, cinnamon, nutmeg and cocoa powder; set aside.
Beat butter and sugar together in a large mixing bowl, using high speed of electric mixer, until fluffy. Beat in oil, then add eggs one at a time, beating well.
Add flour mixture to butter mixture gradually, alternating with wine. Stir in chips.
Pour into the bundt pan and bake for 50-55 minutes. Note: I used a black Bundt pan. If you are using a heavy lighter colored Bundt pan, bake at 350.
Cool on cooling rack for 10 minutes. Flip from pan and let cool completely before serving.
Related posts: