I've tried a lot of red wine cakes over the years and this Red Wine Chocolate Bundt Cake from Food and Wine is my favorite.
Not only is it delicious, but a great way to use up half a bottle of red wine. The recipe is especially handy when you buy a new wine that you like but don't love, because even if the wine is not your favorite, it will still taste good when baked into the cake.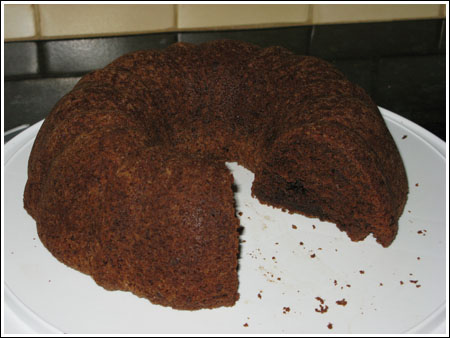 This cake is rich enough that you can dust it with powdered sugar and serve with whipped cream and fruit. However, if you'd rather throw a chocolate ganache on top, that works too!
Red Wine Chocolate Bundt Cake
2 cups all-purpose flour
3/4 cup unsweetened cocoa powder (not Dutch process)
1 1/4 teaspoons baking soda
1/2 teaspoon salt
2 sticks unsalted butter, softened
1 3/4 cups sugar
2 large eggs
1 teaspoon pure vanilla extract
1 1/4 cups dry red wine
Confectioner's sugar, for dusting
Whipped cream, for serving
Preheat oven to 325 degrees F. Spray a 10 inch (12 cup) Bundt pan with flour-added cooking spray or grease thoroughly and dust with flour.
Stir together flour, cocoa powder, baking powder and salt.
Beat butter and sugar together in a large mixing bowl, using high speed of electric mixer, until fluffy, then add eggs one at a time, beating well. Beat in vanilla.
Add flour mixture to butter mixture gradually, alternating with wine.
Pour into the pan and bake for 45 minutes. Note: I used a black Bundt pan. If you are using a heavy lighter colored Bundt pan, bake at 350.
Cool on cooling rack for 10 minutes. Flip from pan and let cool completely before serving.