The September issue of Food & Wine arrived Saturday, and flipping through the pages I found a Cookie Madness must-try recipe, another chocolate bundt cake made with red wine. It was credited to Anne Willan and very similar to one I made a few months ago – same concept, but different execution with fewer eggs, less oil, less sugar, and more wine. I was about to make it yesterday but another cake caught my attention. A chocolate bundt cake which they suggested you serve with red wine, preferably Port.
Chocolate Bundt from Food & Wine
This recipe is adapted from Kate Neuman, a pastry chef at MK restaurant in Chicago. It's a whisk-and-bake cake (no mixer required!) that calls for only 1 egg, a full tablespoon of baking soda and Dutch process cocoa.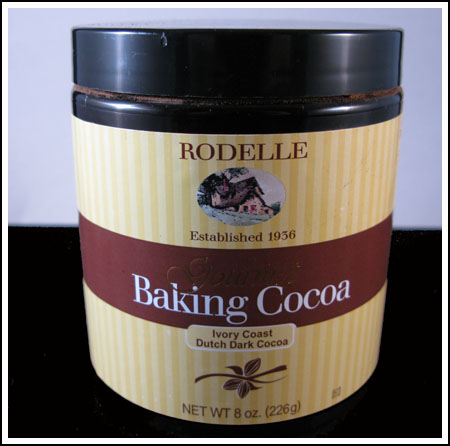 It is dense and light. It's similar to Black Magic Cake but better – less sweet and with more chocolate flavor. The ganache glaze is good too, just as simple as the cake and with a perfect consistency.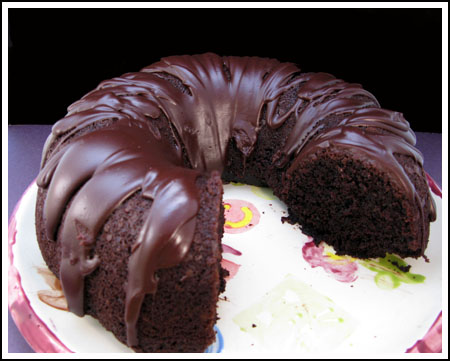 I didn't make any major changes, but I broke the recipe into two parts by putting the glaze in a second section, threw in some vanilla and added gram weights of some key ingredients.  Here's the original recipe from Food and Wine.  Adapted version is below.
Dutch vs. Natural
Update:  a few people have tried this with natural cocoa powder (aka, regular Hershey's as opposed to Dutch or Dark) and haven't had great results.  It's key to use Dutch process cocoa, so if you don't have any Dutch process cocoa around, I recommend making either the Perfectly Chocolate Bundt Cake or the Chocolate Sour Cream Buttermilk Bundt Cake.
I've made this cake several times since posting it. It's true that it is not as sweet as other cakes, but it is definitely sweet enough. If you taste it and feel like it needs to be sweeter, just put a little powdered sugar on top before glazing. It's less sweet, but still sweet enough to be cake. And yes, it does taste sweeter on Day 2, especially if you've put powdered sugar on it and that sinks in. As for the baking soda, 1 tablespoon is the correct amount. It gives the cake kind of a long finish so the chocolate taste lingers in your mouth a bit longer.
Recipe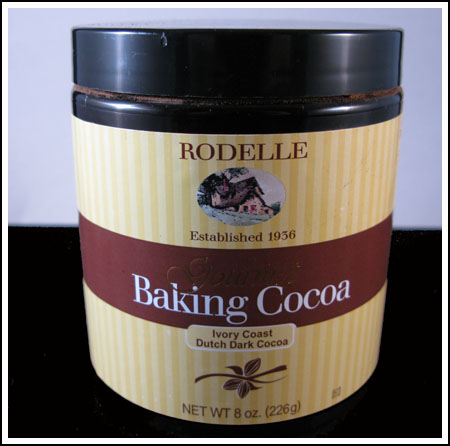 A Really Good Chocolate Bundt Cake
An excellent and easy chocolate cake with ganache poured over the top
Ingredients 
Cake:
2

ounces

bittersweet chocolate

chopped (56 grams)

¾

cup

vegetable oil

1

cup

granulated sugar

192 grams

1

large egg

1

teaspoon

vanilla extract

2

cups

all-purpose flour

stir well and aerate before measuring

½

cup

Dutch-process cocoa powder

1

tablespoon

baking soda

¾

teaspoon

salt

1

cup

strong-brewed coffee

1

cup

room temperature buttermilk
Glaze:
3

oz

bittersweet chocolate

⅓

cup

heavy cream

½

tablespoon

corn syrup

½

tablespoon

unsalted butter
Instructions 
Preheat the oven to 350 degrees F. Spray a 12-cup (10 inch) Bundt pan with flour-added baking spray. If you are using a black Bundt pan, use 325 degrees F.

Melt chocolate in a metal bowl set over a saucepan of barely simmering water (or just use the microwave). Scrape it into a mixing bowl and let cool slightly. Whisk in the oil and sugar until smooth, then whisk in the egg and vanilla.

Mix the flour, cocoa powder, baking soda and salt together in another bowl. Add half of the dry ingredients to the chocolate mixture along with ½ cup of the coffee and ½ cup of the buttermilk; whisk until smooth. Add the remaining dry ingredients, coffee and buttermilk and whisk until smooth.

Pour the batter into the prepared pan and bake in the lower third of the oven for about 45 minutes, or until a toothpick inserted in the center of the cake comes out with a few moist crumbs attached. Let the cake cool on a rack for 10 minutes, then turn it out and let cool completely.

In a small saucepan, bring the cream to a boil. In a heatproof bowl, combine the remaining 3 ounces of chopped chocolate with the corn syrup and butter. Pour the hot cream over the chocolate and let stand until melted, about 5 minutes. Whisk until smooth. Let the ganache glaze cool until thick but still pourable, about 5 minutes.

Pour the ganache over the cooled cake.Let the cake stand until the glaze is set, at least 30 minutes, before serving.