Today's cookies were inspired by Cakespy, who posted the recipe in a timeline called "Look to the Cookie".  The recipe, as Jessie the Cakespy notes, is from Maida Heatter who said "she didn't know of a bigger cookie".  I'll bet she does now – especially if she's stopped by Levain or met up with a Carol's cookie.  But Maida's Big Surs, at 6 inches across, were big for their time.
I made a batch today and while they were large, they were on the flat side.  Also, Maida says hers are crispy, but mine were soft and chewy.  I tried cooking them a little bit longer and again they were chewy, but with slightly crisper edges.
So at this point, I'm really interested in hearing your experience with Maida's Big Sur cookies.  Katrina, who made them right after Jessie posted the recipe, thought they were a little soft as well.
(See note below picture — Update)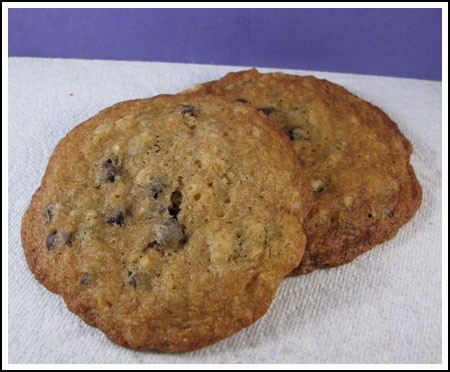 UPDATE: Maida mentioned that these cookies were supposed to be crisp. Mine were chewy, but with a few changes in technique, I was able to get a cookie that was crisp around the edges — or at least about an inch of the diameter. The cookies are still chewy in the center. I went ahead and paraphrased a half batch version with emphasis on the things that seemed to help make the cookies crisper.
1. REALLY pack the brown sugar — higher proportion of sugar makes cookies crisper
2. Make sure you sift the flour and measure very carefully since 3/4 cups sifted flour weighs less than 3/4 cup unsifted. If you don't sift the flour, you'll be using more of it and the cookies won't have as high percentage of sugar.
3. Bake the cookies on a non-insulated cookie sheet.
4. Cook for as long as possible. These cookies get pretty brown, so it's tempting to take them out early. 16-18 minutes would have burned my cookies, but at 15 minutes they were nice and brown but not burnt.
If you can't bake the cookies for 15 minutes without the edges burning, it may be a good idea to bake at a slower, lower heat.
5. Remove the cookies from the cookie sheet immediately and let cool and crisp on a rack.
Related posts: