Before the Hilton DoubleTree Chocolate Chip Cookies even existed, Maida Heatter had a recipe called Big Sur Chocolate Chip Cookies.  And like the DoubleTree Cookies, Maida's Big Sur Cookies call for lemon juice.  The lemon juice is supposed to help activate the baking soda.  And while I'm not sure 1 teaspoon of lemon juice would be more effective than a pinch of baking powder, it's a nice touch.
Lemon juice aside, Maida's Big Sur Chocolate Chip Cookies are quite different from Hilton's.  Hilton's DoubleTree Chocoalte Chip Cookies are kind of thick, while Maida's are big, flat and crisp.  For a while mine kept turning out chewy, but after making a few changes I was able to get the crisp, buttery texture Maida describes in the book.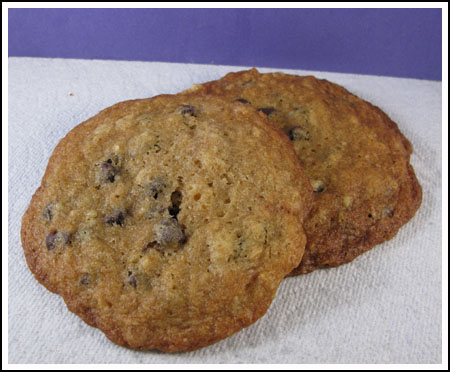 UPDATE: Maida says her Big Sur Chocolate Chip Cookies are supposed to be crisp. Mine were chewy, but with a few changes in technique, I was able to get a cookie that was crisp around the edges -- or at least about an inch of the diameter. The cookies are still chewy in the center.
1. REALLY pack the brown sugar.  A higher proportion of sugar makes cookies crisper
2. Make sure you sift the flour and measure very carefully since ¾ cup sifted flour weighs less than ¾ cup unsifted. If you don't sift the flour, you'll be using more of it and the cookies won't have as high percentage of sugar.
3. Bake the cookies on a non-insulated cookie sheet.
4. Cook for as long as possible. These cookies get pretty brown, so it's tempting to take them out early. 16-18 minutes would have burned my cookies, but at 15 minutes they were nice and brown but not burnt.
If you can't bake the cookies for 15 minutes without the edges burning, it may be a good idea to bake at a lower heat.
5. Remove the cookies from the cookie sheet immediately and let cool and crisp on a rack.
6. If you are still getting chewy cookies, reduce the heat to 325 degrees F. and bake longer.
Recipe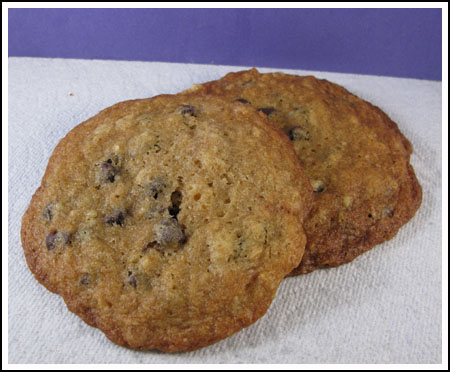 Big Sur Chocolate Chip Cookies
Maida Heatter's Big Surs are very large chocolate chip cookies. You can bake them immediately or shape the dough into balls, chill it, and bake later.
Ingredients 
6

oz

1 ½ sticks or ¾ cup unsalted butter, softened

1 ½

teaspoons

vanilla extract

1

tsp

lemon juice

⅔

cup

light brown sugar

firmly packed

⅓

cup

granulated sugar

2

eggs

1 ½

cups

sifted all-purpose flour

½

tsp

salt

1

tsp

baking soda

½

tsp

ground cinnamon

¼

cup

quick cooking rolled oats

uncooked (not instant)

6

oz.

walnuts

cut or broken into medium sized pieces (1 ½ cups)

1

6 oz. pkg. semi-sweet chocolate morsels (1 cup)
Instructions 
Preheat oven to 350 degrees F. Line two baking sheets with parchment paper.

With an electric mixer, beat the butter until creamy.. Add the vanilla and lemon juice and then both of the sugars and beat to mix.

With mixer on medium speed, add the eggs one at a time, increasing speed after eggs are added. Scrape sides of bowl often.

Whisk together the dry ingredients.

On low speed or by hand, add the dry ingredients and then the rolled oats, scraping the bowl as necessary with a rubber spatula and beating only until mixed. Stir in nuts and morsels.

Spread out a piece of wax paper or foil. Use a ¼ cup measuring cup to measure the amount of dough for each cookie, form 12-15 mounds of the dough and place them any which way on the foil or wax paper. At this point, you may want to chill the mounds. Otherwise, continue on.

Pick up a mound of dough, roll it into a ball, flatten it to about ½ inch thickness, and place it on the foil. Do not place more than 4 cookies on a 12 x 15 ½ inch piece of foil or cookie sheet, as they spread.

Bake two sheets at a time for 16 to 18 minutes (I prefer baking one sheet at a time), reversing the sheets top to bottom and front to back as necessary to ensure even browning. Bake until the cookies are well colored; they must not be too pale. Watch carefully.