Well there's big news in Cookie Land today. To make everyone feel good, DoubleTree by Hilton released the original DoubleTree Hotel Chocolate Chip Cookie recipe. I guess they want us to put all the flour we've been buying lately to good use. Thanks, DoubleTree! I just pulled a batch of cookies from the oven.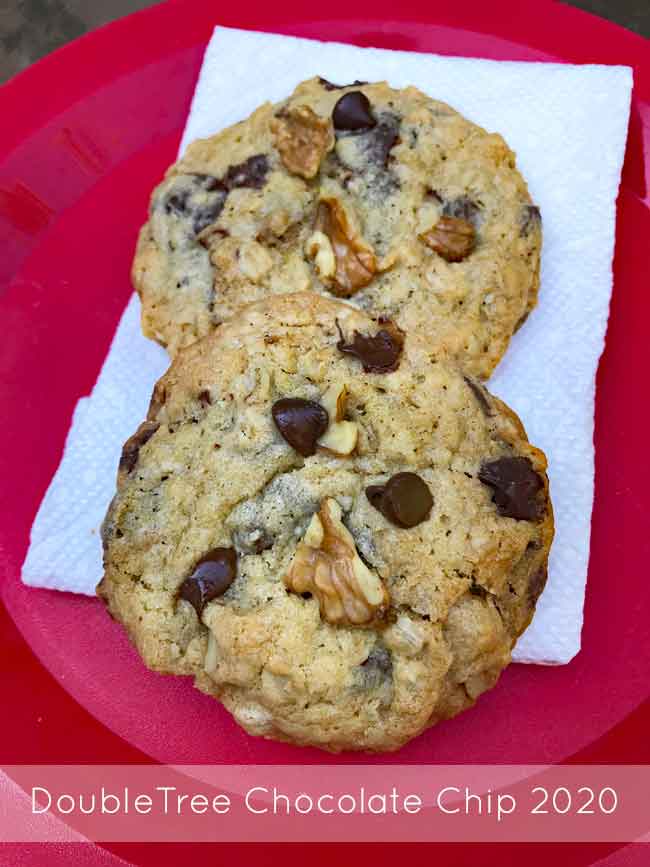 Now there have been similar DoubleTree Chocolate Chip Cookie copycats floating around. In fact, years ago I baked a copycat version and compared it to the real thing.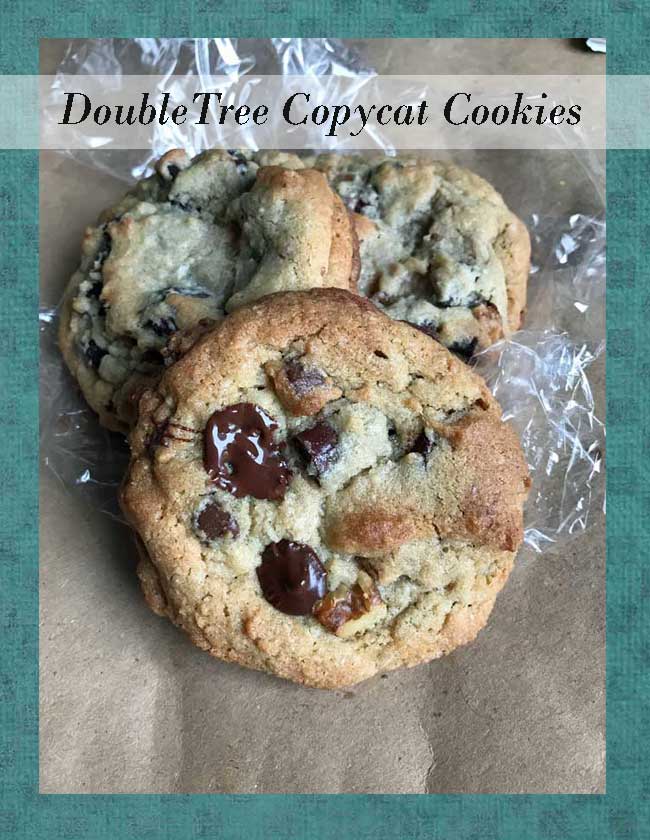 Copycats and Actual DoubleTree Cookies
Below is a photo of the old copycats along with the originals.  The copycats are darker.  These new cookies are lighter.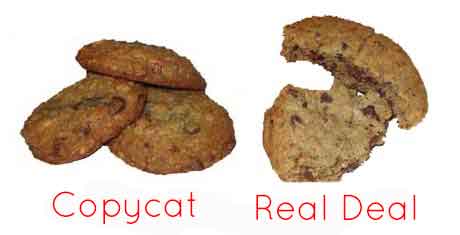 The old recipe was pretty close, but since this is the one DoubleTree says they use, I suppose it's the one we should go with.  It has lemon juice like the old one, a little more baking soda, a little more vanilla and a lot more walnuts and chocolate chips.  This new DoubleTree chocolate chip cookie recipe is also baked at a much lower temperature — 300 degrees F.  I remember all the old Debbie Fields recipes used to call for a really low and slow bake time.  It's supposed to make the cookies softer, but in my experience it just helps them bake more evenly. Update: The new DoubleTree cookies DO bake up softer at 300F.
Small Batch DoubleTree Copycats
The DoubleTree dough freezes well. In fact, the cookies are almost better with frozen dough. But if you want to make a smaller batch (which I often do), here's a quick small batch version. Also, if you are wondering why lemon juice is there, it's to make the batter more acidic. You won't taste the lemon. If you don't have lemon, use vinegar.
Cream together 56 grams unsalted butter 40 grams granulated sugar 38 grams brown sugar 1/4 teaspoon of vanilla Scrape the sides of the bowl and add 24 grams lightly beaten egg (about 2 tablespoons) 1/4 teaspoon plus a tiny splash of vanilla 1/8 teaspoon lemon juice (you can add a little more or less) After adding the lemon juice, add 1/4 teaspoon baking soda 1/4 teaspoon salt pinch of cinnamon Stir well and scrape the side of the bowl. Stir in 75 grams all-purpose flour 15 grams oats Lastly, add 3/4 cup semisweet chocolate chips 40 grams roughly chopped walnuts Portion dough into about 5 or 6 balls (I make 5, so they're big) and bake at 300 degrees F. for 20 minutes or until done.
More Recipes
Recipe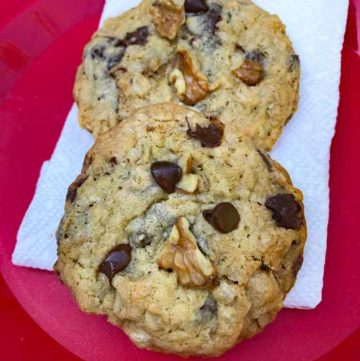 DoubleTree Hotel Chocolate Chip Cookies
Makes 26 cookies
Ingredients 
1/2

pound

butter, softened (unsalted)

(230 grams)

3/4

cup

+ 1 tablespoon granulated sugar

(160 grams)

3/4

cup

packed light brown sugar

(150 grams)

2

large

eggs

1 1/4

teaspoons

vanilla extract

1/4

teaspoon

lemon juice

2 1/4

cups

flour

(300 grams)

1/2

cup

rolled oats

1

teaspoon

baking soda

1

teaspoon

salt

Pinch

cinnamon

2 2/3

cups

Nestle Tollhouse semisweet chips chocolate chips

1 3/4

cups

chopped walnuts

don't have to toast
Instructions 
Cream butter, sugar and brown sugar in the bowl of a stand mixer on medium speed for about 2 minutes.

Add eggs, vanilla and lemon juice, blending with mixer on low speed for 30 seconds, then medium speed for about 2 minutes, or until light and fluffy, scraping down side of the bowl.

With mixer on low speed, add flour, oats, baking soda, salt and cinnamon, blending for about 45 seconds. Don't overmix.

Remove bowl from mixer and stir in chocolate chips and walnuts.

Portion dough with a scoop (about 3 tablespoons) onto a baking sheet lined with parchment paper about 2 inches apart.

Preheat oven to 300°F. Bake for 20 to 23 minutes, or until edges are golden brown and center is still soft.

Remove from oven and cool on baking sheet for about 1 hour.

Cook's note: You can freeze the unbaked cookies, and there's no need to thaw. Preheat oven to 300°F and place frozen cookies on parchment paper-lined baking sheet about 2 inches apart. Bake until edges are golden brown and center is still soft.