Years ago, shortly before Every Day Food appeared on the scene and people liked to joke about Martha Stewart's high standards, I bought a cookbook called the Mad At Martha Cookbook
.  It written by a couple of Austin ladies who loved Martha but wanted more down-to-earth recipes. Shortly after I'd bought the book, a friend told me he knew one of the authors and set up an introduction. It turned out she lived in my neighborhood, and to this day we see each other at parties, at the grocery store and will probably see each other at school since our daughters go to the same one. But I'll always think of Sara as the author of one of my favorite little cookbooks.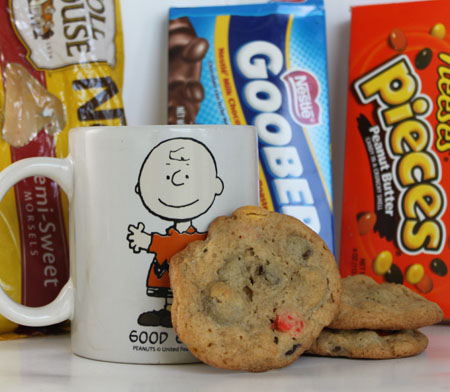 I keep Mad at Martha in the kitchen and grab it on days when I want something tried and true, but practical. This recipe is a good example. It's called "Trifecta Cookies" because the cookies contain all the basic cookie food groups – chocolate, oatmeal and peanut butter.

In this case you could apply the name to the add-ins, as I used a trifecta of semi-sweet chocolate chips, Reese's Pieces and Goober's milk chocolate covered peanuts.   With a big taste of peanut butter and lots of crunchy, chewy textures from the add-ins, the cookies were the perfect mid-afternoon snack.  This recipe makes about 50 cookies.  If you wish to cut it in half, break one of the eggs and just measure out 2 tablespoons of egg to make 1 1/2 eggs.
Trifecta Cookies
2 sticks unsalted butter (or salted, or margarine)
1 cup brown sugar
1 cup granulated sugar
1 teaspoon vanilla
3/4 cup peanut butter
3 large eggs
2 cups flour (9 oz)
1 teaspoon baking powder
1 teaspoon baking soda
3/4 teaspoon salt (omit if using salted butter or margarine)
3/4 cup oats, old fashioned
3/4 cup semi-sweet chocolate chips
1/2 cup Reese's Pieces
1/2 cup chocolate covered peanuts (Goobers) – optional)
Preheat the oven to 350 degrees F.
Cream the butter and both sugars. Beat in the vanilla and peanut butter. Reduce speed to low and add eggs, one at a time. Mix together the flour, baking powder and baking soda. If using salt, mix that in too. Gradually add the flour mixture to the peanut butter mixture and stir until mixed. Stir in the oats and all the candies.
Drop dough by rounded teaspoons onto ungreased or parchment lined cookie sheet and bake for 10-12 minute or until cookies appear set. Remove from tray and cool on a wire rack. Makes about 50 cookies.
Related posts: