I've lost track of how many peanut butter cookie recipes I've tried, but one that always comes to mind no matter what is King Arthur's Triple Play Peanut Butter Cookies. Named for the trifecta of peanuts, peanut butter and peanut butter chips, these cookies are loaded with peanut flavor. But is it enough flavor for a raging peanut butter monster? These days I want even more peanut butter flavor. Powdered peanut butter to the rescue!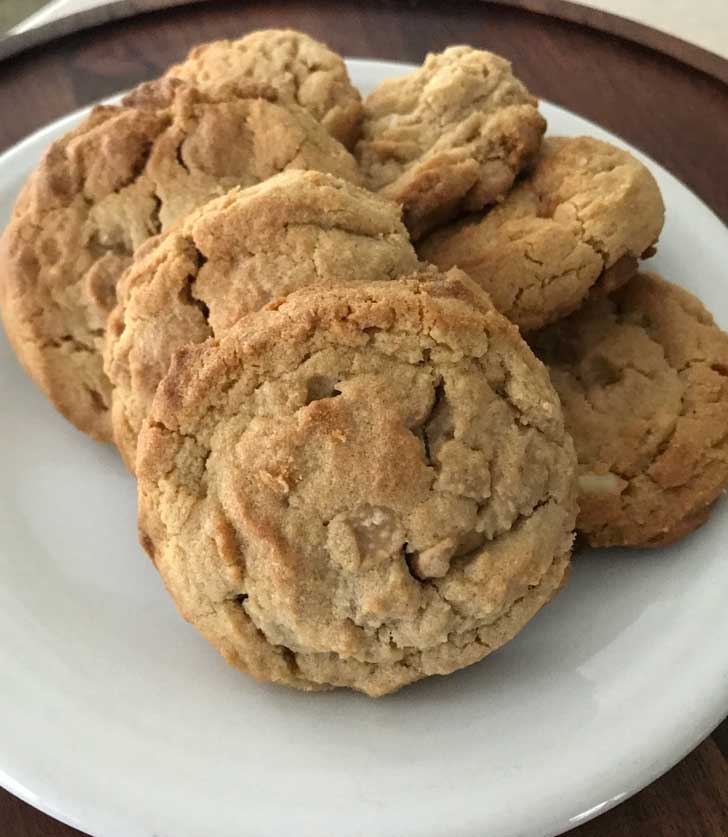 Powdered Peanut Butter
Peanut butter powder is an ingredient that's grown in popularity through the years, and there are different varieties. Some contain monk fruit or sugar alcohols and others call for just peanuts plus a little sugar and salt. The type I use for baking has just peanuts, sugar and salt. A two tablespoon serving of powdered peanut butter weighs about 13 grams. If you use peanut butter powder with an alternative sweetener, that should work just as well.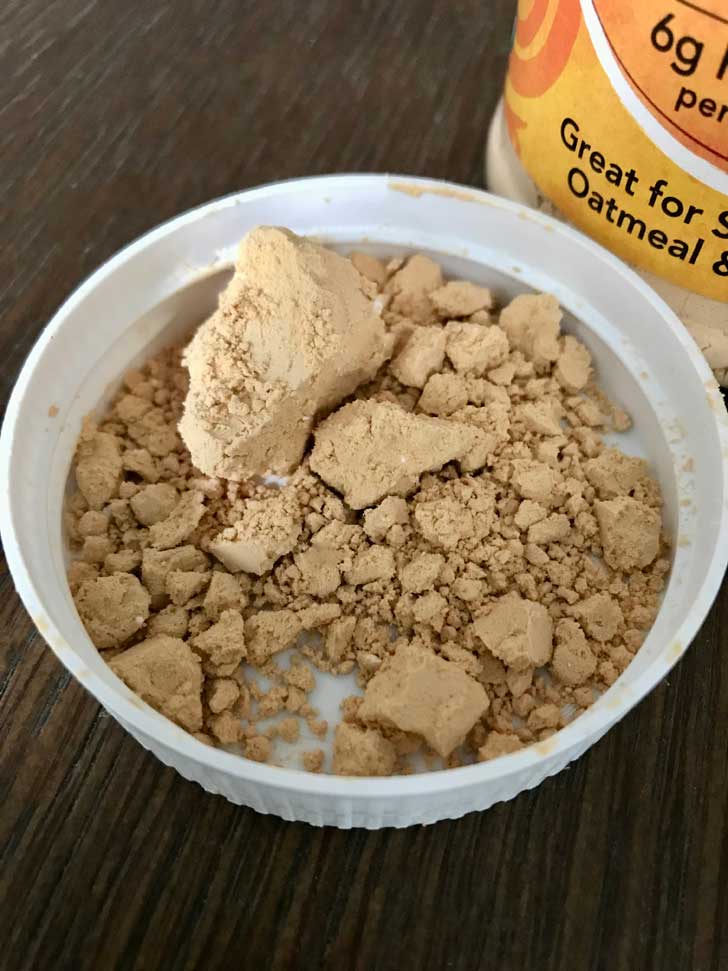 Taste and Texture
So back to the peanut butter powder cookies. The title is sort of misleading since I'm actually using peanut butter powder to enhance the flavor and not using it to replace actual peanut butter. I've that and was never quite satisfied with the results. So I might call these Quadruple Peanut Butter Cookies. Whatever the name, they are very good. Their texture is not at all cakey (I lowered the egg), but rather crumbly with soft centers. They are also very pretty, with lots of little cracks and crevices on top -- especially if you bake them in a convection oven.
Gluten-Free Peanut Butter Cookies
The first couple of times I made these I used King Arthur bread flour and King Arthur brand all-purpose. I liked the bread flour version the best. I even liked the batch that I over-baked because the cookies had a crunchy shell and crumbly center that really reminded me of the old school lunchroom cookies. Unfortunately those were too brown. Anyhow, after a couple successful bread and all purpose flour batches, I tested with Bob's Red Mill gluten-free 1:1 and it worked perfectly! So these are very good gluten-free peanut butter cookies -- an alternative to the even easier Flourless Peanut Butter Cookies. If you try them, I'd love to hear what you think.
Powdered Peanut Butter Cookies Ingredient List
Butter -- Unsalted
Brown Sugar -- Light, but dark would be fine too.
Granulated Sugar
Peanut Butter -- No doubt the brand you use will affect the flavor and texture at least somewhat. I've been making these with crunchy Jif.
Powdered Peanut Butter -- The kind with a little salt and sugar added. I've been using Wegman's brand.
Egg -- Sorry about the weird egg mixture, but using less egg makes the cookies less cakey and more dense and crumbly. You can microwave the extra 2 tablespoons of egg in a small cup for 30 seconds (or so!), let cool and use as a dog treat OR better yet, bake a half batch of chocolate chip cookies.
Baking Powder
Baking Soda
Salt
Flour -- Bread flour or King Arthur all-purpose. For gluten-free cookies, I use the equivalent weight of Bob's Red Mill 1-1.
Peanut Butter Chips -- Reese's brand (which are gluten-free)
More Options
Recipe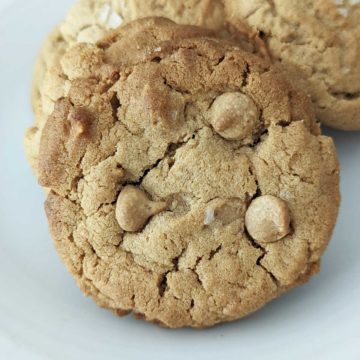 Powdered Peanut Butter Cookies
Peanut butter cookies made with extra chunky peanut butter and powdered peanut butter.
Ingredients 
1

stick

unsalted butter, room temperature

(114 grams)

¾

cup

brown sugar, packed (light)

(150 grams)

¼

cup

sugar

(50 grams)

¾

teaspoon

vanilla extract

¾

cup

peanut butter

(190 grams)

2

tablespoons

peanut butter powder

(13 grams)

2

tablespoons

lightly beaten egg

(27 grams)

½

teaspoon

salt

¼

teaspoon

baking powder

¼

teaspoon

baking soda

1 ⅓

cup

all-purpose, bread or gluten free flour**

(165 grams)

1

cup

peanut butter chips

½

cup

chopped peanuts (optional)
Instructions 
In a mixing bowl, combine the softened butter, both sugars and vanilla. Beat until creamy and smooth, then beat in the peanut butter, and the peanut butter powder, scraping the side of the bowl often.

Add the egg and beat until evenly blended, then beat in the salt, baking powder and baking soda, scraping side of the bowl and making sure everything is evenly blended.

Stir in the flour until fully mixed, then stir in the peanut butter chips.

Using a medium size cookie scoop, scoop out about 24 mounds and arrange 2 ½ inches apart on parchment lined baking sheets. Alternatively, scoop the mounds onto a plate lined with plastic wrap. Cover and chill until ready to bake (or freeze).

These cookies don't spread much, so you may want to flatten them just slightly for thinner cookies.

Bake for about 12 minutes, until set and brown around the edges. Remove from oven and cool on pan 5 minutes before transferring to wire racks to cool. Note: I've been baking them in a convection oven, so you may need a couple of minutes more depending on the oven.
Notes
If using gluten-free flour, be sure to weigh out 165 grams rather than measure by volume.