Our family recently discovered Graeter's, an ice cream from Ohio that is now being sold by the pint at our local grocery store. Given all the competition on the ice cream aisle plus my loyalty to Blue Bell, it took me a while to give Graeter's a second look, but I'd read an interview with Mandy Patinkin where he mentioned he bought it for Claire Danes, and Homeland is my favorite show and I'm that impressionable. Plus Todd had mentioned being in the mood for coconut, and Graeter's had a Coconut Chip flavor. And here's where the Slow Cooker Pudding Cake comes in. I felt like making something yesterday, but still wanted to serve ice cream. Pudding cake, lava cake's country cousin, is perfect with ice cream. It's also great for when you don't feel like doing dishes, but do want the aroma of chocolate cake wafting through the house.
The only downside to chocolate pudding cake is it doesn't photograph well, so I'm putting the photo after the jump.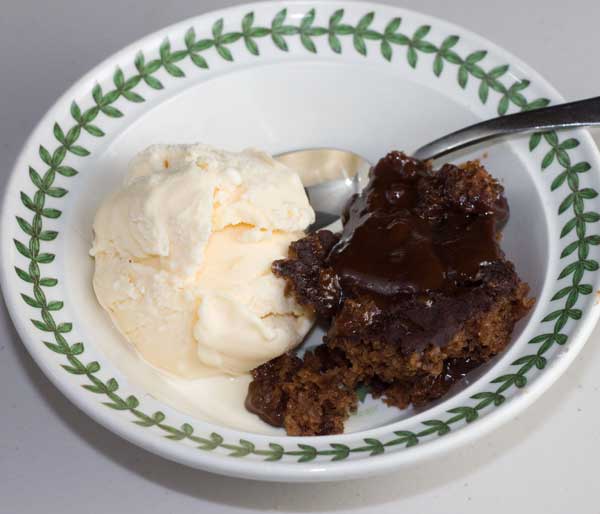 This particular version uses a lot of brown sugar which you can really taste in the finished product. If you don't want molasses flavors in the background, just swap out some of it for granulated. We actually liked the molasses flavor, but there are other versions that call for plain sugar. You can also use coffee in place of water for a mocha flavored cake.
So that's the pudding cake. I posted it years ago, but wanted to mention it again because it's such an awesome dessert for Winter evenings. As for the ice cream, when it was time to serve dessert I decided to use HEB's 1905 Vanilla rather than the last of the treasured Graeter's Coconut Chip.

Slow Cooker Hot Fudge Pudding Cake
Slow Cooker Hot Fudge Pudding Cake
Ingredients
1 cup (4.5 ounces) all-purpose flour
1/2 cup granulated sugar
6 tablespoons unsweetened cocoa powder cocoa , divided use
2 teaspoons baking powder
1/2 teaspoon salt
1/2 cup milk, I used whole
2 tablespoons vegetable oil, some people use melted butter
1 teaspoon vanilla
3/4 cup packed brown sugar
1 1/2 cups hot water
vanilla ice cream
Instructions
Butter the bottom third of a 2 1/2 to 3 quart slow cooker.
In a medium size mixing bowl, stir together the flour, granulated sugar, 2 tablespoons of the cocoa powder, baking powder, and salt. Stir in milk, oil, and vanilla. Spread batter evenly in slow cooker.
In the same bowl you used for that mixture, combine the brown sugar and remaining 4 tablespoons cocoa. Stir in hot water until smooth. Pour evenly over batter in slow cooker. Cover and cook on high heat setting for about 2 1/2 hours.
When ready to serve, spoon ice cream into bowls, keeping all the ice cream cold as you serve each portion. With a big spoon, scoop up cake and sauce and set next to the ice cream
Related posts: