For years I chased the perfect strawberry cake thinking it needed to be from scratch. But after trying more than a few different recipes, I realized the cakes I craved and most similar to the ones from childhood in Texas were all made from a mix. Specifically, a combination of cake mix, gelatin and fresh berries. If you have any interest at all in pink strawberry cakes you've probably seen that combination of ingredients in old cookbooks, but since cake mix box sizes have changed, so have the ingredient ratios. So this recipe is designed for the new 15.25 oz of yellow cake mix.
Jump to Recipe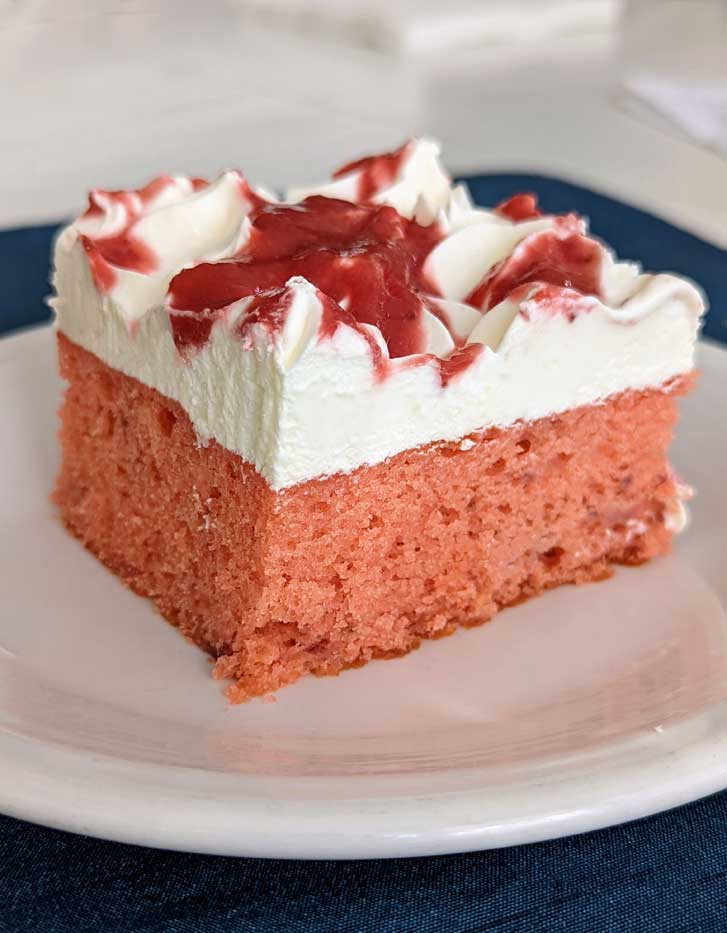 Fluffy Pudding Frosting
Pink strawberry cakes are usually served with a strawberry frosting, but I wanted to try an old recipe for frosting made with instant pudding mix. So this cake is a strawberry sheet cake with a thick layer of fluffy pudding frosting. The frosting is a billowy whipped cream with an interesting flavor from the cream cheese flavored pudding mix. It kind of reminds me of the old grocery store bakery cake frostings. I like the cheesecake flavor and would use it again, but I'm also very curious to see how white chocolate flavored pudding mix would work. The most widely available brands around here are Hershey's and Godiva. So far I've only seen Jell-O's white chocolate as a sugar-free version. Speaking of which, I think this frosting would work perfectly with sugar-free ingredients.
Strawberry Cake Topping
To finish things off, you can make a very quick and easy strawberry topping. Since I used frozen berries in the cake, I used the rest of the bag for the topping. At first I'd planned on skipping the topping, but I'm so glad I didn't! The fresh strawberry is one of the best parts. Plus, it's very easy. I pureed it, but you could just mash the berries as they cook.
A Few Final Notes
I like baking sheet cakes in pretty glass pans. This recipe is for a 9x13 inch cake, but I had no problems halving it and baking it in an 8 inch square pan. To halve the recipe, just weigh out half of all the ingredients. You could also be creative with the pan or dish you use for baking. For instance, if you have a casserole dish or a glass baking dish that's just slightly smaller than 9x13, you can make a thicker cake. Bake time will most likely increase by a minute or two if you use a smaller, deeper dish. Lastly, this cake freezes very well! I served it to for dinner then put the whole dish in the freezer. The next time I cut it into big frozen chunks and wrapped them individually so we can have pieces of strawberry cake whenever we want.
Ingredient Rundown
Yellow Cake Mix -- I used a15.25 oz box of yellow flavor from Aldi.
Strawberry Jell-O -- The four serving size packet. Jell-O sure is getting expensive.
Flour -- Regular all-purpose flour.
Oil -- Any neutral oil should work, so I used canola.
Milk -- Whole milk in both the cake and the frosting.
Eggs -- Three large. If you halve the cake, use 1 egg and 2 tablespoons beaten egg
Strawberries -- Thawed from frozen, a 1 pound bag. Used in cake and topping.
Pudding Mix -- Four serving size packet of cheesecake flavored, but looking forward to trying white chocolate flavored!
Whipped Topping -- A whole tub of Cool Whip!
More Recipes with Strawberries
Recipe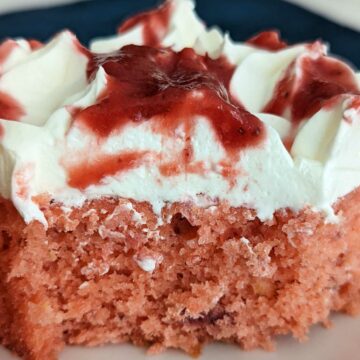 Strawberry Cake with Pudding Mix Frosting
A strawberry cake made with white cake mix and strawberry gelatin.
Ingredients 
1

15.25 oz

package yellow cake mix

3

oz

strawberry gelatin (1 4 serving size package)

(84 grams)

⅓

cup

all-purpose flour

(45 grams)

½

cup

whole milk

(120 grams)

½

cup

canola oil

3

large

large eggs

1

cup

frozen strawberries, thawed and mashed

(140 grams)
Fluffy Pudding Frosting
1

3.3 oz

box cheesecake or white chocolate flavored instant pudding mix

1

cup

whole milk

(240 grams)

1

tub

Cool Whip, thawed (8 oz) or whip (8oz/240 grams) of heavy cream and sweeten with ¼ cup of confectioners' sugar

(240 grams)
Strawberry Topping
2

cups

frozen strawberries

(280 grams)

3

tablespoons

sugar plus more if desired

Squeeze of lime juice (optional)
Instructions 
Preheat oven to 350°. Grease the bottom of a 9x13 inch glass dish (or pan).

In a mixing bowl, combine cake mix, gelatin and flour. Add milk, oil and eggs; beat on low speed 30 seconds. Beat on medium for a little over a minute, scraping sides of bowl often. Fold in strawberries. Transfer to prepared pan.

Bake for 30 minutes or until a toothpick inserted in center comes out clean. Let cool completely.

To make the frosting, beat the pudding mix and milk with a whisk or on low speed of an electric mixer until it thickens. Fold in the whipped topping.

Spread frosting across top of cake. If you have a piping bag, you can pipe it. However, if you pipe it you'll want to make 1 ½ times or double the recipe.

To make the topping, put the remaining 280 grams/10 oz (2 cups) thawed strawberries and their juices in a small saucepan along with about 3 tablespoons sugar. Heat on low, mashing with a spoon, until strawberry mixture is slightly thicker. Taste test and see if you need more sugar. Use an immersion blender or transfer to a blender and puree. Add a squeeze of lime juice if you have some. Let cool, then drizzle over cake.