I don't make a lot of plain white or yellow cakes, but with some birthdays on the horizon it seemed like a good time to try this one. It's Elegant White Cake from the King Arthur Flour Company, and it's the perfect white cake.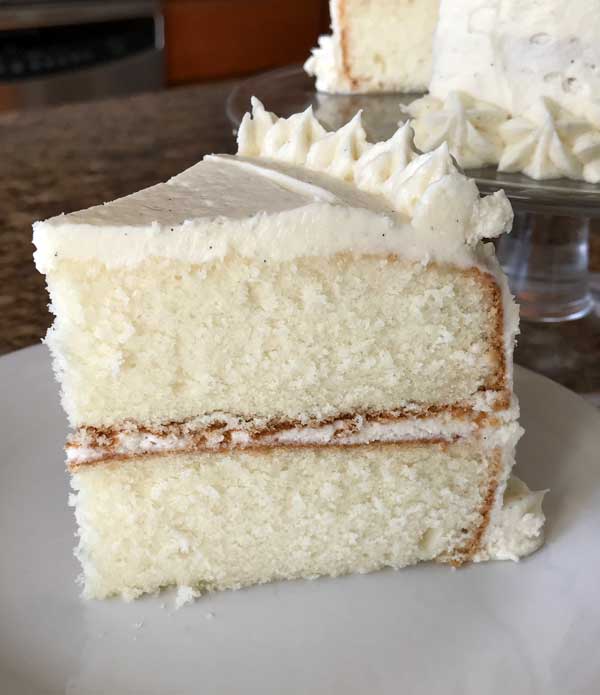 I baked this in a 13x9 inch pan so it came together very quickly. Word on the street is that freezing just-baked cakes makes them moister, so I stuck the warm cake in the freezer to see if there was any truth to that. I'm going to cut it into some sort of shape tomorrow and decorate it. Todd and I found a picture of a crayon cake we think Fuzz will like. Our picture came from an Avon creative birthday cake book, but I found someone else's rendition here.
Here's the Elegant White Cake recipe. Interestingly, the baking powder really does go into the butter/shortening/sugar mixture.
Elegant White Cake
8 tablespoons butter -- (114 grams) softened
½ cup vegetable shortening -- (96 grams)
1 tablespoon baking powder
1 ¾ cups superfine or granulated sugar (335 grams)
¾ teaspoon salt
2 teaspoons vanilla extract
1 teaspoon almond extract
5 large egg whites (6 to 7 oz)
2 ¾ cups cake flour -- (310 grams)
1 cup whole milk (228 grams)
-- Cream together butter through almond extract until light. 5 min. or more.
-- Add egg whites one at a time and beat well after each addition.
-- Stir in flour and milk, alternating between the two, starting and ending with the flour. (i.e. ⅓ flour, ½ milk, ⅓ flour, ½ milk, ⅓ flour)
-- Pour into pans (2 9-in. round or one 9x13-in) and bake at 350. 25-30 minutes or until done.
Update: King Arthur has updated the recipe a bit and it is now called Tender White Cake. For a slightly revised version that uses all butter and a different mixing technique, check out King Arthur's site.