This is the third white cake in my most recent quest for "the best" white cake recipe. Like the other two I posted recently, this is a true white cake recipe that calls for egg whites, vanilla and a little almond extract. It's adapted from Zoey Bakes Cakes, and the only major change I made was to halve the recipe and bake it in an 8-inch square pan. Given the change (and so I can find it later), I'm naming it Square Pan White Cake.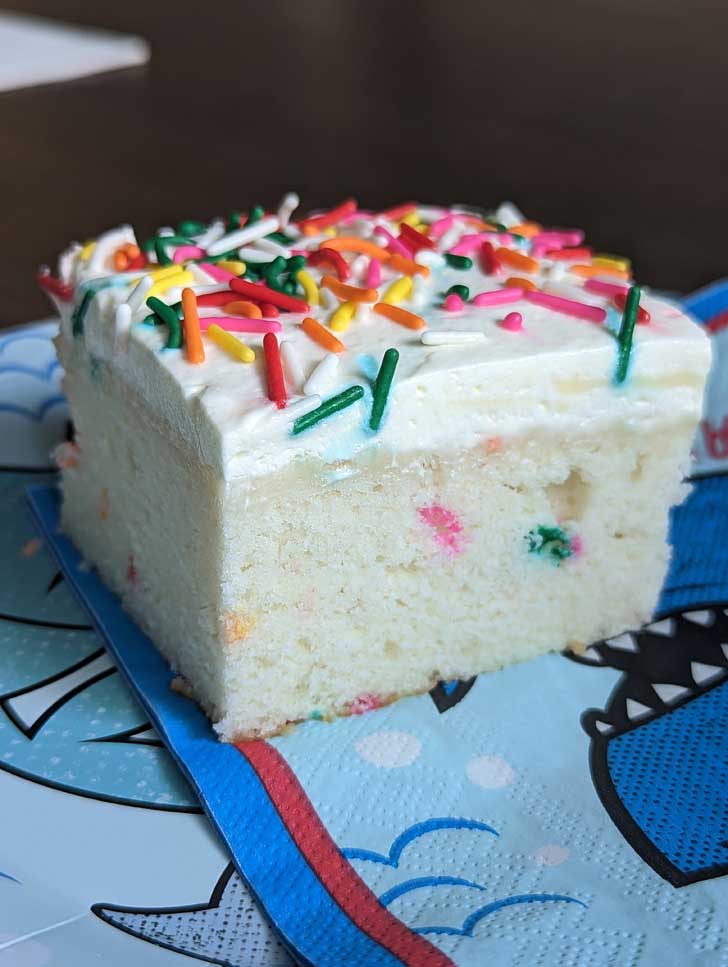 Texture and Flavor
This square pan white cake has an interesting texture. It has a tighter crumb than the Betty Crocker Silver White Cake and the Butter White Cake. Also, it's a little richer tasting. It's very sweet and has a lot of vanilla-almond flavor. I had to use a mixture of 3 T. plain nonfat yogurt and 1 T. milk in place of ¼ cup of buttermilk. I'd probably do that again because it helped keep the color so very white.
Best Frosting for White Cake
I was out of confectioners' sugar and had to use my old Pudding Mix Frosting. It is a good one, but it requires refrigeration. It's great for ice cream cakes or cakes that only need to sit out for two hours. For Square Pan White Cake, your best bet is a good American Buttercream or maybe even Swiss or Italian Meringue Buttercream. Next time I make the cake, I might try it with my Cornstarch Frosting, a less sweet buttercream that a lot of people seem to like. Or maybe German Buttercream. So many to try!
Thanks to Sue for recommending the recipe. You can find the full 3 layer cake in Zoey Bakes Cakes.
Recipe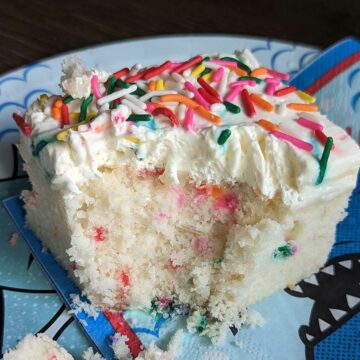 Square White Cake
A white cake recipe that fitst perfectly into an 8 inch square pan.
Ingredients 
1 ½

cups

cake flour

(170 grams)

1

teaspoon

baking powder

¾

teaspoon

salt (Morton kosher)

3

tablespoons

nonfat plain Greek yogurt**

1

tablespoon

whole milk

(14 grams)

1 ½

teaspoon

vanilla plus ¼ teaspoon almond extract

4

tablespoons

unsalted butter, softened but still fairly cool

(56 grams)

3 ½

tablespoons

shortening

(40 grams)

1

cup

granulated sugar

(200 grams)

½

cup

egg whites, room temperature (3 large eggs)

¼

cup

plus 2 tablespoons heavy whipping cream

2-3

tablespoons

sprinkles (optional)
Instructions 
Preheat oven to 350°F. Grease an 8-inch square metal baking pan.

Sift the cake flour once, then sift it or whisk it together with the baking powder and salt. Sometimes salt won't go through the sifter, so just stir it in if there's salt left in the sifter.

Also, mix together the yogurt, milk and extracts in a little bowl and set aside.

In the bowl of a stand mixer fitted with a paddle, beat the butter, shortening and sugar until creamy. Continue beating, scraping bowl often, for about 5 minutes.

With the mixer going, gradually add the egg whites in about 4 to 6 additions, scraping the bowl between additions and beating for 20-30 seconds.

With the mixer on medium low speed or by hand, add the flour mixture and the yogurt mixture in three additions, scraping the side of the bowl. If using a stand mixer, you may find it easier to just remove the mixing bowl from the stand and do this with a heavy duty scraper. If you are not messy with flour, you can dump it in with the mixer going.

Whip the cream in a separate bowl using a handheld mixer. Fold it into the batter with a heavy duty scraper. Make it a party and fold in some sprinkles! Or skip them. They look pretty in this cake.

Pour the cake in the pan and drop it on the counter from about ½ inch high (do it twice) to release air bubbles.

Bake for about 30 minutes or until the cake appears done. It will appear slightly brown on the edges and not be quite as pale in the middle. Let it cool completely in the pan. Frost it in the pan. Alternatively, you can let it cool in the pan for about 10 minutes and turn it out to cool.
Notes
The yogurt mixed with milk was my stand-in for ¼ cup of buttermilk. If you have buttermilk you can use ¼ cup of buttermilk and omit the yogurt and whole milk.