Yesterday, a friend requested recipes for egg-free cakes. I suggested Crazy Cake. You've probably seen crazy cake before, perhaps under its alias of "Wacky Cake". Or maybe you've seen its cousin, the non-chocolate version called Depression Cake. Crazy, Wacky, Depressed - the perfect cake recipe for the moody baker.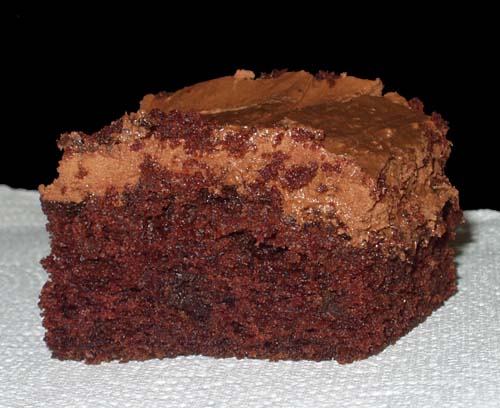 Crazy Cake with Raspberry Vinegar
I can't recall exactly when I last made a crazy cake, but I do remember having good results. I've always made them with plain white vinegar, but this time I used raspberry vinegar. Given my affinity for fruit/chocolate combos, I was very curious to see if a cake made with raspberry vinegar would actually taste like chocolate raspberries.
The recipe we used this morning was designed for an 8x8 inch square pan. Fuzzy enjoyed the process of digging and filling 3 holes and I appreciated not having so many dishes to wash. It was also fun to see how the baking soda reacted with the vinegar in the pan. It bubbled up as we stirred and had a light, frothy texture, then settled down a bit before we put it in the oven.
Cook's Illustrated Chocolate Frosting
The time and money we saved making this cake allowed us to be more creative with the frosting, so below is a streamlined version of a Cook's Illustrated chocolate frosting recipe. It's a very light, almost truffle-like icing that is very easy to make and open to many flavoring options.
This cake was very good, and I plan on making it again. The raspberry vinegar adds a good deal of raspberry flavor so the next time I make it I might actually kick up the raspberry theme and put raspberries on top or somewhere in the icing. Or maybe add a layer of preserves. And if I can get my hands on some cherry vinegar, imagine the possibilities in the Black Forest department!
This recipe can be made right in the pan, but that gets a little messy so I recommend stirring it together in a bowl and pouring it in the pan.
Chocolate Crazy Cake
1 ½ cups all-purpose flour (190 grams)
1 cup white sugar (200 grams)
½ teaspoon salt
1 teaspoon baking soda
¼ cup unsweetened cocoa powder (20-25 grams)
6 tablespoons vegetable oil
3 teaspoons distilled white vinegar (or raspberry vinegar)
1 teaspoon vanilla extract
1 cup cold water (228 grams)
Preheat oven to 350 degrees F. Have ready (don't grease) an 8x8 inch pan.
Stir together flour, sugar, salt, soda, and cocoa together in a large bowl. Make three wells. Pour oil into one well, vinegar into second, and vanilla into third well. Pour cold water over all, and stir well with fork.
Bake for 30 to 40 minutes, or until tooth pick inserted comes out clean.
Cook's Illustrated Chocolate Frosting
⅓ cup heavy cream
4 ounces bittersweet chocolate -- or semisweet (114 grams)
2 tablespoons corn syrup, dark -- or light (40 grams)
4 tablespoons butter -- unsalted, cut into chunks, soft (56 grams)
½ teaspoon vanilla
¼ cup confectioners sugar (30 grams) - Add more to taste as needed
Place cream in a heavy saucepan and bring to a simmer. Turn off heat. Add chocolate and stir until smooth. Transfer to a mixing bowl. You can use a stand mixing bowl or just a regular mixing bowl if using a handheld mixer. Let cool to room temperature (about an hour).
Add corn syrup and butter to chocolate mixture. Beat on low to mix. Add sugar and continue beating until fluffy (about 5 minutes). Add vanilla.
Frosts an 8 inch cake.
Update:  This cake is good, but you should also check out Troy Chocolate Cake.