Troy Chocolate Cake is a recipe I found years ago in my mom's binder full of old recipe clippings. I believe it is from a friend in Troy, New York and that's how it got its name, but it's still a mystery!
Update: Thanks to some wonderful people in the comments section, the mystery is solved! The recipe appeared on a utility bill and brochures in Upstate New York, and was submitted by someone from Troy.
Jump to Recipe
It is an easy 8 inch square pan one layer chocolate mayonnaise cake with a chocolate and sour cream flavored frosting.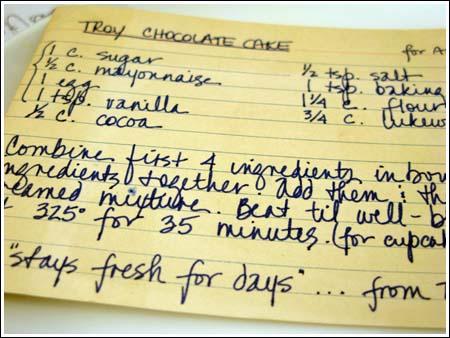 Troy Chocolate Cake Texture
Here's a picture of the cake's texture.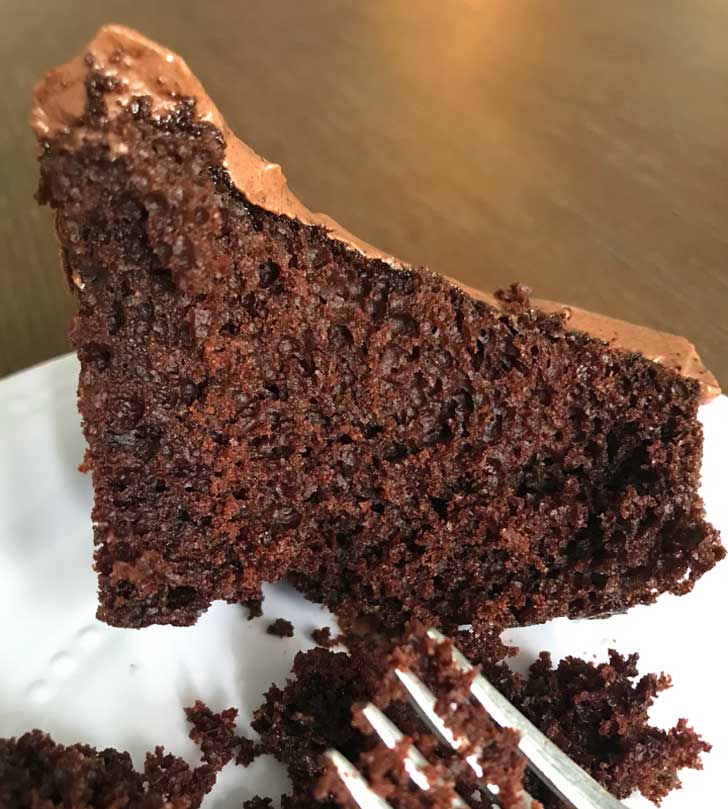 Troy Chocolate Cake Ingredients
As mentioned, this is a mayonnaise cake. Mayonnaise stands in for butter and oil, but it does not completely take the place of eggs, as there is one egg in the recipe. The other ingredients are pantry staples. The recipe calls for all-purpose flour rather than cake flour, natural cocoa powder and granulated sugar.
Chocolate Sour Cream Frosting
The recipe includes my favorite type of chocolate frosting, which is one made with sour cream and natural cocoa powder. And this one has a lot of sour cream! If you are not so fond of sour cream, you can use your personal favorite. Or maybe try it with vanilla flavored cornstarch frosting.
Some Notes
The cake does not require an electric mixer, but the frosting does.
You can use an 8 inch metal pan or an 8 inch glass dish.
The amount of salt in the original recipe was ½ teaspoon, but lately I've been cutting it down to ¼ teaspoon. The mayonnaise seems to have plenty of salt.
I make this cake with natural cocoa powder rather than Dutch process.
For the frosting, the butter should be very soft -- almost melted. The sour cream should be brought to room temperature unless you are okay with little brown dots of cocoa.
The amount of confectioners' sugar is measured after sifting. It needs to be sifted for proper measuring by volume and to help keep the frosting smooth.
More Recipes With Mayonnaise
Recipe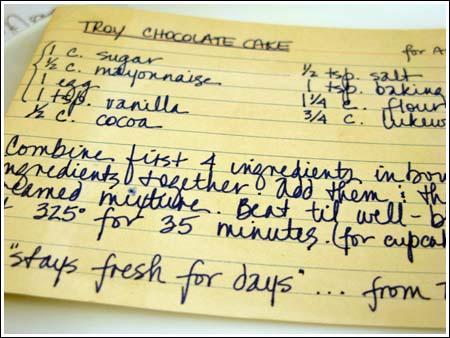 Troy Chocolate Cake
An easy chocolate cake made with mayonnaise.
Ingredients 
1

cup

granulated sugar

(200 grams)

½

cup

mayonnaise

(120 grams)

1

large

egg

1

teaspoon

vanilla

1 ¼

cups

all-purpose flour

(160 grams)

½

cup

unsweetened natural cocoa powder

1

teaspoon

baking soda

½

teaspoon

salt, scant (you can use as little as ¼)

¾

cups

lukewarm water
Sour Cream Chocolate Icing
4

tablespoons

butter, unsalted or salted

(56 grams)

⅓

cup

cocoa powder, natural

(30 grams)

1 ½

cups

sifted confectioners sugar

(150 grams)

⅓

cup

sour cream, bring to room temperature

(80 grams)

1

teaspoon

vanilla
Instructions 
Grease an 8 inch square metal or glass pan (cooking spray is fine).

Combine first 4 ingredients (sugar, mayonnaise, egg and vanilla) in a mixing bowl. Stir well.

Sift flour, cocoa, baking powder and salt together, then add to the mayonnaise mixture. Stir in the water and beat with a spoon or scraper until well-blended.

Transfer mixture to the baking pan and bake at 325 degrees for 30 to 35 minutes. For cupcakes, bake at 350 degrees for 15 minutes.

To make the frosting, soften to butter so that it is mushy and almost but not quite melted. Put in in a mixing bowl.

Sift the cocoa powder with the confectioners' sugar. Add the confectioners' sugar mixture to the butter gradually, alternating with the sour cream. beat with a handheld mixer until fluffy, scraping sides of the bowl. Beat in the vanilla.
Notes
You can use a metal pan or a glass baking dish.
You can mix the batter with a spoon or scraper.  No need to use an electric mixer.
Since the recipe calls for baking soda and no baking powder, I use natural cocoa, which is more acidic than Dutch process. I still haven't tried this with Dutch process.  
You can make the frosting without an electric mixer, but it's easier with one.  A handheld should be fine.