King Arthur's Triple Play Peanut Butter Cookies are high on my peanut butter cookie list. They are big, fat, full of peanut & peanut butter morsel chunks, and soft.
I make these all the time. Sometimes I add Reese's Pieces for more colorful cookies, and sometimes I just use peanut butter chips. The peanut butter chips are pretty important, so if you don't have any you might want to try a different recipe.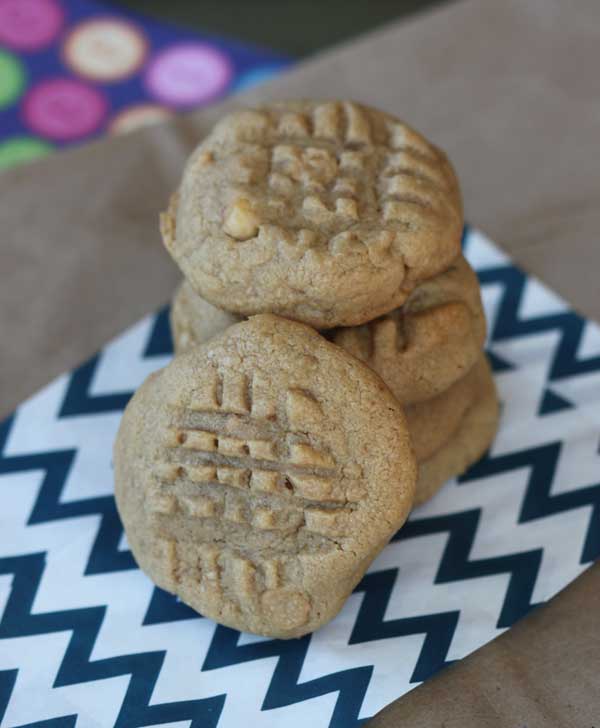 Triple Play Peanut Butter Cookies Notes
I've been making these cookies for over 10 years and have some opinions! Here are a few notes. They're easy cookies, but this is one of those recipes where every little change counts.
Use the weights rather than volume where given. I always go by weight for the "big" ingredients, but use volume for the leavening agents and such.
These cookies need peanut butter chips. Adding Reese's Pieces makes them even better, but the peanut butter morsels are a must.
They are about 10,000 times better if you scoop the dough, chill the individual scoops, then bake the next day.
For fat and thick cookies, shape into balls. For thin and chewy cookies, flatten the balls a bit. You can play around with the bake times somewhat, but I've found the cookies to be a little better when under-baked (and I generally don't love under-baked cookies). This is just one of those cookie recipes you don't want to OVER bake.
These are designed to be softer and somewhat chew cookies. For crunchier or sandier cookies, you might want to try Sadie's Peanut Butter Cookies or Peanut Butterscotch Chip Cookies (you can replace the butterscotch chips with peanut butter chips) or my personal favorites, Toasted Wheat Germ Monsters.
Recipe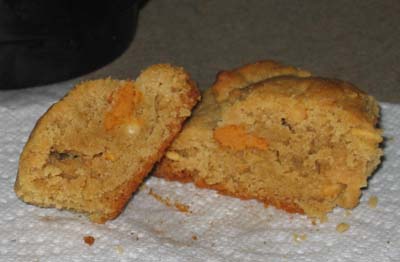 Triple Play Peanut Butter Cookies
Triple Play Peanut Butter Cookies (Adapted from KA Cookie Companion) is one of my all-time favorite peanut butter cookie recipes. The volume measurements are fine, but for best results use the weights.
Ingredients 
2

sticks

unsalted butter, room temperature

(230 grams)

1

cup

dark brown sugar, tightly packed

(230 grams)

1

cup

sugar

(200 grams)

1 1/4

cups

peanut butter —

(330 grams)

1/2

teaspoon

baking powder

1/2

teaspoon

baking soda

1/2

teaspoon

salt

2

large eggs

2 2/3

cups

all-purpose flour

(325 grams)

1 1/4

cups

chopped dry roasted salted peanuts —

6 1/4 oz

1 1/3

cups

peanut butter chips or chocolate chips —

8 oz
Instructions 
Preheat oven to 350°. Line baking sheets with parchment.

Beat butter, sugars, peanut butter, baking powder, baking soda, and salt together with an electric mixer.. Add eggs one at a time. Stir in the flour, nuts, and chips.

Drop by generously tablespoon onto prepared sheets (or follow method in notes).

Bake for 12-14 minutes, until set and brown around the edges. Remove from oven and cool on pan 5 minutes before transferring to wire racks to cool.
Notes
For thicker cookies, prepare the dough as directed, but shape the dough into 36 balls, put the dough on foil lined plates or a tray that can fit in the refrigerator.
Chill the dough for several hours. When the dough balls are firm, arrange dough balls a few inches apart on parchment or foil lined baking sheets and bake for 14 minutes or until fully baked.