This recipe is for S'mores Cookie -- or more accurately, S'mores Chocolate Chip Cookies, and it's one of my all-time favorites. Graham cracker crumbs are baked into the dough so the cookies have extra graham flavor. As for the marshmallows and milk chocolate, they go on top of the cookies as soon as they come out of the oven. Putting them on at the end keeps them from drying out. The cookies just have so many different flavors and textures. Here's a very early photo. As you can see from the photos and comments, this recipe has been here for a while!
Jump to Recipe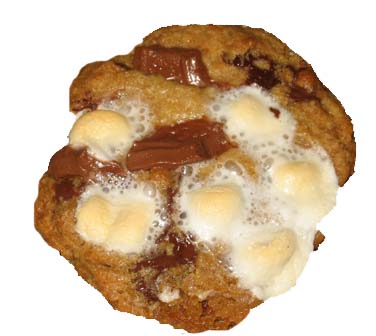 These days putting the marshmallows and chocolate on top later in the process seems like a natural thing to do, but back then I had to think about it. I tried making the cookies two ways. First, I made a graham cracker chocolate chip dough and buried frozen marshmallows inside the dough circles. My thought was that if the marshmallows were frozen and buried, they'd have less exposure to the heat and dry out less. This worked pretty well, but the marshmallows still added a chewiness, which wasn't necessarily unpleasant, but not particularly great.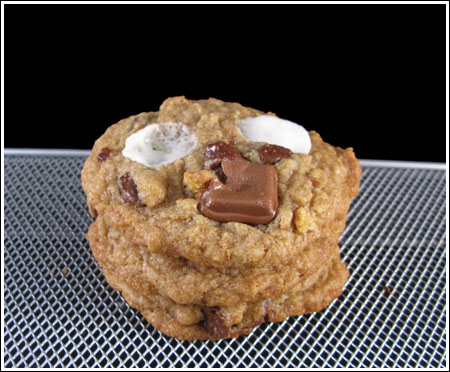 Bake Time!
For the second version, I baked the cookies for about 9 minutes, then quickly stuck marshmallows and Hershey bar milk chocolate pieces in them before returning them to the oven for another 3 or 4 minutes. As you can see, that worked well. The rest is history
Teddy Grahams S'mores Chocolate Chip Cookies
I still make these cookies, but sometimes I change things up and stick Teddy Grahams on top like in the photo below. The cookies in the photo below are actually made with regular chocolate chip dough.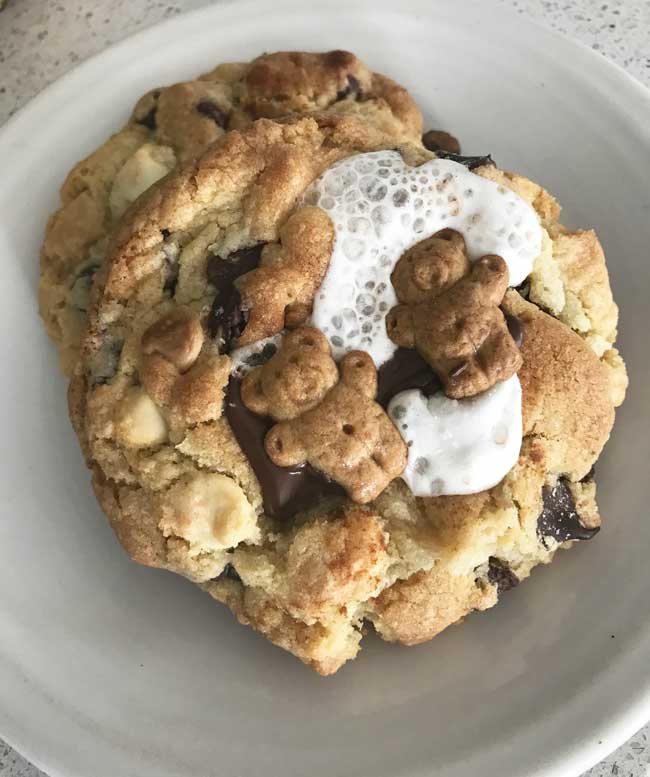 Here's the recipe for S'mores Chocolate Chip Cookies. If you'd rather try them in bar cookie form, there's another good recipe called S'mores Bars. Like this recipe, the dough has graham cracker crumbs in it.
S'mores Chocolate Chip Cookies Small Batch
3 oz (84 grams) unsalted butter, cool room temperature
¼ cup (50 grams) granulated sugar
¼ cup (50 grams) packed brown sugar
2 tablespoon lightly beaten egg
½ teaspoon vanilla extract
¼ teaspoon salt
¼ teaspoon baking soda
½ cup plus 2 tablespoons (80-85) all-purpose flour
About ½ cup (around 45=50 grams) graham cracker crumbs
¾ cups (114 grams) semi-sweet chocolate
Miniature marshmallows (however many it takes!)
1-2 Hershey Bars, broken into pieces (or other favorite milk chocolate)
Directions
Preheat oven to 350 degrees F (176 C). Line 2 cookie sheets with parchment paper. Skip this step if you plan on chilling the dough.
Cream butter and both sugars with an electric mixer; beat in egg and vanilla. Beat in salt and baking soda making sure they are well distributed and free of lumps; stir in the flour, followed by graham cracker crumbs. Stir in chocolate chips.
Drop dough by heaping tablespoonfuls onto cookie sheets, spacing about 3 inches apart. Bake for 9 minutes. Remove and quickly press marshmallows and chocolate into cookies. Return to oven and cook until done (about 3 or 4 more minutes)
Makes about 18 cookies
Recipe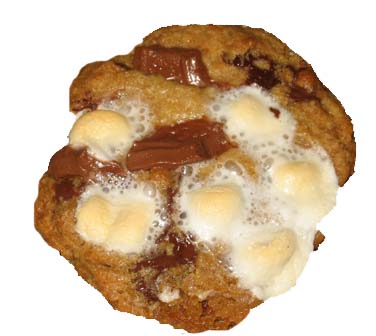 S'mores Cookies
S'mores Cookies are chocolate chip cookies with graham cracker crumbs, marshmallows and bits of Hershey Bar on top.
Ingredients 
6

ounces

1 ½ sticks butter, softened

(170 grams)

½

cup

granulated sugar

(100 grams)

½

cup

packed brown sugar

(100 grams)

1

large

egg

1

teaspoon

vanilla extract

1 ¼

cups

all-purpose flour

(160-170 grams)

1

cup

graham cracker crumbs

½

teaspoon

salt

½

teaspoon

baking soda

1 ½

cups

semisweet chocolate chips (or dark)

1

cup

more or less of marshmallows (not large style)

2

regular

Hershey Bars

broken into pieces
Instructions 
Preheat oven to 375 degrees F. Line cookie sheets with foil.

In a mixing bowl, beat together butter and sugars until light and fluffy. Blend in egg and vanilla. Combine the flour, crumbs, salt and baking soda and add to the creamed mixture. Stir until blended, then mix in chocolate chips.

Drop dough by heaping tablespoonfuls onto cookie sheets about 3 inches apart.

Bake for 8-10 minutes or until cookies spring back when touched and appear set. Remove and quickly press marshmallows and chocolate into cookies. Return to oven and cook until done (about 3 or 4 more minutes)