S'mores taste best when cooked and assembled among friends and open flames, but if you don't have any friends or open flames, you can do what I do and make them as marshmallow bar cookies.  These S'mores Bars are baked in an 8 inch pan rather than the usual 13x9 so you'll get just enough. Update: They also work well with gluten-free flour.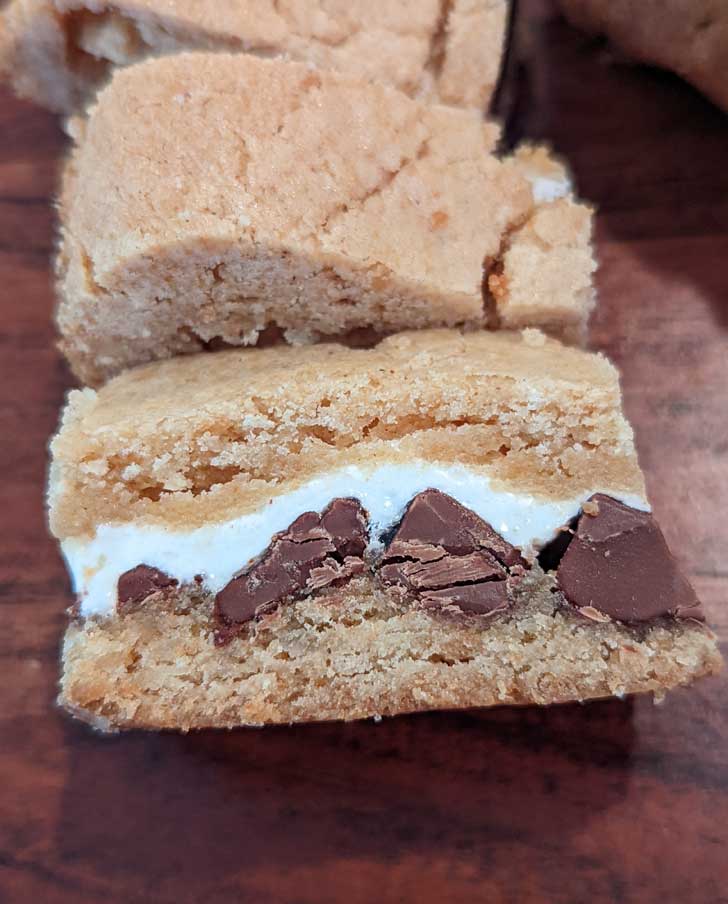 I've been making these for years, but the recipe is actually from Hershey's, which is no surprise since it involves whole Hershey Bars.
Building Your S'mores Bars
Here are some very OLD pictures that give you an idea of what the process looks like. You start with a dough made out of butter, sugar, egg, graham cracker crumbs and flour.
You press about half of it in the pan, then arrange Hershey Bars and marshmallow creme/cream/fluff over the bars.  Lastly, you top the bars with remaining graham dough.
Bake it all up, let the bars cool, the cut into squares! I feel like I have better photos of these somewhere, but I'll have to look. The truth is even though I love S'mores Bars I don't make them often because I'm either out of graham crackers or marshmallow creme.  Recently, I started making my own marshmallow cream  (or marshmallow fluff) using a recipe from Gemma at Gemma's Bigger Bolder Baking.  I haven't yet tried it with S'mores Bars, but it's on my list of things to do (along with updating these photos).
I've also become very fond of the old Indoor S'mores (Golden Grahams S'mores Bars) which don't require any baking at all. I'm not sure which recipe I like better because they're both really good.
New! Gluten-Free S'mores Bars
It's easy to make a gluten-free version of these bar cookies. All you do is use ¾ cup gluten-free graham cracker crumbs (storebought or homemade) and use 170 grams of a gluten-free 1:1 blend. King Arthur Measure for Measure works well, just be sure to weigh it rather than measure by volume.
More Tips
I've been making these for a while now, so here are a few more tips.
The recipe calls for salted butter or margarine. Margarine, the kind with 100 calories per tablespoon (like Land o' Lakes) actually works well here because it makes the dough softer. However, I most often use butter. If using unsalted butter, increase the salt to ½ teaspoon.
Instead of Hershey milk chocolate, use whatever brand you love. I don't recommend milk chocolate chips, though.
Don't bother measuring the marshmallow. You can just spoon it on, spread it as best you can and eyeball.
To make the top layer, you can grab bits of dough, press them down and lay the pieces over the marshmallow, spreading flat. Alternatively, you can press half the dough (about 280 grams) into an 8 inch square on a piece of parchment. Freeze the square just until firm, then invert over the pan and peel away the paper.
Let cool completely before cutting. For neater slices, chill the bars then lift from pan. Slice while cold.
Recipe