Oatmeal-Raisin Crinkle Cookies are based on a recipe from a book full of old state fair winners. Not only is it a nice collection of recipes, but it is a fun book to read. Each recipe has an interesting introduction that talks about the recipe and the contestant. For instance, today's recipe, Oatmeal-Raisin Crinkles said this:
"Spurred on by his wife's success at the Ohio State Far, Charles Hildreth decided to bake a batch of favorite oatmeal cookies and enter them. Result: Two Hildreth first prices winners. A pleasant change from the usual oatmeal drop cookie, this is a flat butter flavored cookie with the good, chewy texture of a crinkle type of cookie. They spread while baking, so for shapely rounds, place the balls of dough at least two inches apart."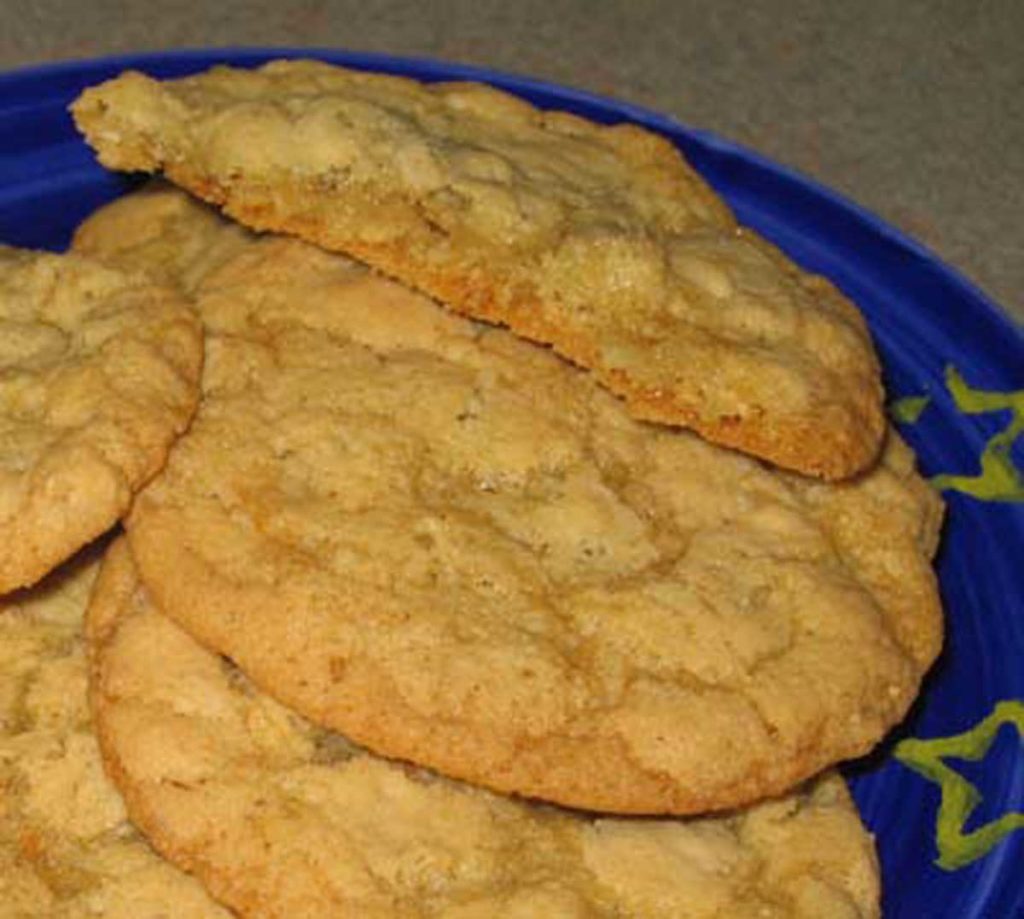 Skeptical
As I made my way through this recipe, I was skeptical. It contained no cinnamon, no brown sugar, and very few oats. Furthermore, the raisins were chopped - which seemed weird (Update: Since writing that I don't think it's so weird anymore. A pain, yes. Weird, no.) As I beat together the pale and anemic looking batter, I kicked myself for wasting all that butter on this recipe and wondered if I should bother moving forward.
I'm glad I did. Oatmeal-Raisin Crinkle Cookies are great! They are definitely not your typical oatmeal cookie, but they have a terrific texture (must be the margarine/butter combo) and a really good buttery flavor. As you can see from the picture, I did not chop my raisins. I wish I had, because the chopped raisins would have made for a more interesting looking cookie. But even with un-chopped raisins, these were delicious.
This is the first recipe I've baked from the book, but based the taste of these cookies, I'll be making a lot more.
Oatmeal-Raisin Crinkle Cookies
½ cup butter, room temperature (1 stick) - use salted
½ cup margarine, room temperature (1 stick)
2 cups sugar plus ⅓ for rolling
2 eggs
1 teaspoon vanilla extract
1 cup rolled oats
1 cup chopped raisins
2 ¾ cup flour
1 ½ teaspoons baking soda
¼ teaspoon salt
Preheat oven to 350 degrees F. In a large bowl, cream butter, margarine and 2 cups of the sugar until fluffy. Beat in eggs and vanilla. In a medium sized bowl, combine oats, raisins, flour, soda and salt. Stir oat mixture into creamed mixture. Shape level tablespoons of dough into balls; roll in remaining ⅓ cup sugar. Arrange 2 inches apart on ungreased baking sheets. Bake in preheated oven 10-12 minutes or until golden brown. Makes 48 cookies.
Note: If you have coarse or crystal sugar, that would look nice on the outside.