Yesterday's cookie was created by Ronna Farley, who I met at the Bake-Off. We sat together on the bus ride to Downtown Disney, where Ronna told me about her job working in the grocery business. When she's not at the store, she loves cooking and doing creative things with food. This recipe is one of those "Gee, why didn't I think of that" ideas, but what's really impressive is how well Ronna executed it. These are delicious.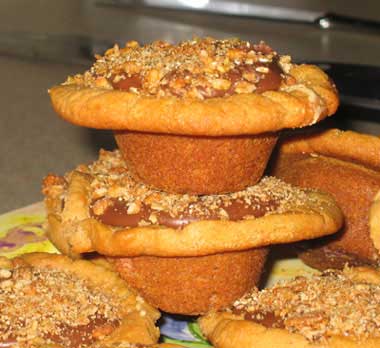 The filling is incredible. I made mine with refrigerated dough and the cookies were just as good as I'd hoped. If you are a purist, you might want to try them with shortbread dough — peanut butter or plain. I'm definitely going to do it that way when I have more time.
Here's a link to the recipe on Pillsbury. I had to improvise a little. H.E.B. was out of Pillsbury peanut butter cookie dough rolls, so I used Pillsbury's pre-formed Reese's Pieces peanut butter cookie dough. The pre-formed cookie dough pieces are bigger than what you'd get if you cut the dough as directed, which is why my cookies (especially with the Reese's Pieces)look like Ronna's in a funhouse mirror.
The dough puffed up, but it deflated again pretty quickly. Time for the filling!
Ronna melted her chocolate over the stove. I like melting chocolate in the microwave, so that's what I did and it worked just fine. I didn't even really need to wash out the bowl after doing the peanut butter/white chocolate layer. You'll know what I mean when you make these. Here's a picture of the first layer.
And the final product! These are pretty firm when cold, but if you serve them at room temperature, they are soft and rich.