I wasn't feeling very creative today, so I just searched allrecipes.com for a chocolate cookie with a bunch of stars. For the cocoa, I used Hershey's Dark, which is why these are so very black. They're soft, super-chocolaty and would probably taste great with wasabi if I knew how to combine chocolate and wasabi. I'm still slightly miffed that I couldn't make that flavor combo work. Oh well. UPDATE: Also STILL miffed that Hershey changed their cocoa powder. It used to darker and had a more interesting flavor.
These were delicious as is, but they're dark and rich enough to accommodate a pinch of chili pepper or cinnamon if you want to call them Aztec.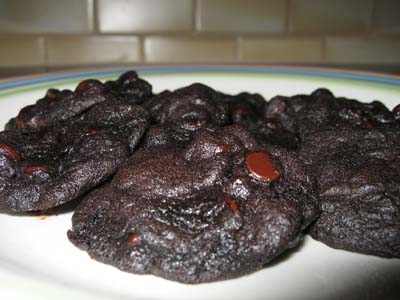 Hershey's Deep Dark Chocolate Cookies
¾ cup butter, softened
¾ cup granulated sugar
½ cup packed light brown sugar
1 teaspoon vanilla extract
2 eggs
1 ¾ cups all-purpose flour
½ cup HERSHEY®'S Cocoa or HERSHEY®'S Dutch Processed Cocoa
¾ teaspoon baking soda
½ teaspoon baking powder
¼ teaspoon salt
1 cup HERSHEY®'S Semi-Sweet Chocolate Chips
½ cup chopped walnuts
Heat oven to 375 Degrees F
In large bowl, beat butter, granulated sugar, brown sugar and vanilla on medium speed of electric mixer about 2 minutes or until creamy. Add eggs; beat well.
Stir together flour, cocoa, baking soda, baking powder and salt; gradually add to butter mixture, beating just until blended. Stir in chocolate chips and nuts. Drop by heaping teaspoonfuls onto ungreased cookie sheet.
Bake 7 minutes or until set. Cool 1 minute; remove from cookie sheet to wire rack. Cool completely.
Makes about 30 cookies