What happened to this year? Why is it already time to start talking about Christmas cookies? Oh, but here we are, and a few people have requested Chocolate Crinkle Cookie recipes. If you're not familiar with Chocolate Crinkles, they're chewy, soft double chocolate cookies with crackly tops and a snowy white dusting of powdered sugar "snow". Because they're typically made for entertaining and served with other cookies, they're on the smaller side. At a cookie exchange, you might see two or three different versions, which all go home in tins buried under Snowballs and Peanut Blossoms. Crinkles (unless they contain peppermint) play well with other cookies.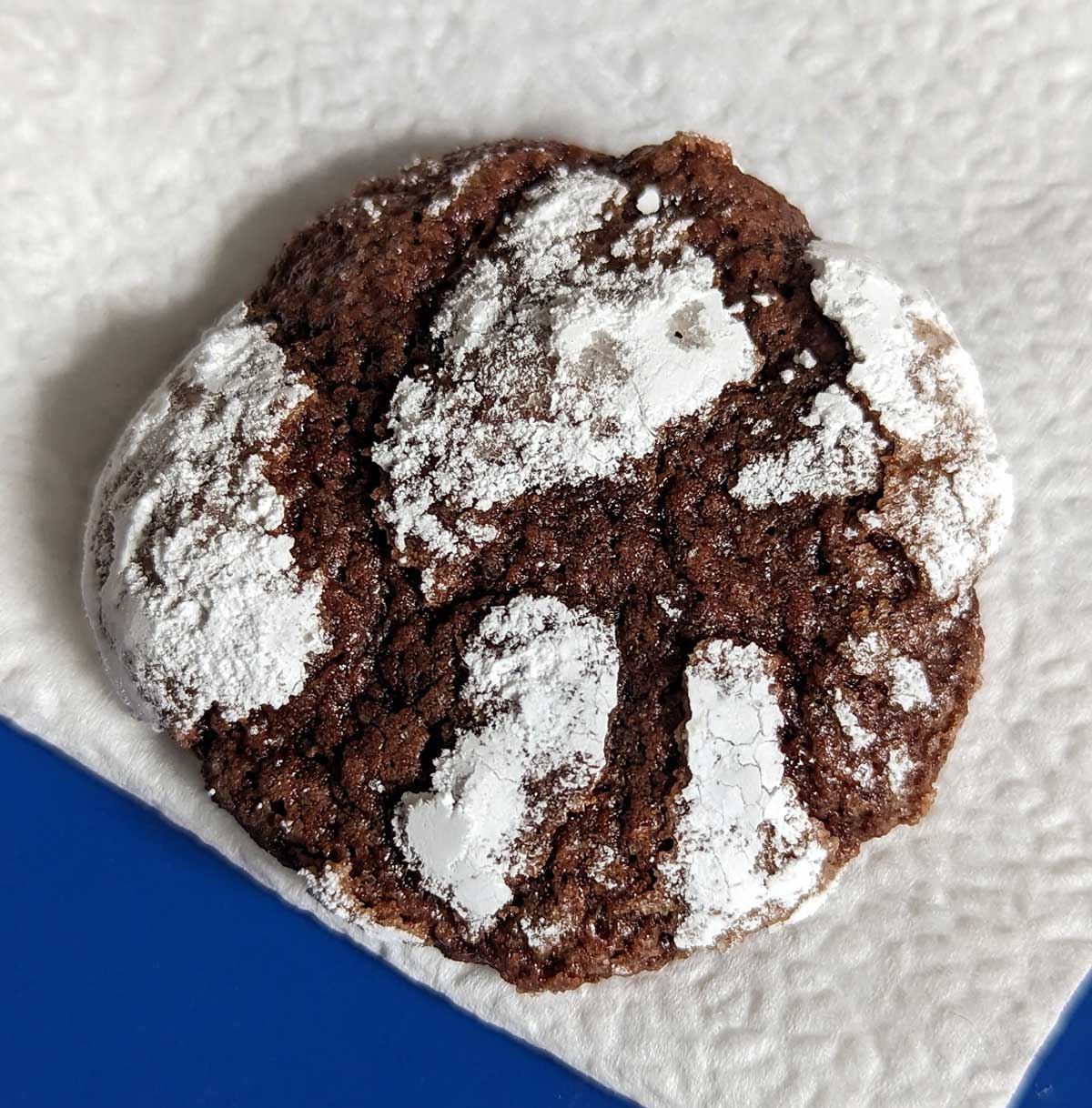 A Snowy Looking Cookie
Being holiday cookies, Crinkles are all about their snowy appearance. To make them look Wintery, you have to use a good amount of baking powder (so they'll crack) and douse them in powdered sugar. Speaking of which, this is a good time to buy no-melt confectioners' sugar. I saw it while visiting the King Arthur store and put it on my list of things to try. Who knew there was non-melting confectioners' sugar! Let's not talk about the ingredient list.
Favorite Chocolate Crinkle Cookies Recipes
Okay, so as requested, here is my list of favorite recipes.
If you are looking for a more adult holiday cookie, try Chocolate Crinkles with Sambuca. They're definitely not kid friendly with the half cup of booze, but very good for licorice fans. If using Ouzo instead of Sambuca, you might need to add a bit more sugar.
Betty Crocker Chocolate Crinkles -- Old school Chocolate Crinkles from Betty Crocker. The classic recipe calls for 4 oz unsweetened chocolate and half cup of oil. Results will vary depending on the quality of your unsweetened chocolate. One nice thing about Betty's recipe is you can just stir everything together in a bowl.
Martha Stewart's Chocolate Crackles -- The ingredients and method are different from Betty Crocker's, but the cookies still come out fairly thin and chewy. The worst complaint about these cookies is that they are too chocolaty.
Brownie Mix Crinkle Cookies -- The easiest and most versatile, but they do taste like brownie mix. One advantage is if you don't do a lot of gluten-free baking ingredients but need to make an easy gluten-free cookie, you can use gluten-free brownie mix.
Cake Mix Crinkle Cookies -- You can make them with Betty's cake mix recipe or try something a little out there. Have you ever heard of the lemon cookies made by mixing cake mix and Cool Whip? You can use chocolate cake mix in place of lemon and make Cool Whip Chocolate Crinkles!
There are lots of others out there, but the ones listed are the ones I have the most experience with. Except for the Cool Whip Crinkles.
Chocolate Crinkle Cookies FAQ
Do I need to grease the pan for Chocolate Crinkle Cookies?
For best results, line the pan with parchment paper. However, if your cookies aren't spreading as much as you'd like them to, go ahead and grease the pan.
What's the Best Type of Cocoa for Chocolate Crinkle Cookies
The best type of cocoa powder depends on the other ingredients in the cookies. Natural cocoa powder is acidic and will react with alkaline ingredients, while Dutch process is alkaline. Both have different flavor profiles. For best results, use whatever type of cocoa powder is specified in the recipe. If it's an older recipe that just says unsweetened cocoa powder, use natural.
What's the Best Way to Melt Chocolate?
A double boiler or bowl set over a pan of barely simmering water is an excellent way to melt chocolate, but so is the microwave. For best results, use 50% power and stir the chocolate every 30 seconds.
What Size Eggs are Best for Chocolate Crinkle Cookies
Large eggs that weigh 48 grams without shell or up to 52 grams with the shell are the best size eggs to use for Chocolate Crinkles.
What Does Espresso Powder Do In Chocolate Crinkles?
The caffeine in the espresso powder lifts the other flavors. The espresso also adds a bit of its own flavor.
What Kind of Sugar is on the Outside of Chocolate Crinkles
Chocolate Crinkle Cookie dough is sometimes rolled in granulated sugar and powdered sugar, but sometimes just powdered sugar. Some people believe that using granulated sugar helps the cookies have a more crackly appearance.
What is in Non-Melting Confectioners' Sugar?
Non-melting confectioners' sugar is made from dextrose, palm oil, cornstarch, magnesium stearate and natural flavor.
The Other Chocolate Crinkle Sparkles
So I've listed four good Crinkle Cookies above. At the end of the day, my VERY favorite Crinkle is a Sparkle! The recipe I linked to is an old one from Chef Thomas Haas, and I've been making it forever. It's definitely not your usual Crinkle recipe because it's made with almond flour (and gluten-free) and requires an overnight chill, but the cookies are fudgy, soft and just the right size for a cookie tin.