Gallete des Rois -- An Old Post
Update: This Gallete des Rois recipe was given to me a while ago by a French blogger. Since posting this, I've made it several times and have found an updated, easy gallete des rois that calls for canned almond paste. Both versions are very good.
As mentioned earlier, my goal for today was to tackle a French pastry called Galette des Rois à la Frangiapane. In France, this pastry is eaten primarily around the holidays. Clotilde does a nice job of describing the tradition surrounding its presentation, which involves hiding a feve - which could either be a fava bean or a little "favor" such as a plastic baby or plastic Disney princess figurine.
There are easy versions of this recipe and there are more complex. I chose a more complex, but still relatively easy recipe by Cindy. Cindy (who has recently updated her blog) does not use store bought almond paste, but makes her own version which includes the addition of a crème patissiere (pastry crème).
Here are some pictures from this morning. Blanched almonds first. I toasted them and got that out of the way (400 for about 7 minutes).
The pastry creme looked like this.
Puff pastry! Pepperidge Farm is the only brand around. It's pretty reliable.
Before baking (the point where I should have chilled it).
After baking. This is after I trimmed out all the leaks.
And here's a cut slice.
Recipe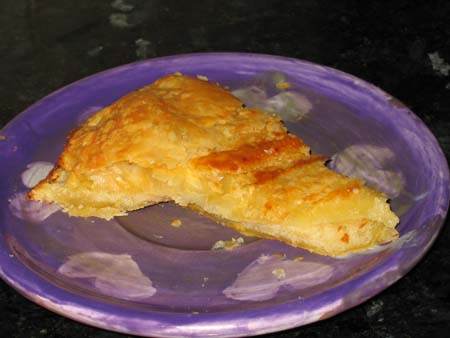 Galette des Rois
Gallete des Rois is a French almond pastry with a small toy hidden inside.
Ingredients 
Creme:
1

cup

whole milk

(230 grams/ml)

2

large

egg yolks

¼

cup

granulated sugar

(50 grams)

2

tablespoons

all purpose flour

(16 grams)

1

teaspoon

vanilla extract
Almond Filling:
1

cup

plus 2 tablespoons blanched almonds

toasted lightly

7

tablespoon

granulated sugar

(90 grams)

7

tablespoons

salted butter, softened (or add ¼ tsp salt to unsalted)

(100 grams)

2

large

eggs

1

tablespoon

of rum

1

teaspoon

vanilla extract

1

teaspoon

almond extract

optional
Pastry and Egg Wash
1 17.3

oz

package puff pastry

or 1 pound homemade, thawed

1

large

egg yolk
Instructions 
Pastry Cream
Place milk in a saucepan and heat over low. While keeping an eye on the milk and watching that it doesn't break into a boil, whisk together egg yolks and sugar in a separate bowl. Whisk in flour.

Whisk ⅓ cup of the hot milk into the egg mixture. Slowly whisk egg/milk mixture into saucepan with simmering milk, whisking constantly. Raise heat slightly, whisking constantly, and cook for about 1 minute or until mixture is thick.

Pour into a clean bowl. Whisk in vanilla. Set aside to cool while you prepare the filling. If you prefer, you can do this step a day or hours in advance and chill in refrigerator until ready to use.
Almond Filling
Grind toasted almonds in a food processor. In a mixing bowl, beat together sugar and softened butter. Add eggs, one by one. Add rum and vanilla. Stir in almonds.

Add half of the pastry cream to the almond mixture. At this point, it might be a bit liquidy. Chill mixture in the refrigerator for an hour or more to firm it up a bit. You may be able to skip this step. Mine needed to chill a bit. There will be leftover pastry creme.
Pastry
Line a cookie sheet with parchment paper. Roll one sheet of puff pastry and shape into a 12 inch circle. Spread the almond filling (frangiapane)on the dough leaving a border a little over an inch. Roll out the second sheet of puff pastry and form a larger circle. Lay it on top of the frangipane. Press down the edges tightly to seal in the frangiapane. Chill for 30 minutes. (I forgot to chill mine after filling and I think it caused some leakage.

Using a pastry brush, brush the entire galette with egg yolk. (I didn't do this very well which is why my galette is streaky looking).

Bake at 400 degrees F. for 25-30 minutes. Cindy used different baking times, but I suspect most Americans will use Pepperidge Farm puff pastry and that's the temp they gave on the box.
Notes
I had no idea what I was doing when I first made this recipe, yet it worked! One little irritating factor is that it calls for only half the pastry cream. If you are skilled at making small batches of sauces and whatnot without burning the, you can halve the recipe for the pastry cream. Otherwise, just make as directed and save the other half for something else (or freeze it).