We still haven't finished the 9x13 inch Baklava, but I was very curious to see how an 8 inch square pan version would work and used that as an excuse to try another recipe -- the Cook's Illustrated Baklava from April 2004. Sonya recommended it in the comments, so I knew I was off to a good start.
Jump to Recipe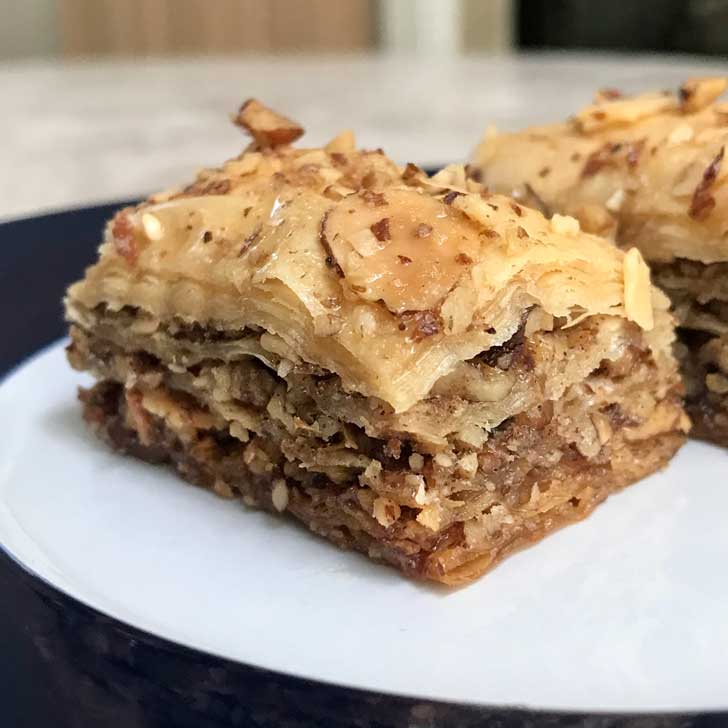 Cook's Illustrated Baklava Features
The Cook's Illustrated Baklava has some key features. It calls for a mixture of nuts, a cinnamon stick and citrus zest in the syrup, and a low & slow bake at 300 degrees F for 90 minutes. In addition to those things, Cook's Illustrated recommends using clarified butter for Baklava, as the lack of milk solids help the Baklava to brown evenly. I was curious to see if there was anything to this, plus it's always fun clarifying butter.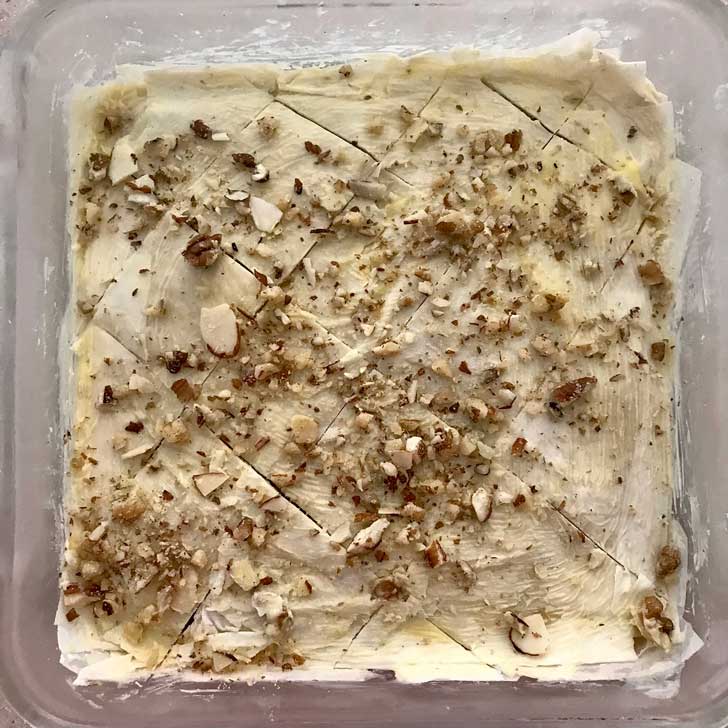 8 Inch Pan Baklava vs. The Others
So l made the new batch of Baklava and definitely have an opinion. Of the three Baklava recipes I've posted in the past few weeks, the Cook's Illustrated adapted 8 Inch Pan Baklava is my favorite. It's a little less sweet, seems a bit crisper, and the mixed nuts (pecans, almonds and walnuts) gave the Baklava a little more personality. With less sugar, the nut mixture is crumblier and less cohesive than the others, but the flavor trade-off is worth it. Also, the pecans were an afterthought. I had some I needed to unload, and putting them in Baklava seemed liked a good idea. Turns out they were my favorite nut in the mix!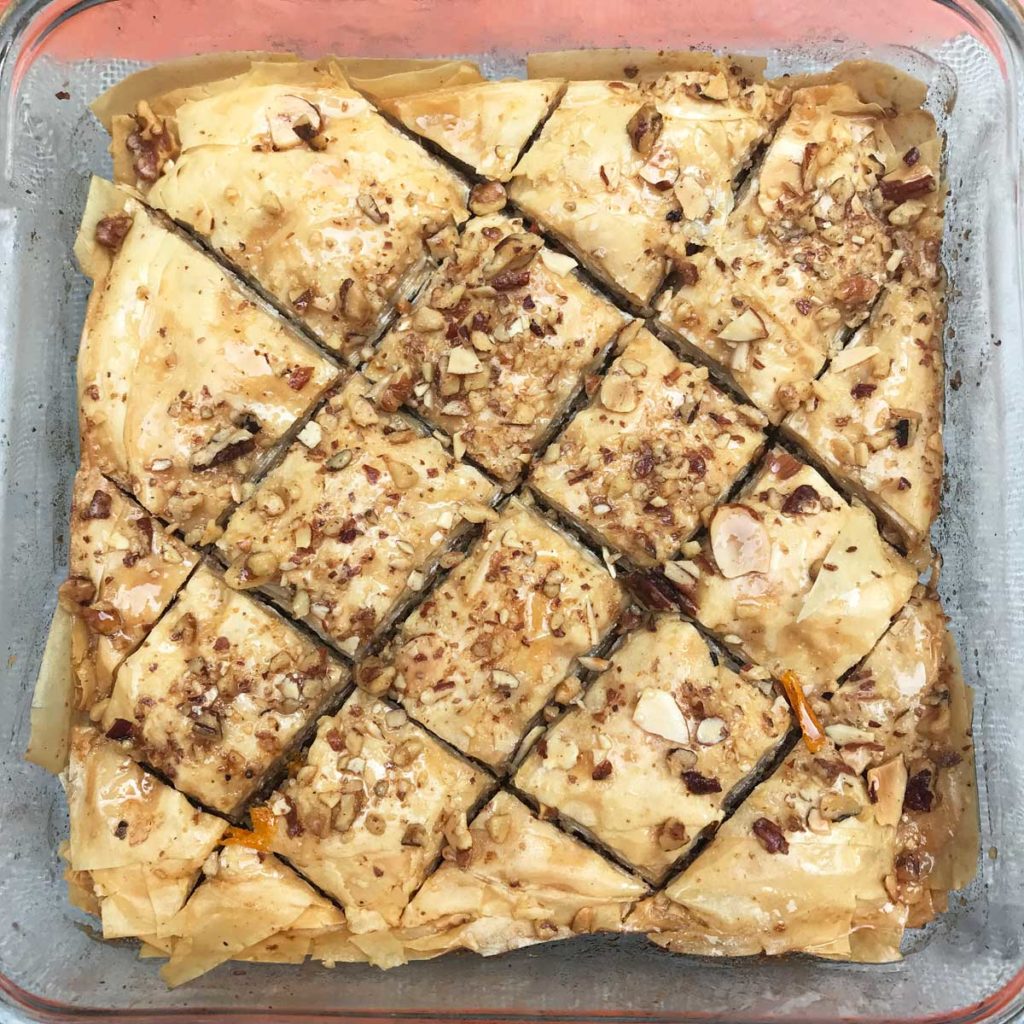 Using Clarified Butter for Baklava
As mentioned, I was interested in seeing how the clarified butter would work in Baklava, so I did indeed use clarified unsalted butter. Even though the Baklava was delicious (and evenly browned), I think next time I'll use salted cultured grass fed butter. The salted butter really adds more flavor. So now I already can't wait to make a second 8 inch pan version with cultured butter.
Recipe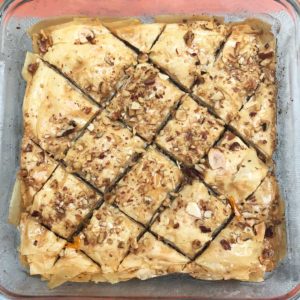 8 Inch Pan Baklava
Baklava with lemon, cinnamon and spices baked in an 8 inch square pan.
Ingredients 
10

tablespoons

sugar

(125 grams)

6

tablespoons

water

(84 grams)

½

stick

cinnamon (optional)

3

strips

lemon zest

1

tablespoon

lemon juice

3

tablespoons

honey

(60 grams)
Nut Filling
6

ounces

mixed nuts (pecans, walnuts, almonds)

( 170 grams)

1

tablespoon

sugar

(12 grams)

½

teaspoon

cinnamon

1

pinch

each, cloves and salt
Butter and Pastry
14

tablespoons

unsalted butter, clarified OR just melted salted unclarified

(170 grams)

½

pound

room temperature phllo dough, 9x14 inch sheets

(1 sleeve)
Instructions 
Make Syrup First
Combine water, sugar, lemon zest and ½ cinnamon stick (optional) in a saucepan and bring to a boil, stirring often to dissolve sugar. Let stand for about 5 minutes, then stir in lemon juice and honey. Let cool completely.

Pulse nuts in a food processor until finely chopped, then transfer to a bowl and toss with cinnamon, sugar, cloves and salt. Set aside.

Unroll one sleeve of phyllo dough very carefully, then cut it in half so that you have two stacks for phyllo measuring about 9x7 each. Cover stacks with a damp cloth (or dampened paper towels) to keep them from drying out.

Brush butter generously over the bottom of an 8 inch square baking dish. Carefully peel away one sheet of phyllo and lay it over the butter. Brush with more butter and repeat the process with 7 more sheets of phyllo.

Spread about half cup of the nut mixture evenly of the phyllo and repeat layering and buttering with 6 more phyllo sheets. Add a second layer of nuts and once again layer on 6 sheets. Add the final layer of nuts, then layer on 8 to 10 sheets.

After you've added your top layer of phyllo, use the palm of your hands to carefully work out any excess air. Brush more butter over the top. Using a large knife, score the baklava into diamonds by making diagonal cuts.

At this point you can bake the baklava right away or you can chill it for an hour or so to allow the butter to set. This step is supposed to make the layers flakier, and it also gives you time to go do something if you are tired of dealing with Baklava.

When ready to bake, preheat the oven to 300 degrees F and bake the Baklava at 300 degrees for about 1 ½ hours.

Carefully pour the syrup over the Baklava, focusing on the cracks. That is, drizzle it over the areas where you scored. Pour the last 2 tablespoons all over the top. Let cool for 3 hours, then cover with foil and let stand for 8 hours before serving.
Notes
I tested with clarified butter and am not sure if it's actually necessary to clarify it.