I certainly did not think I'd be making apple strudel during our kitchen remodel, but I was going crazy not being able to bake, and felt like pulling something together even though my ingredients and equipment are scattered all around the house. This easy Toaster Oven Apple Strudel was just the thing.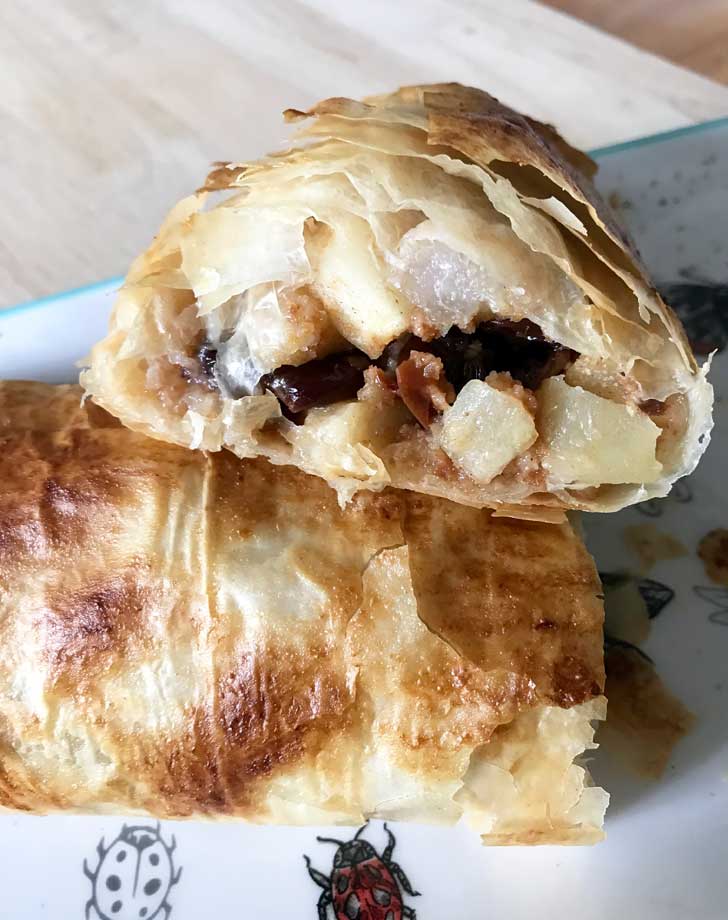 Breville Toaster Oven
I don't have a kitchen oven right now, but I do have a Breville toaster oven on loan from our builder. It's working out well! I forgot how much I liked baking things in the Breville. We had one for years, then it broke and I replaced it with a Cuisinart Air Fryer Toaster Oven. The Breville is quieter and bakes so much more evenly, that I'm watching out for sales so I can buy a new one (Oven Pro).
In addition to the toaster oven, I used our makeshift dining room kitchenette along with this rolling microwave cart which I highly recommend if you need more counter space. Plus it was easy to build.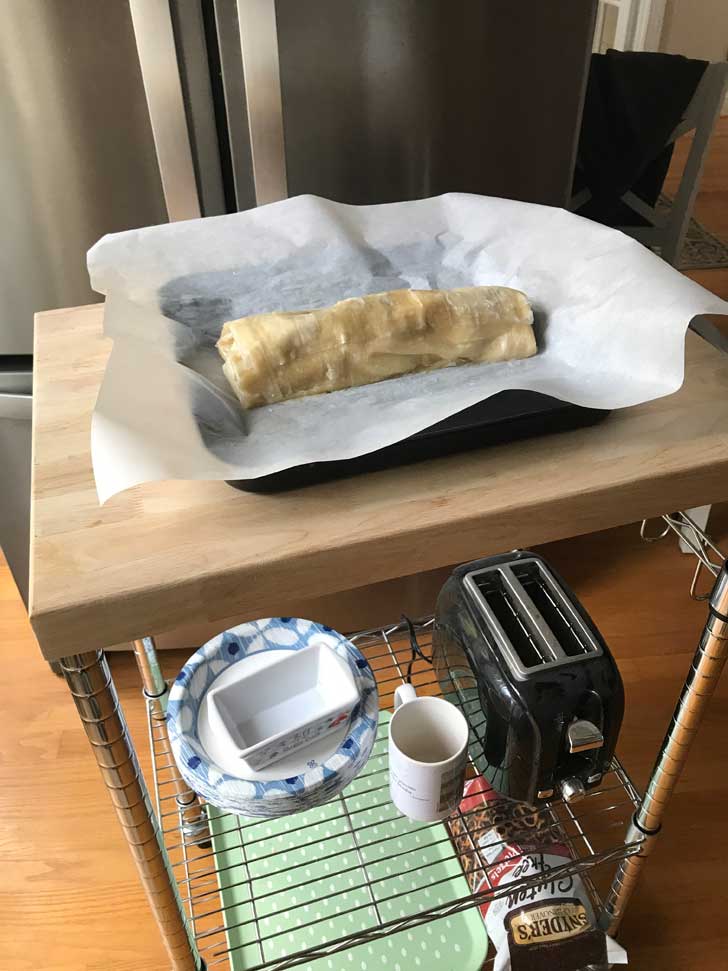 Running water for dishes is still an issue. Luckily we have a sink in the garage, and I'm getting used to garage dishwashing.
But I guess you came here for the apple strudel recipe, so here we go.
Toaster Oven Perfection
The recipe is from America's Test Kitchen's Toaster Oven Perfection, which is a good book for anyone who uses their toaster oven for more than toast. And that's a lot of people. Toaster ovens are so high tech these days that it makes sense. Anyhow, I followed the recipe the best I could, though I did not use all of ATK's tips on making the best apple strudel.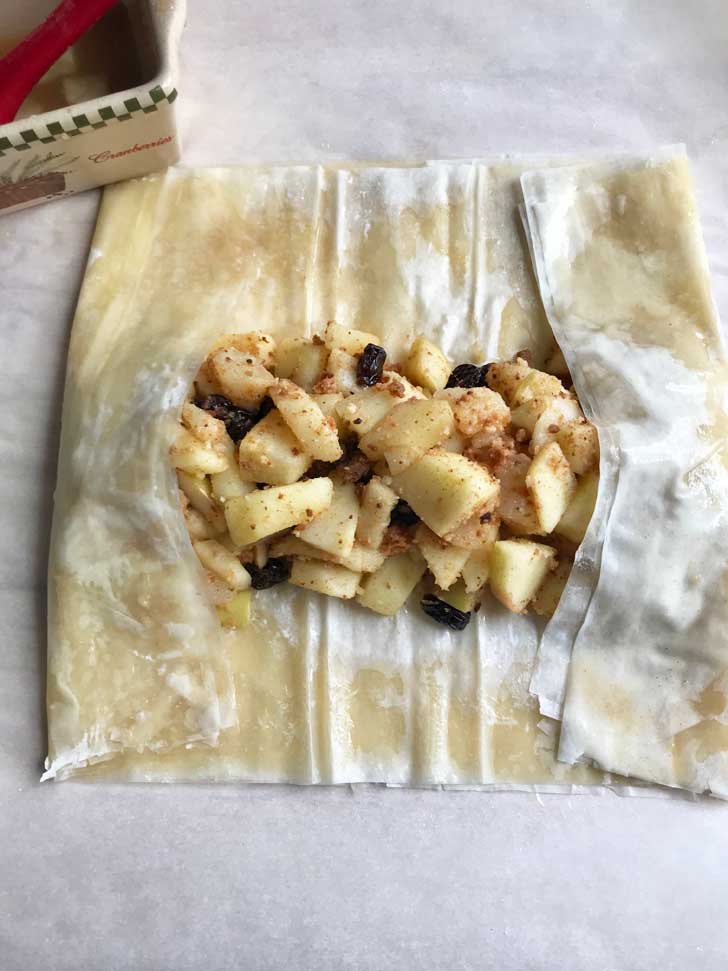 Toaster Oven Apple Strudel Tips from ATK
Briefly microwaving the apples activates an enzyme that lets the apples bake without getting mushy and collapsing. I did this and was impressed. The apples were soft, but still had a little crunch to them. The pear, well, not so much but it's a pear so....
Draining the liquid from the apples before baking and using apple liquid as a glaze helps brown the phyllo and adds flavor.
Adding panko to the apple mixture soaks up moisture.
Dusting each layer of phyllo with a little confectioners' sugar is a step ATK recommends to "minimize flyaways". I honestly wasn't sure what they meant by this at first, but it didn't matter because I couldn't find my confectioners' sugar and skipped it completely. But what I think they meant was the phyllo dough separating. The confectioners' sugar is supposed to help the layers fuse together. So I skipped the confectioners' sugar and nothing flew away. However, the phyllo did puff up nicely and was super flaky. I do think the confectioners' sugar would have added some very welcome sweetness.
This strudel is baked seam side up which helps prevent a compressed underside. This worked really well, though you may find your seam is more to the side rather than right on top. Either way, it's baked seam side up so you don't have to flip it over and bake it on the seam.
A Few More Tips
You can assemble this ahead of time, then cover and chill until ready to bake.
I tested with salted butter and found it a tad bit salty, so it's probably best with unsalted butter and a tiny pinch of salt.
European style butter such as Plugra works really well here!
Be sure to have a platter ready so you can transfer the strudel to it quickly, otherwise it might be sitting in liquid.
Since much of the liquid is drained there's not a ton of leakage, but with all the butter there is some, so make sure to use a rimmed baking sheet.
It felt really good to do some baking after a brief hiatus, and now I finally have a good apple strudel recipe here on Cookie Madness.
Recipe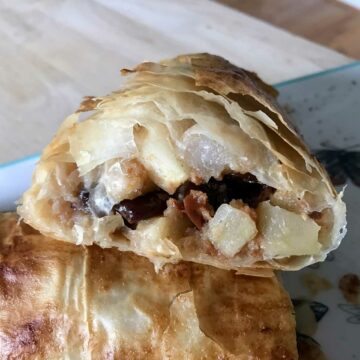 Toaster Oven Apple Strudel
An easy strudel recipe made with ready to use phyllo dough.
Ingredients 
7

sheets

phyllo dough (14x9 inches)
Filling
12

ounces

apple and pear, peeled cored and cut into small chunks (start with about 1 pound total or about 3 apples and 1 pear. 12 oz is the weight after being peeled and cored.

I used a Bosc pair and Honey Crisp apples. ATK used 2 Golden Delicious.

1 ½

tablespoons

granulated sugar

(40 grams)

1

teaspoon

lemon juice

¼

teaspoon

lemon zest

¼

teaspoon

each of cinnamon and ginger

2

tablespoons

dried cranberries, cherries or raisins

1

tablespoon

panko

pinch of salt

3 ½

tablespoons

melted unsalted butter

1 ½

teaspoons

confectioners' sugar (optional)
Instructions 
Allow the thawed phyllo dough to come to room temperature.

If using a toaster oven (such as a Breville), adjust the rack to the center. If using a regular oven, just make sure the rack is somewhere in the center. Preheat oven to 350 degrees.

Have ready a rimmed baking sheet. No need to line it, because you will use the parchment paper on which you assembled the strudel.

In a microwave-safe mixing bowl, toss together the pear (if using), apples, sugar, lemon juice, lemon zest and spices. Cover with a sheet of plastic wrap and microwave on high for 1 minute. Uncover and stir. Cover again and microwave for another minute. Let stand, covered, for 5 minutes.

Drain the juice from the apple mixture, reserving the liquid. You can do this with a colander or just by holding a slotted spoon or spatula against the fruit and letting the liquid drain into a little bowl or container.

Stir a pinch of salt, dried cranberries (or raisins or cherries) and panko into the apple mixture.

Lay a large (16x9 inch) sheet of parchment on the counter with the long side parallel to the counter. Lay one 14x9 inch piece of phyllo on top.

If using unsalted butter, add another little pinch of salt to the melted butter. Brush the phyllo with melted butter. Using a fine mesh strainer, sprinkle with confectioners' sugar (I skipped this step completely). Repeat with the 6 more sheets of dough, brushing butter and sprinkling very lightly with the confectioners' sugar.

Spread the apple mixture in a 2 ½ x 10 inch row about 2 inches above the bottom edge of the dough. Leave a 2 inch margin on the right and left side and somewhere between 3 and 4 inches space at the top for folding down.

Fold the left and right sides inward covering some of the apples, then brush with some reserved apple liquid. Fold the bottom edge up and brush with apple liquid. Now carefully fold the top edge over so that it overlaps the bottom by about an inch or at least enough so that you have a good seal. Brush with a little more apple liquid. Do not turn seam side down.

Lift the parchment and transfer the whole thing to a baking sheet. If using a toaster oven baking sheet, you'll need to trim the parchment so it fits.

Bake at 350 degrees F. for about 25 to 30 minutes, rotating halfway through.

When golden brown, immedately transfer strudel to a cutting board. Let cool for a few more minutes, then cut into slices and allow it to cool for a few more minutes before serving. You may want to dust it with more confectioners' sugar, as it's not very sweet.
Notes
I used salted Plugra and omitted the extra pinch of salt.  The Plugra worked perfectly and probably helped make the pastry extra flaky and delicious, but next time I would use unsalted, as the salted version was a tad salty.