This weekend I've been helping the Austin Junior League with their annual Christmas Affair by signing cookbooks. As always, they are promoting and selling two of their best books- Necessities and Temptations and Austin Entertains. If you like Junior League books, you should definitely buy Austin Entertains. The recipes are easy, yet elegant and the book is menu driven to make party planning easy. If you are a Texan living elsewhere, this book will remind you of home.
Another one you might want to add to your collection is Stop and Smell the Rosemary. You will use it over and over. Yesterday, I talked with a lot of Junior League cookbook lovers and at least five people mentioned how much they cherished that particular book.
Now onto today's recipe! It's for a crunchy peanut candy with an interesting texture.
Today, we have a handy addition to your holiday candy plate. I will not tell you which candy bar it resembles, but will let you guess. Here's a hint. It has peanut butter, molasses and breaks off into little shards. If I tell you what color the wrapper is, you will know……
This version is actually an old Southern recipe. I adapted this from an Oxmoor House Christmas book. The recipe was one used by the test kitchen director's mom, but I changed it by adding molasses and using the microwave to soften the peanut butter (she used a double boiler). Below is a photo of it without the chocolate.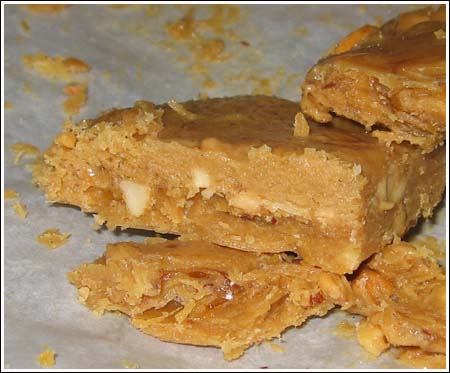 Peanut Butter Crunch Candy
1 cup sugar
1/3 cup water
1/4 cup plus 1 tablespoon light corn syrup
2 teaspoons molasses
12 ounces of milk chocolate (or dark, your choice)
1 cup creamy peanut butter
Line an 8 inch pan with parchment paper or nonstick foil.
In a small (2 quart) lidded saucepan, stir together the sugar, water, corn syrup and molasses. Turn heat to medium and cook, stirring constantly, for 3 minutes or until the sugar dissolves. Reduce heat slightly so that mixture is at a gentle boil, then place the lid on the saucepan and cook for another 3 minutes. The steam will wash sugar crystals off the side of the saucepan. Remove lid and place your deep fry thermometer in the pan so that it measures what's going on near middle.
Cook the sugar mixture over medium heat until it reaches 310 degrees F. Do not stir.
While mixture cooks, place your peanut butter in a 2 qt. microwave-safe mixing bowl. Microwave peanut butter on high for 30 seconds and stir so that peanut butter is soft.
When sugar mixture hits 310, pour the sugar mixture into the peanut butter mixture and stir until blended. Quickly transfer to lined pan. Let cool for about a minute, then score (do not cut all the way through) the candy into 1 inch or larger squares. Let cool completely. Remove from pan.
Melt chocolate in microwave or double boiler and dip squares in chocolate. Let chocolate set.