Sometimes you feel like a nut, sometimes you feel like an egg. Or in this case, Browned Butter Coconut Eggs for Easter. It's a Mounds or Almond Joy type candy made with browned butter, extra virgin coconut oil, condensed milk and more things to make the coconut filling super flavorful.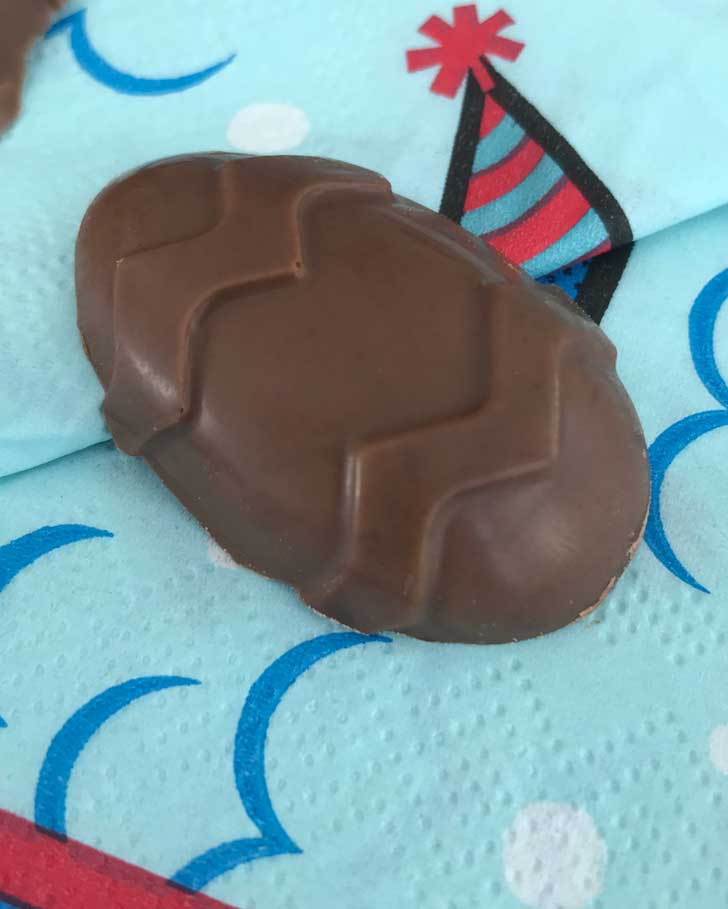 I like coconut, but sometimes chocolate covered coconut candies can be dry and a little bland. My obvious goals were moisture and flavor, and I think that's what I achieved with this filling. First, the moisture. Here's a picture of what it looks like right after being mixed. It should firm up a bit as it stands. If you use molds, it doesn't matter so much .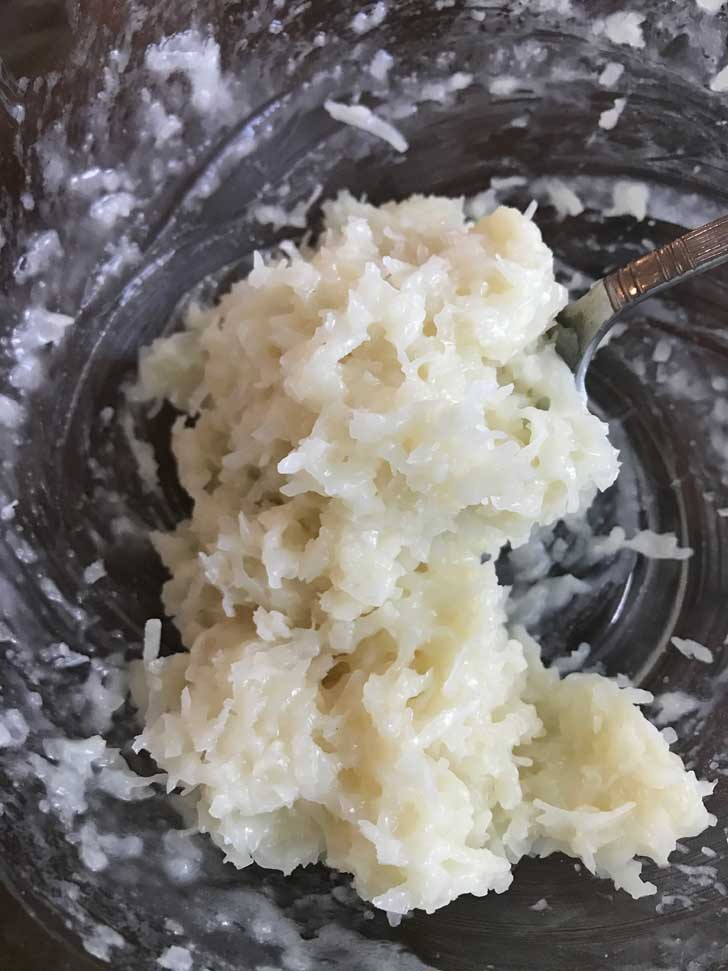 And then there's the brown butter. I actually hadn't planned on making a browned butter filling, but I cooked the butter a little too long and you can guess the rest. Turns out browned butter and coconut are a natural pair! These are great tasting candies which you can make for any occasion, including Easter.
Using Easter Candy Molds
After years of trying to make professional looking homemade dipped candies, I came to my senses and bought candy molds. I should have done it sooner. Molds aren't that expensive, you don't have to worry if the filling will hold together, and just about any candy you make will pop out and look beautiful. I found these eggs and bunny molds on Amazon. They work so well I'm going to go shopping for more shapes.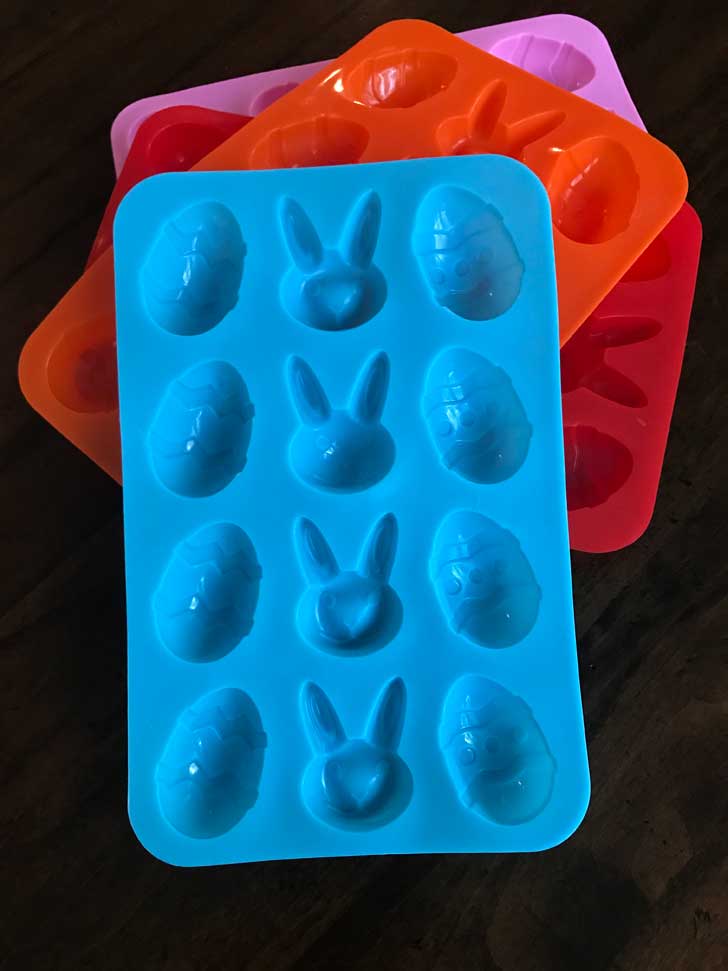 Filling the Molds or Dipping
The filling can be spooned into the molds right away, or you can press it into a pan, let it firm up a bit in the fridge, then cut it into little squares. Those squares can be plopped in the molds and coated with chocolate or if you are good at dipping and chocolate coating, you can just drizzle the coating over. Here's a picture of what a half batch looked like. The coconut squares are darker because of the browned butter. Once coated in chocolate, they don't appear so brown.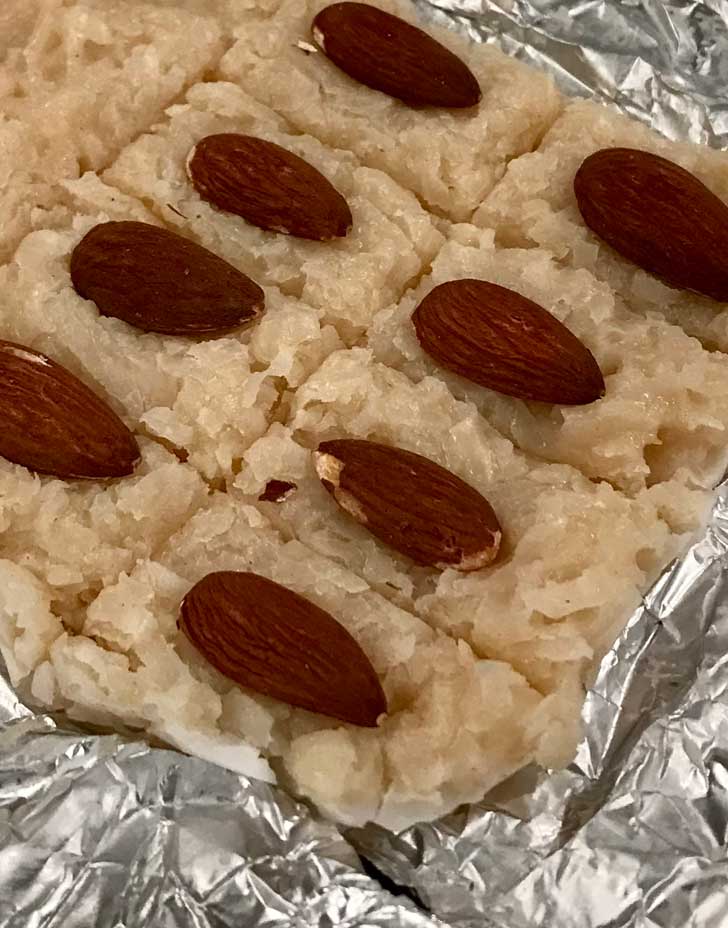 Coconut Eggs Ingredient Notes
You can brown the butter or just melt it. I wasn't sure how the browned butter would work out, but it was fabulous with the coconut.
To add more coconut flavor, I added in a little unrefined coconut oil. If you don't have the coconut oil you can use more butter.
To measure condensed milk, I set my bowl on a scale, set the tare to "0" and pour in the amount needed for the candy. The rest of the condensed milk is then stored in a plastic tub in the refrigerator. I can always find uses for it these days. They also sell Eagle Brand in handy squeeze bottles now.
Vanilla is so good with coconut. These are perfect with the Sonoma Syrups Vanilla Bean Crush or any good quality vanilla.
The sugar amount is on the low side, so feel free to add more to taste.
Use flaked, sweetened coconut like Angel Flake. I tested these with unsweetened shredded coconut and did not like the candy at all. It was so dry. I'm sure there are ways to make unsweetened coconut work if that's what you have, but the sweetened coconut is what worked best for me.
I used Hershey's Dark thinking it would taste more like a Mounds, then I made a few more with Cadbury Dairy Milk.
Recipe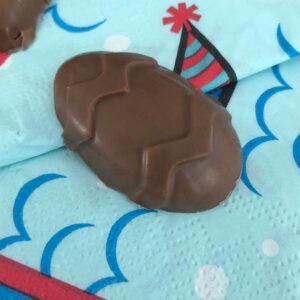 Browned Butter Coconut Eggs
Mounds or Almond Joy type candy made with sweetened flaked coconut.
Ingredients 
3

tablespoons

unsalted or salted butter

(42 grams)

3

tablespoons

unrefined extra virgin cocont oil

(40 grams)

¼

can

condensed milk (3 ½ oz)

(98 grams), it's okay to go a little over

1

teaspoon

best quality vanilla extract

1

pinch

salt plus more to taste

½

cup

confectioners' sugar, slightly heaping

(60-70 grams)

2

cups

sweetened flaked coconut, I measure by weight

(210 grams)

8 to 12

ounces

dark chocolate, chopped
Instructions 
Grease an 8 inch square pan or a 9x5 inch loaf pan and line with parchment paper.

Melt the butter in a large (3 ½ quart) saucepan and heat it just until it become brown and fragrant.

Remove from heat and add the coconut oil, condensed milk, vanilla, salt and confectioners' sugar. I like to do this by putting the saucepan on my scale, setting the tare to zero and just adding everything (except the vanilla and salt) in by weight.

Add the coconut and stir well. At this point you can add more vanilla or salt to taste. If you'd like it a little sweeter, add more confectioners' sugar.

Press into the pan. Chill until firm, then lift from pan and cut into little bars or small pieces. You can drizzle chocolate over the coconut bars or cut them into smaller chunks and use them as the filling for molded chocolates, which is what I recommend.

Melt about 4 oz of the chocolate in the microwave using 50% power and stirring every 60 seconds. Spoon about a teaspoon of melted chocolate into the molds and spread it up the sides. Put in the freezer briefly to firm.

When the chocolate is firm, spoon a piece of the coconut mixture in the center. You can use as much or as little as you want, but leave space on the sides for more chocolate. Drizzle chocolate over and chill or freeze until firm.

Melt 4 more oz of the chocolate and spoon it over the exposed coconut. Return to the freezer and freeze until firm. Continue until you've used all your chocolate and/or coconut.