Texas Al's Peanut Butter Cookies is a recipe from Erica, who got it from her uncle. Erica sent it to me in PDF form, so I got to see the original format. Fun! I love seeing recipes on original letterhead or in a person's own handwriting.
I liked Texas Al's format, so just for fun, I wrote it in Texas Al's exact words (including the hints) and followed it as Texas Al instructed. There were a few minor issues.
1. Unchilled dough was too soft to divide equally into 13 pieces as directed, so I just scooped up dough and molded it. Chilled dough was easily divided.
2. I got 16 nice sized cookies. Al got 13.  Update:  I've made these many times since and now I also get 13 when using a large cookie scoop.
Here are some more recent photos.  If you are wondering why there's an M&M in the cross-section, it's because I used homemade peanut butter cups that just happened to have M&Ms on top.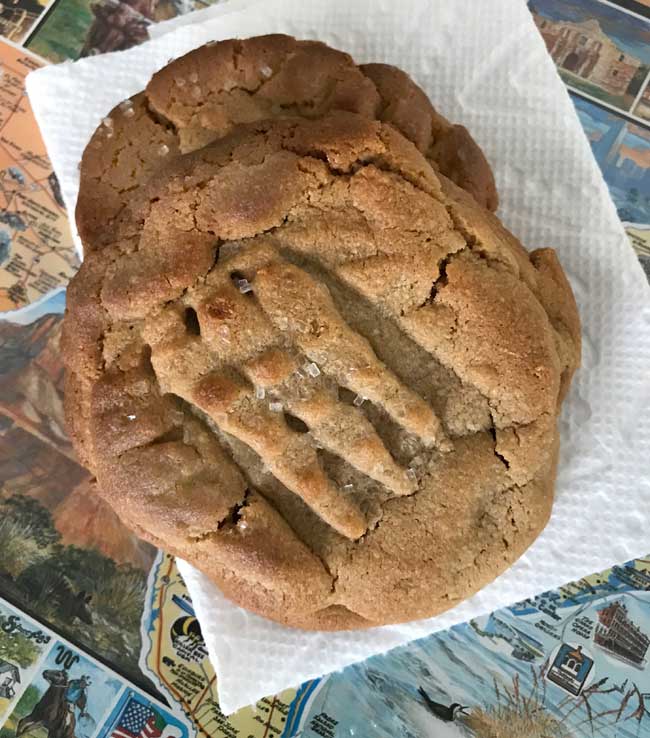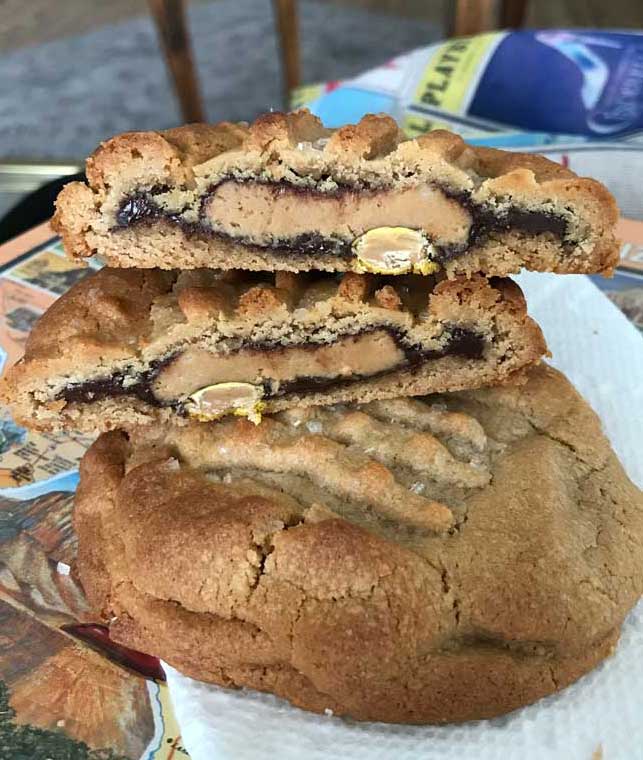 Texas Al's Peanut Butter Cookies
Start with: 13-16 miniature peanut butter cups
Heat:
½ cup butter or margarine
Add/Beat:
½ cup brown sugar (100 grams)
½ cup sugar (100 grams)
Add/Beat:
1 egg (50-54 grams)
1 cup peanut butter
½ teaspoon salt
½ teaspoon baking soda
½ teaspoon vanilla
Add:
1 cup flour, lightly spooned (125 grams)
Divide dough into 13 equal parts. Wrap each dough piece around a miniature peanut butter cups. (CM's Note: I was able to do 16 ping pong size balls rather than 13)
350 degrees 15-18 minutes 6-8 cookies
Melt over low heat ⅓ cup chocolate chips plus 1 teaspoon shortening
Drizzle melted chocolate over cooled cookies
Hint: Prepare the cookie dough the night before, wrap the peanut butter cup in it, leave the cookie dough refrigerated overnight.
Cook until just starting to get golden
Use Nestle Chocolate Chips - Cheap chocolate chips don't melt as well.
Cookie Madness Notes: I took the term "Heat" to as "Melt" and used the microwave to melt the butter. I melted it right in the mixing bowl, then beat in the other ingredients. This worked fine, but as mentioned above, the dough was rather soft and dividing it into 13 equal portions, as Al directs, was kind of tricky. Instead, I just kind of scooped out dough and molded it around the mini cups. I did this with half of the dough, then chilled the rest to see if it would firm up. It did. So if you chill the dough, you can divide it into pieces.