Vegan Chocolate Truffles (aka Cashew Truffles) are made with vegan chocolate and cashew cream. If you have a blender or a food processor, these are very simple.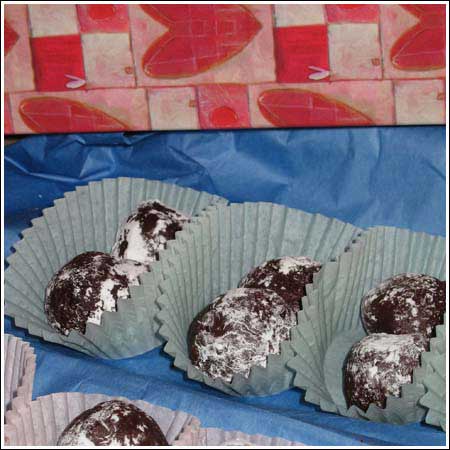 Vegan Chocolate Truffles
¾ cup raw cashews
¾ cup cold water
1 pound bittersweet chocolate, look for one with no dairy if you are, indeed, vegan
1 teaspoon pure vanilla extract
Cocoa powder
Place the cashews and water in a food processor or blender. Process or blend for 2 minutes or until smooth. Scrape sides of bowl and process some more or until the mixture is the consistency of heavy cream. It should look something like this.
Place chocolate in a 2 quart microwave safe bowl and melt on high, stirring every 30 seconds. If you are old-school, do this in a double boiler. Let the chocolate cool for 3-5 minutes, then stir in the cashew cream and vanilla extract.
Chill mixture in refrigerator for 2 hours. Using a melon baller or cookie scoop or whatever tool you feel most comfortable with, scoop out a little ball. Roll the little ball in cocoa powder or powdered sugar.
Serve Vegan Chocolate Truffles in Valentine's Day cupcake holders or other festive truffle receptacle. Return to refrigerator to chill a bit more.