This is an old post from when I first started baking Challah. I named this recipe Rich Challah since it has 1/3 cup of oil and is flakier than some others. These days Fuzz does most of the Challah making, and she almost always uses the Challah for Bread Pudding recipe. But this one's good too! We'll have to bake them side-by-side to see if one is better.
Old Post About Challah
One of my favorite types of bread is Challah. It's pretty, has an interesting texture and tastes really good. Unfortunately, it's not easy to find good Challah around here, so I have to bake it myself.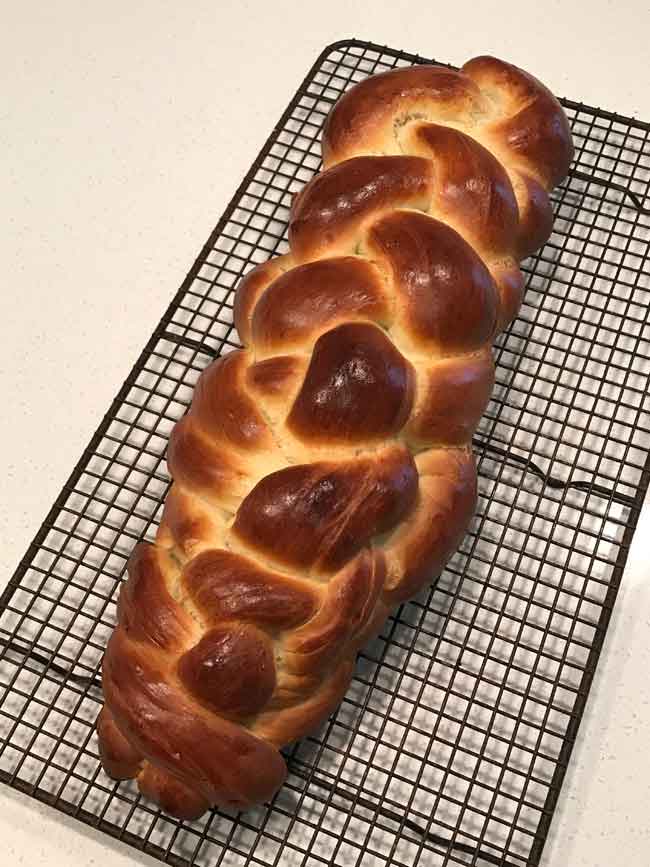 The last batch I made was a disaster due to an error in how much flour was needed. After the disaster, I took a break from Challah making and focused on other things. I re-visited Challah yesterday and do believe I've found a great recipe.
This Challah is from Recipezaar (now Food.com). It is very easy to make if you have a stand mixer, though you can definitely make it without one.
Before you make this recipe, take a look at the original version and read what others have to say. A few people had issues with the amount of flour. I used bread flour and 4 cups (18 oz or 1 pound 2 oz) was fine. The dough seemed a bit dry at first, but it rose perfectly. My other issue with that recipe is it says preheat the oven to 400 degrees in the first step. You don't bake the Challah for another 2 ½ to 3 hours after assembling, so you shouldn't even turn on the oven until bake time (recipe pet peeve).
Update: I feel like 400 degrees makes the Challah to dark, so I've decreased the temperature to 375 degrees.  I've also increased the salt to 1 1/2 teaspoons.
Update 2:  Rich Challah is a great recipe, however if you want an easy Challah recipe with slightly less oil, I recommend the Easy Challah (linked to in the first paragraph) which I make frequently for the family and for making Challah Bread Pudding.  The recipe in the link is made with quick rising yeast, while the one below uses 3 teaspoons (which is a little over one packet) of regular active dry yeast.
Also, since posting this recipe I've learned to make Challah with six strands of dough rather than three.  The six strand method is pretty fun once you get the hang of it.  If it's your first time, I recommend using this braiding tutorial.
Recipe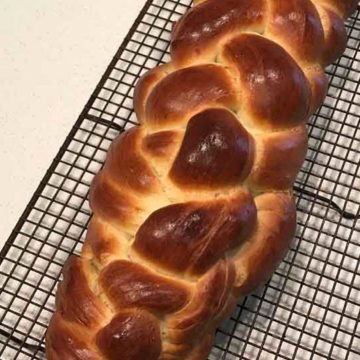 Rich Challah (Braided Egg Bread)
One of our many favorite Challah recipes!
Ingredients 
1

teaspoon

sugar

1/2

cup

warm water

3

teaspoons

yeast

4

cups

bread flour

1 pound, 2 oz

4

tablespoons

sugar

1 1/2

teaspoons

salt

(You can reduce to 1 teaspoon)

1/3

cup

canola oil

2

eggs

1/4

cup

warm water

1

egg yolk — beaten with

1

teaspoon

water

sesame seeds or poppy seeds
Instructions 
Dissolve 1 teaspoon sugar in 1/2 cup water in the bowl of a stand mixer.

Sprinkle yeast over water and mix, let stand 10 minutes until foamy.

Add the next 6 ingredients to mixing bowl and mix with dough hook for 6 minutes.

Dough should be a little sticky. Place in oiled bowl, cover and let rise in warm place until doubled in bulk (1 hour). Punch down dough. Let rise until doubled in bulk again (1 hour)

Punch down again. Divide dough into 3 equal parts. Roll dough into three long strands and lay strands out on a cookie sheet. Braid them, tucking ends under. Cover with a towel and let rise for another 40 minutes or until doubled,

Brush with beaten egg yolk, sprinkle with seeds if desired, then bake in a preheated 375 degree oven for approximately 35 minutes or until golden brown. Check after 20 minutes, and if the Challah is a deep golden brown after 20 minutes, then shield it loosely with foil.

The challah is done when it sounds hollow when thumped on the bottom.