This easy challah recipe is one I use when I have plans on the horizon for Challah Bread Pudding.  White Chocolate Challah Bread Pudding is my favorite, but it can be used in just about any other bread pudding recipe as well.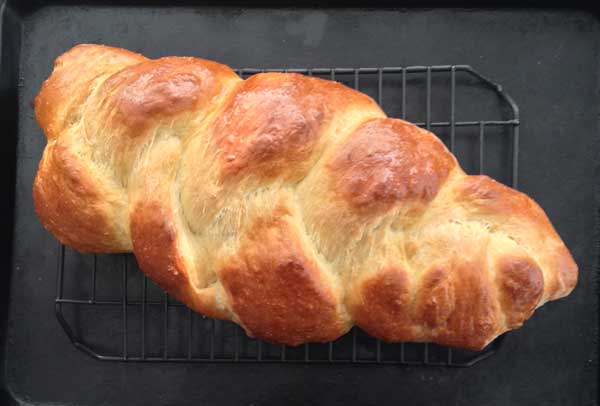 This new challah recipe calls for fewer eggs than most, but it still makes a decent size loaf. In addition to having slightly fewer eggs, it has less oil and is a bit less rich than our usual challah, but still very, very, good.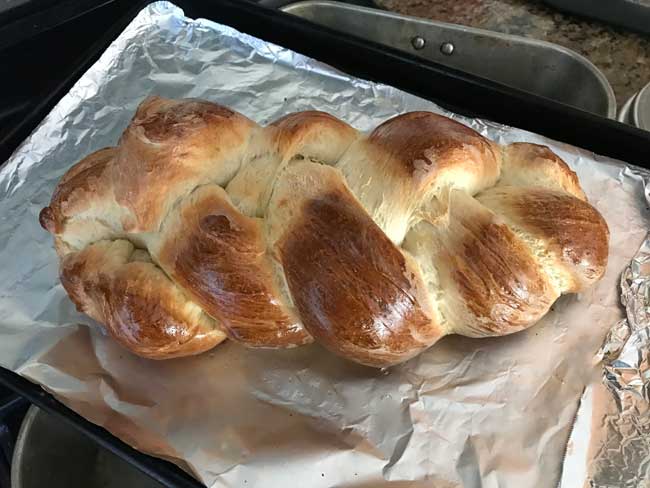 Update: My family really likes this recipe so I've been making it fairly often. One variation is to make loaf pan challah. You can divide the challah in 3 parts, braid it, then stuff it in a 9x5 inch pan or you can cut it into 3 parts, cut each of those parts into 8 bits, shape each bit into a round and just stack the rounds in the loaf pan. I guess this version is similar to Bubble Bread.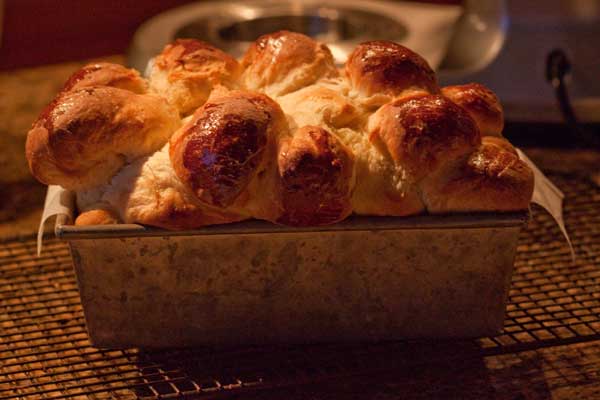 If you do make challah in a loaf pan, make sure to use a big one!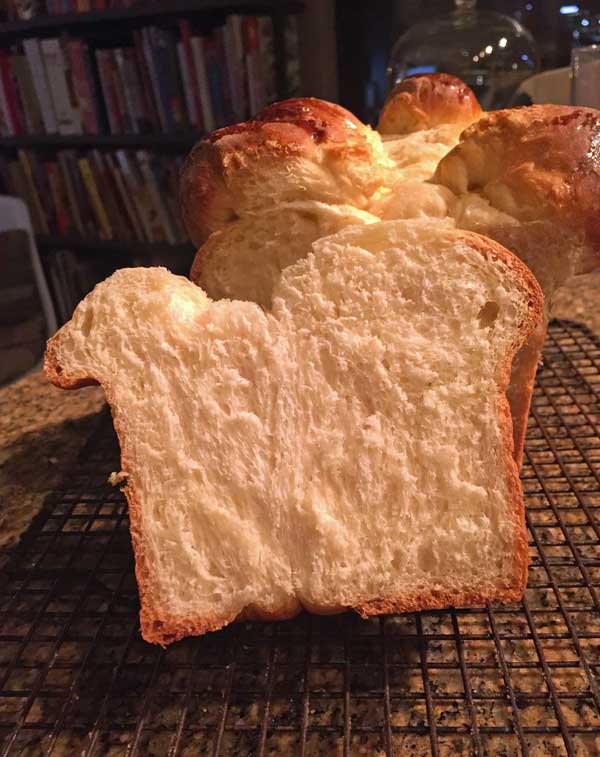 Here's the new Challah recipe plus a new photo of a loaf prior to rising. Fuzz made it!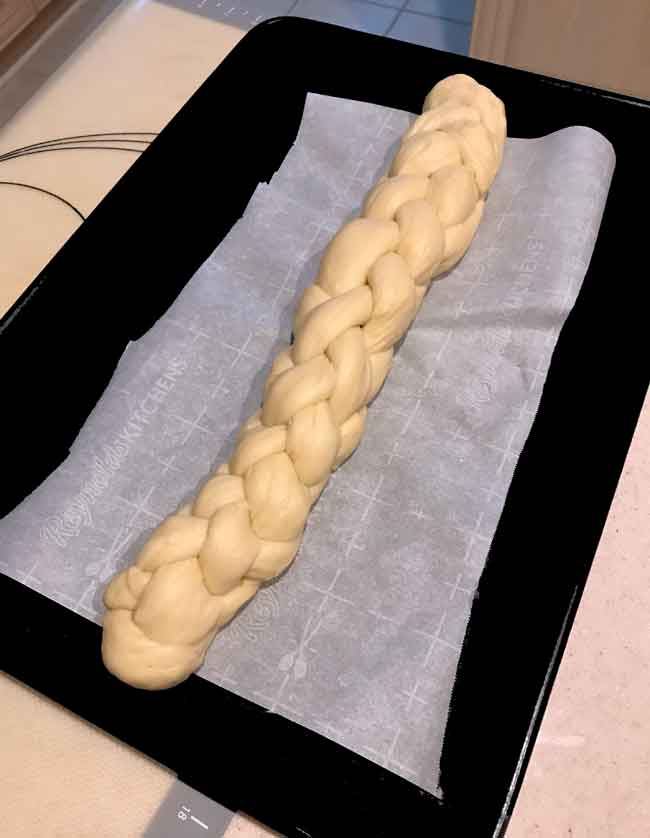 Round Challah
Since posting this, my daughter as adopted this recipe as her signature Challah. She cheated on me once and used Amy's recipe (which is great), but she's come to her senses and has gone back to this one. Here's the latest loaf which she did as a round.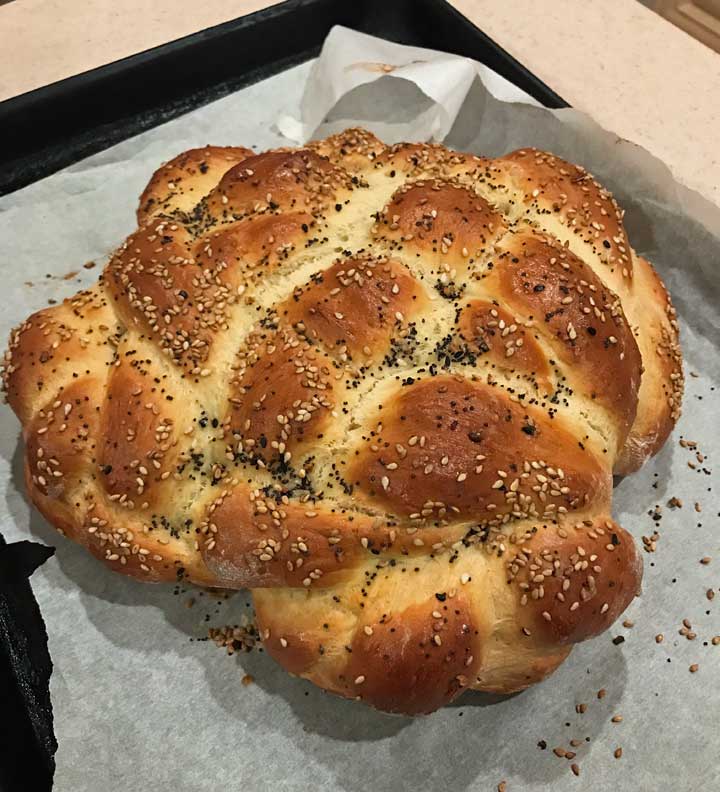 Recipe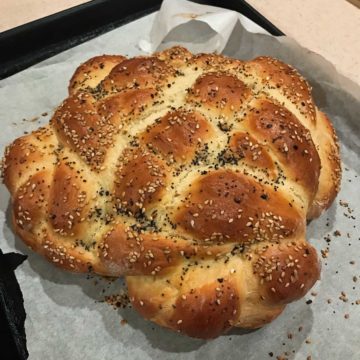 Challah
An easy Challah bread recipe
Ingredients 
3 ¾

cups

all-purpose flour (1 pound)

(470 grams)

2 ¼

teaspoons

quick rising yeast (1 packet)

Platinum works well

¼

cup

sugar

(50 grams)

1 ½

teaspoons

salt

1 ½

tablespoons

vegetable oil

2

large

eggs

¾

cup

very warm water

more if needed

1

lightly beaten egg mixed with a little water for brushing
Instructions 
Combine the flour, yeast, sugar and salt in the bowl of a stand mixer and stir well. Add the oil, eggs and water and stir well, then attach dough hook and begin kneading. Dough should pull away from the side but stick to the bottom of the bowl as it kneads. If it is too sticky, add a little more flour. If it seems to dry, add a tablespoon or two of water.

Knead for about 8 minutes or until smooth and elastic.

Transfer to a well-oiled bowl and let rise until double in bulk (about an hour).

Punch down dough and divide into three equal pieces (about 10 oz each). Working lengthwise on a pastry mat, shape pieces into long (about 16 inches) strands and braid the strands to make one braided loaf. This takes practice! After braiding, carefully lift and put on the foil lined baking pan.

Allow the braided loaf to rise for about 35 to 40 minutes. I like to cover it with an inverted roasting pan while it's rising, but you could also tent it with greased plastic wrap.

Preheat oven to 350 degrees F.

Brush with lightly beaten egg mixed with a little water.

Bake for about 35 minutes or until top is brown and loaf sounds hollow when tapped.