These are thick, fudgy, shiny and brownie-like. The brownie cookies don't have any baking soda or baking powder, which makes them very dense, and surprisingly, they do not spread much at all.
This recipe is adapted from the Martha Stewart Baking Handbook, but I changed a few things along the way. Martha used a stand mixer, melted her chocolate over warm water and did not chill the dough. She also used a little less vanilla and did not say to toast the walnuts.
I took some extra time to toast the walnuts, but saved time by using a hand held mixer and melting the chocolate in the microwave. I also added a little extra vanilla. The key change I made, was to chill the dough. Martha didn't recommend chilling the dough and perhaps she didn't need to, but I found that the dough was too moist to form into balls or even gobs. It needed at least 2 hours in the refrigerator. After being chilled, the dough was very easy to deal with.
Here's what the cookies looked like right out of the oven. They're pretty shiny and still look a little moist. I prefer taking them out a little early so that they can cook internally.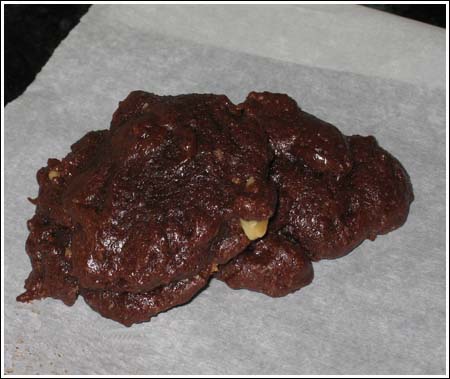 Double-Chocolate Brownie Cookies
9 ounces semi-sweet chocolate – best you can find, divided use
3 ounces unsweetened chocolate
6 tablespoons unsalted butter
3 large eggs
1 cup granulated sugar
1 teaspoon vanilla
1 cup flour
1/4 teaspoon salt
3/4 cup chopped, toasted walnuts (optional)
Place 5 ounces of the semi-sweet chocolate, the 3 oz of unsweetened chocolate and butter in a microwave-save bowl; Microwave on high for 30 seconds then stir. Repeat; microwaving at 30 second intervals and stirring to distribute heat (about 2 minutes total). Let cool for about 5 minutes.
In a second bowl, using high speed of electric mixer, beat eggs and sugar together for 3 minutes. Beat In vanilla. Stir about 1/3 cup egg mixture into chocolate. Stir in the rest of the egg mixture. Add flour and salt and stir until incorporated, then stir in walnuts and remaining chocolate chunks.
At this point, batter will be somewhat moist. Chill dough until it is thick enough to scoop.
Preheat oven to 375 degrees F. Line two cookie sheets with parchment paper. Scoop up dough and shape it into 1 1/4 to 1 1/2 inch balls. Place balls about 3 inches apart on cookies sheets. Bake for 9-11 minutes or until cookies are shiny and set but not too dry looking. Let cool on the sheet for a few minutes then transfer to a rack to cool.
Makes about 30.
Note: It's important to get the cook time just right. You may want to bake up 5 or 6 cookies as a test.