Double Chocolate Brownie Cookies are based on a great recipe from The Martha Stewart Baking Handbook.  As you can see from the pictures, I've gotten a little better at baking them through the years!  Exhibit A.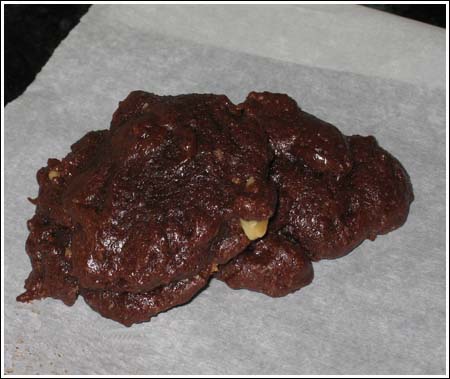 Exhibit B.  Much better.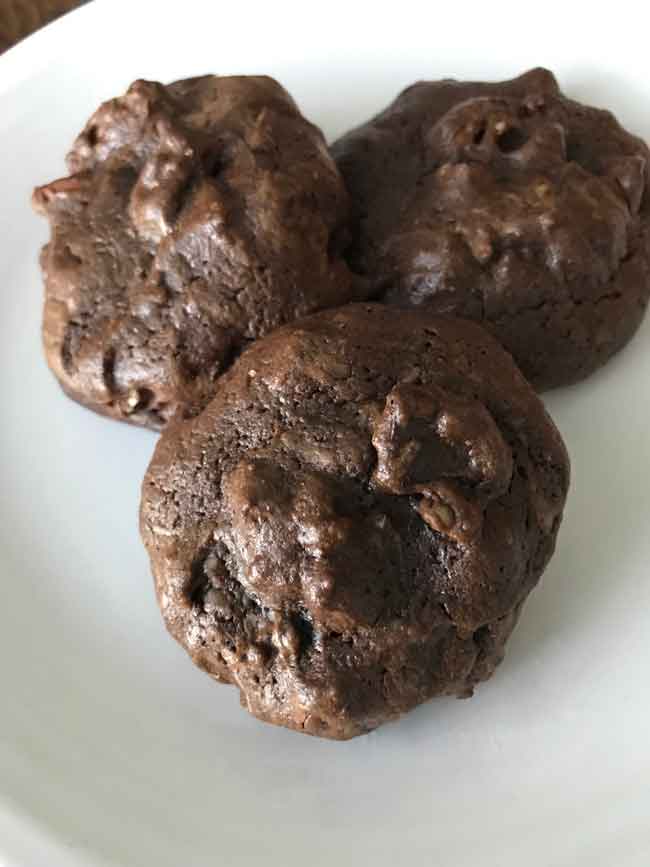 I used to be less patient and added the chocolate while it was still warm.  I'm still not patient and I still tend to do this, but these days I let the dough sit for a while so it's completely cool before the additional chocolate and nuts are added.  The batter thickens as it sits, so there should be no need to chill it.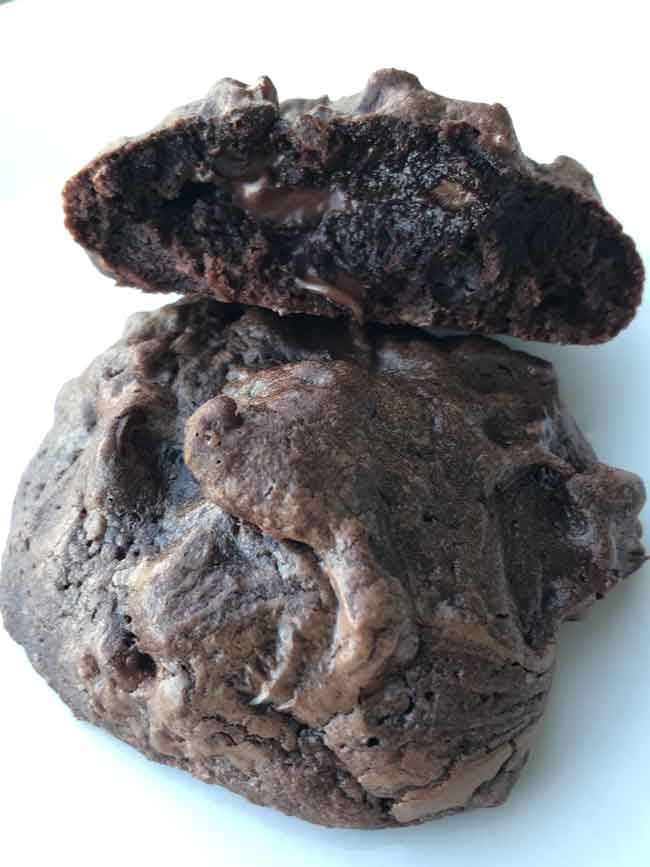 Also, what's interesting about this recipe is that it doesn't have any leavening agents.  The only leavening is from the air beaten into the egg and sugar mixture, so make sure you whip the eggs and sugar until thick and yellow.
Double-Chocolate Brownie Cookies
9 ounces semisweet chocolate, best you can find -- I use 63%
3 ounces unsweetened chocolate, chopped (I like using Lindt 95%)
6 tablespoons unsalted butter (84 grams)
3 large eggs
1 cup granulated sugar (200 grams)
1 teaspoon vanilla
1 cup flour (130 grams)
¼ teaspoon salt
¾ cup chopped, toasted walnuts or pecans
Chop the semisweet chocolate, weigh out 4 oz and set aside. Place the remaining 5 ounces semisweet chocolate, the 3 oz of unsweetened chocolate and butter in a microwave-safe bowl; Microwave on high for 30 seconds then stir. Repeat; microwaving at 30 second intervals and stirring to distribute heat (about 2 minutes total). Let cool for about 5 minutes.
In a second bowl, using high speed of electric mixer, beat eggs and sugar together for 3 minutes or until thick and yellow. Beat In vanilla. Stir about ⅓ cup egg mixture into chocolate. Stir in the rest of the egg mixture. Add flour and salt and stir until incorporated.
Make sure the batter is completely cool (if the chocolate was warm, the batter may still be warm) then stir in nuts and remaining chopped chocolate.
At this point, batter may not be thick enough to scoop.  If so, let it stand for about 10 minutes.  You can chill it, but letting it stand will give you glossier cookies.
Preheat oven to 375 degrees F. Line two cookie sheets with parchment paper. Scoop up dough and shape it into 1 ¼ inch balls. Or scoop with a medium size cookie scoop. Place balls about 3 inches apart on cookies sheets. Bake for 9 minutes or until cookies are shiny and set but not too dry looking. Let cool on the sheet for a few minutes then transfer to a rack to cool.
Makes about 30
Note: It's important to get the cook time just right. You may want to bake up 5 or 6 cookies as a test.
If you prefer, you can use 5 oz of good quality semisweet chocolate and ⅔ to 1 cup of semisweet or dark chocolate chips.