Here's a slightly modified version of the Peanut Butter Molten Lava Cakes recipe. This is what the lava cake should look like when you cut into it.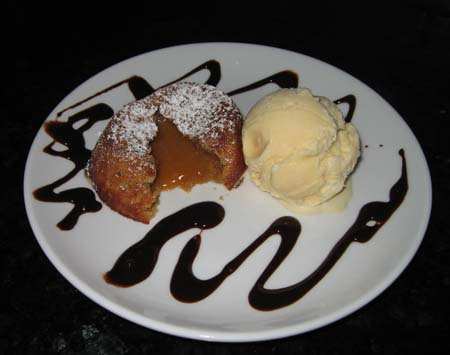 These are easy to prepare, but rather delicate, so be careful when you invert them. You can use cake flour or all-purpose. I've used both types and the only difference is that the cake flour version is slightly more tender than the all-purpose. Don't over-bake. Check the cakes at 7 minutes, and if they smell and appear set, go ahead and flip. If you do end up over-baking, you'll have moist but disappointing little lava-free cakes.
A few more notes on ingredients. Both salted and unsalted butter work, but if you use unsalted, add a little salt (⅛ teaspoon works) to the batter. As for the eggs, I usually make these with Egg Beaters the batter is not cooked long enough to kill any potential salmonella. Pasteurized eggs, which are a little harder to find, are another safe bet. And of course, if you don't have any issues with raw eggs, you can just use plain old eggs. If you do this, just break eggs, beat them with a fork and measure out ⅔ cup.
Extreme Double Peanut Butter Molten Lava Cakes with Vanilla Ice Cream
8 tablespoons butter, cut into tablespoon-size chunks (room temp, if possible)
¼ teaspoon cinnamon
8 tablespoons granulated sugar (divided use)
7 tablespoons creamy peanut butter
½ cup peanut butter flavored chips
⅔ cup lightly beaten egg or egg substitute
⅓ cup lightly spooned cake flour (all purpose works too)
1 tablespoon confectioners' sugar
6 small scoops vanilla ice cream, good brand
6 mint sprigs (optional)
Chocolate syrup (optional)
Preheat oven to 450 degrees F. Hold 1 tablespoon of the butter with a paper towel and rub insides of 6 muffins cups thoroughly with butter. Reserve remaining 7 tablespoons butter.
In a small cup, stir together cinnamon and 2 tablespoons of the sugar. Sprinkle cinnamon-sugar evenly into buttered muffin tins and shake back and forth, tilting slightly, so that sugar coats bottom and sides. Turn pan upside down and shake off excess cinnamon-sugar.
In a microwave-safe mixing bowl, stir together peanut butter, peanut butter chips and reserved 7 tablespoons butter. Microwave on high for 1 minute to melt; stir until smooth and creamy.
In a separate mixing bowl, stir together remaining 6 tablespoons of sugar and egg. Stir, do not beat, egg mixture into peanut butter mixture. Add flour and stir until smooth. Using a ⅓ cup measuring cup, scoop batter into sugared muffin cups, dividing evenly among the cups.
Bake for 7-9 minutes or until tops appear just-set. Do not overcook. Some lava may peak through the top - this is okay. Remove from oven.
Using oven mitts, Hold a flat cookie sheet firmly over muffin pan and grasping both cookie sheet and muffin pan, invert muffin pan so that cakes come out on tray. Sift confectioners' lightly over lava cakes for a dusty look, shaking off any excess sugar.
Using a flat spatula, carefully transfer each sugar-dusted lava cake to a dessert plate. Place a scoop of ice cream and a sprig of mint next to each lava cake.....or garnish however you want!
Makes 6
Believe it or not, I made another batch of these this afternoon when I returned from Chicago. Here are some pictures from along the way.