It's kind of a stretch to call these cookies nutritious, but with 1 1/2 cups of 5 grain cereal, dried cranberries and pecans, I suppose they could fall into the realm of wholesome.
My friends Val and Alysha co-created this recipe in an attempt to use some Bob's 5 Grain cereal. And if you are wondering what those grains are, they are whole grain oats, whole wheat, rye, barley, triticale and flaxseed. So yes, I'd say these are a step up from the usual oatmeal cookies.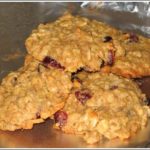 Print Recipe
5 Grain Rolled Cereal Daybreak Cookies
Cookies made with 5-grain cereal
Ingredients
1/2

cup

butter -- melted

1

c

packed brown sugar

1

egg

1

tsp

vanilla extract

1

c

flour

1/4

tsp

baking soda

1/2

tsp

baking powder

3/4

tsp

salt

1 1/2

cups

five-grain cereal

such as Bob's Red Mill

1/2

cup

sweetened coconut flakes

1/2

c

dried cranberries

1/2

cup

pecan halves -- chopped
Instructions
Preheat oven to 350 degrees. Line cookie sheets with parchment paper.

Blend melted butter and sugar with a whisk until smooth. Add vanilla and egg to butter mixture and mix well. In a medium bowl, stir together the flour, baking soda, baking powder, salt, and cereal. Stir flour mixture into egg and butter mixture until just combined. Add remaining ingredients, mix until combined. Drop 1 1/2 inch balls (about 2 tbsp per ball) onto parchment lined cookie sheets.

Bake 10 minutes or until lightly brown on edges but still soft in the middle (mine took longer). Cool 2 minutes on cookie sheets and then remove to wire racks to cool completely.

Makes 20 cookies.