Nutty for Oats Cookies is a recipe from the King Arthur Whole Grain Baking Book. I'd bought the book and wasn't sure exactly what to make first, but a friend of mine assured me this recipe was a good choice.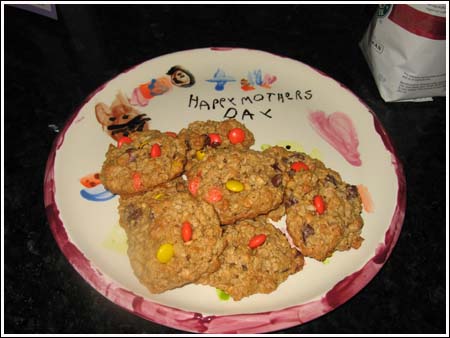 The Nutty for Oats cookies are very good, especially if you are looking for something semi-healthy and a bit lower in sugar. While there are candies in the dough, they add just enough sweetness to make the cookies dessert-worthy. You can increase or decrease the amount of candies to taste.
Nutty for Oats Cookies -- Small Batch
⅓ cup peanut butter (Jif or similar type -- natural may or may not work)
2 tablespoons unsalted butter, soft
6 tablespoons brown sugar, light or dark
½ teaspoon vanilla
¼ teaspoon salt
⅛ teaspoon baking soda
1 large egg
½ cup old fashioned rolled oats, ground for 30 second in food processor
¾ cup old fashioned rolled oats
Handful of Reese's Pieces (about ⅓ cup)
Handful of semi-sweet chocolate chips (about ⅓ cup)
Preheat oven to 350 degrees F. Line 2 cookie sheets with non-stick foil or parchment.
In a 2 quart mixing bowl, beat together peanut butter, softened butter and brown sugar. Stir in vanilla, salt, baking soda and egg. When those ingredients are well mixed, stir in ground up oats and whole oats. Finally, add candy.
Drop the dough by rounded tablespoonfuls onto parchment or Release foil lined baking sheets.
Bake for 11-13 minutes. Let the cookies cool completely on pans.
Makes about 12 cookies (more if you use rounded teaspoonfuls).