If you're in a butterscotch mood and have a lot of people to feed, Butterscotch Cheesecake Bars are a good bet. This recipe gives you a full 13x9 inch pan. I actually made them in a 13x9 inch springform pan. I bought it on a whim and have used it maybe once or twice in the past 15 years. Now I'm wondering where it is and need to go through my pans...
Anyhow, the bars look like this. They are very tasty! The crust is kind of salty and sweet, and the filling is a cheesecake mixture made with cream cheese and condensed milk, so it's smooth and creamy.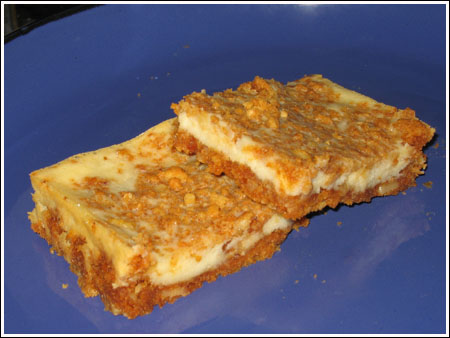 Butterscotch Cheesecake Bars
1 cup butterscotch morsels
⅓ cup salted butter, melted
2 cups graham cracker crumbs
1 cup chopped walnuts or walnut pieces, toasted
1 8 ounce brick cream cheese, softened
1 (14 oz) can of sweetened condensed milk
1 teaspoon of vanilla
1 large egg
Preheat oven to 350 degrees F.
In microwave or top of a double boiler, melt butterscotch morsels and butter. If using microwave, coat morsels with softened butter and microwave at 50% or 70% power for a minute. Stir. Repeat until melted. Stir in crumbs and nuts. Press a little over half of the crumb mixture into bottom of pan.
Prepare topping. Beat together cheese, condensed milk and vanilla. Add egg and stir until well mixed. Pour cheese mixture over base. Sprinkle reserved crumb mixture over top and bake for 25-28 minutes. Let cool completely. Chill, then cut into bars.
Makes 20 big bars