After watching last night's episode of Top Chef and seeing the contestants squirm at having to deal with American family favorites, I'm almost embarrassed to post this. Ha ha. Just kidding! Frankly, I think (some of) the Elks Lodge diners from last night's episode would thoroughly enjoy it. It's not a recipe you'd find in the Whole Foods cookbook, but it is in the Twinkies cookbook and if you are feeling old and/or insecure, one bite will bring back memories of your mom giving you St. Joseph's baby aspirin….but without the illness and medicine taste.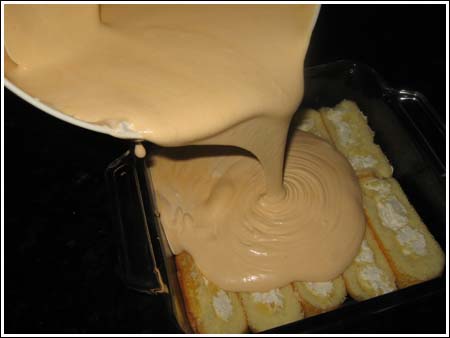 Still reading? Okay good. Like I said, it's not healthy, but if you are on a diet and need something low in fat and sugar, this can easily be modified. For the base, use Ladyfingers or low fat snack cakes. For the Jell-O products, go with the sugar free varieties, use low fat milk, fat free vanilla creamer and Cool Whip Lite. If you don't need such a large yield, you can also make this in an 8x8x2 inch square dish. You'll only need 5 Twinkies and you won't need all the filling, though I recommend making the full amount and pouring what you want over the Twinkies. So that's today's orange and slightly retro dessert. If you served it to me at a hotel, I'd check out. But if you served it to me at a tailgate or a picnic, I'd ask for the recipe. Let me know if you try it.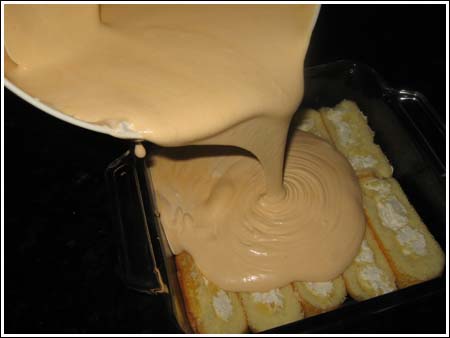 Orange Creme Dessert
A dessert that might remind you of an orange creamsicle.
Ingredients 
10

Twinkies

halved lengthwise

15 oz can of mandarin oranges – optional*

1 3-

oz

package orange Jell-O

1/2

cup

boiling water

1 3.4

oz

package instant vanilla pudding

or French

1 1/2

cups

milk

1/2

cup

French vanilla liquid coffee creamer

1

12 oz container non-dairy whipped topping, such as Cool Whip (big tub)
Instructions 
Arrange the Twinkies cut side up in a 13×9 inch baking dish.

If using, lay some drained mandarin oranges over Twinkies.

In a bowl, stir together the Jell-O and boiling water. When Jell-O is dissolved, put the mixture in the refrigerator to cool for 10 minutes. To hasten the process, drop in an ice cube – the extra liquid won't hurt anything.

In a large bowl, beat together the pudding mix, milk and coffee creamer for 2 minutes or until slightly thickened. Add the orange Jell-O/water mixture to the pudding mixture and stir until smooth.

Fold in two-thirds of the whipped topping. Spread the orange mixture (pour it, smooth it) over the cut Twinkies. Cover with plastic wrap and chill for 6-8 hours. Before serving, spread the remaining whipped topping over the top. Decorate thematically. *Try another fruit!