Twinkie Tunnel Cake was inspired by a recipe from the newly published Twinkies Cookbook from Ten Speed Press.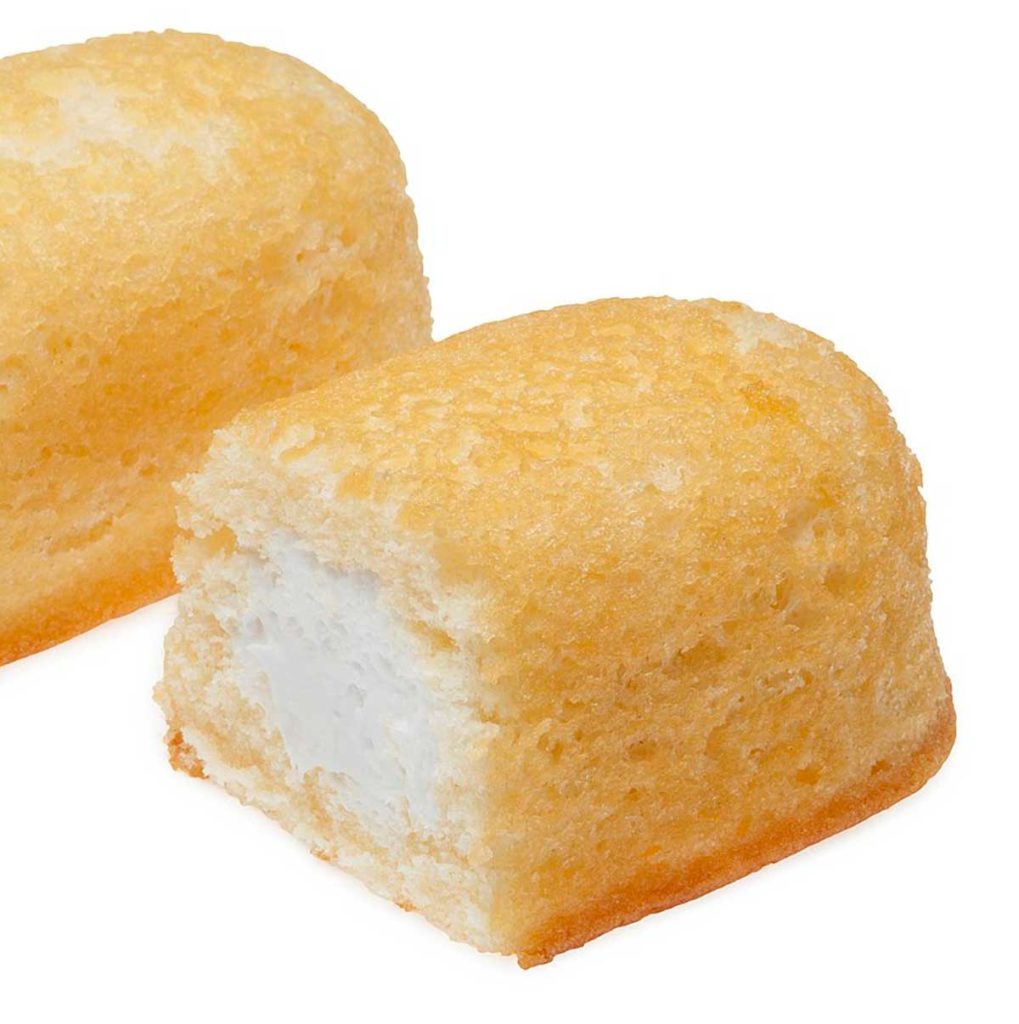 The idea, which I wish was my own, was to bury Twinkies vertically in a Bundt cake. The book doesn't go into detail about what ingredients you should use other than an 18.25 box of chocolate cake mix and Twinkies. It pretty much says to bake the cake mix cake as directed, pour half of the cake mix batter into the pan, cut some Twinkies lengthwise and stand them (cut side out) vertically in a circle in the pan. Next, you cover the Twinkies up with the rest of the batter and bake. The end result is a chocolate cake which you slice up to reveal a stripe of Twinkie. Yup, this is definitely something straight out of the crazy file, which is probably why I had to try it. Besides, I was dying to know what would happen to the Twinkie Crème filling.
Here's a picture of a slice.  Update:  This is a horrible, horrible photo that makes me not want to bake the cake, but as I recall it was actually really good.
Twinkie Tunnel Cake with Cake Mix
This is one recipe where you really must use a cake mix. Twinkies and scratch cake just don't go together -- they don't, so please don't try scratch cake plus Twinkies, as the existence of such a cake will surely throw off the balance of the universe. If you make a scratch chocolate bundt cake, then make your Twinkies from scratch as well.
Do use a doctored cake mix recipe. There are 100 million doctored chocolate cake mix cake recipes to choose from on Allrecipes.com. I chose this one because it had the most stars and reviews. It boiled over a little, so if you use this one, you might want to put a tray on the lower rack to catch any drips.
Look Like I Deleted a Photo
Here's what it all looked like before going into the oven. As you can see, I just sort of mashed my Twinkies in there. I should have followed the book's directions and cut them lengthwise so that they'd all stand side by side closer together. I also should have covered them completely with cake batter (even if it meant trimming the ends). Ideally, every slice of cake should have some Twinkie in it. In my cake, some slices don't.
The cake rose considerably, so once it was baked, I had to do a lot of trimming. It's extremely moist (go figure) and the Twinkies add a special touch. The crème filling dissolves into the Twinkie cake making it very moist. It almost looks too moist in this picture, doesn't it?
Twinkie Tunnel Cake
1 (18.25 ounce) package devil's food cake mix
1 (3.9 ounce) package instant chocolate pudding mix
2 cups sour cream
1 cup melted butter
5 eggs
1 teaspoon almond extract (I used vanilla)
1 cup semisweet chocolate chips
6-8 Twinkies
Preheat oven to 350 degrees F. Spray a bundt pan with Pam For Baking.
In a large bowl, stir together cake mix and pudding mix. Stir in sour cream, melted butter, eggs and extract. Beat on low speed until blended. Scrape bowl, and beat 4 minutes on medium speed. Blend in chocolate chips. Pour some batter into prepared pan. Press Twinkies into batter then pour on remaining batter so that they are covered. Note: I couldn't shove my Twinkies all the way in and the tips were singed during baking. You may have to trim your Twinkies a bit - maybe cut about ¾ of an inch off the top? I also wonder how the cake would work if you just laid them sideways end-to-end.
Place a cookie sheet on lower rack of oven to catch boil overs. Place bundt pan on middle rack and bake in preheated oven for 55-60 minutes. Let cool in pan for 10 minutes, then turn out onto a wire rack and cool completely.
Ice with some sort of glaze or ganache. Me, I melted together 1 cup chocolate mini chips and 2 tablespoons of heavy cream. Use whatever glaze you like.