Paula's Pecan Pralines recipe is one of the few praline recipes I use. I don't make pralines often enough enough to be an expert, but I have had good luck with this recipe and like these pralines because they're not overly sweet and crumbly like some others. The recipe is from Paula Deen's Lady and Sons Dessert Book. It was written after Paula's Savannah restaurant became successful, but before she became a Food TV superstar. It's a piece of history, and you can buy it off Amazon….unless of course, you're lucky enough to find it at Half Price Books.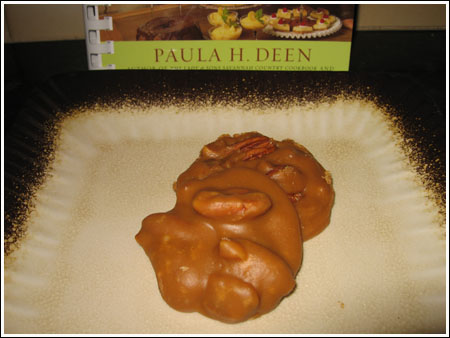 Paula's Pecan Praliens aren't the sticky, caramel kind, but the creamy-yet- firm-and-somewhat-chalky-for-lack-of-a-better-descriptor type.
Here's my tip. If you boil it to 236 degrees (forget about dropping it into cold water and seeing if it forms a soft ball – use a candy or deep fry thermometer) it should set. However, it might not set as quickly as you expect. I do not know if humidity really affects candy, but it's muggy here and my candy took a while to set. It did set, though.
Paula's Pecan Pralines
Southern style pralines
Ingredients
1 1/2 cups granulated sugar
1 1/2 cups light brown sugar, packed
1/8 teaspoon salt
3 tablespoons dark Karo syrup
1 cup evaporated milk
2 tablespoons butter
1 teaspoon pure vanilla extract
1 1/2 cups pecan halves (I toast the pecans first)
Instructions
Butter the sides of a heavy saucepan. I recommend using one that is 3 1/2 quarts.
Place the sugar, salt, corn syrup, milk, and butter in saucepan and set over medium heat. Cook, stirring constantly with a wooden spoon, until sugars have dissolved and mixture comes to a boil.
Continue to cook to a soft ball stage, approximately 236 degrees F on candy thermometer, stirring very often (watch your heat. If it gets to hot, the candy could boil over.
Remove from heat AT 236 DEGREES and allow candy to cool for 10 minutes in pan. (Note: I had to let it rest for at least 20. At 10 minutes, it was still to droopy to add the vanilla and pecans.
Add the vanilla and nuts, and beat with a spoon by hand for approximately 2 minutes or until candy is slightly thick and begins to lose its gloss.
Quickly drop heaping tablespoons onto waxed paper. If the candy becomes stiff, add a few drops of hot water.