My go-to recipe for pecan pralines used to be Paula's Pecan Pralines from The Lady and Son's Just Desserts Cookbook. The pralines are creamy rather than crumbly and have a lot of flavor from the brown sugar and dark corn syrup.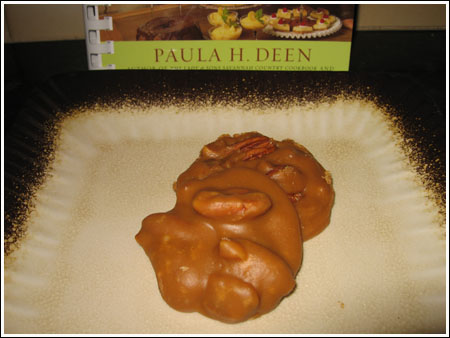 I still like Paula's original recipe (which you can find on Food Network), but a few years ago I started making a new recipe that calls for heavy cream, and I think I like the new recipe a little better.  I'm still on the fence, but here's the recipe. It calls for 3 cups of brown sugar and a cup of cream, and like most praline recipes it takes practice.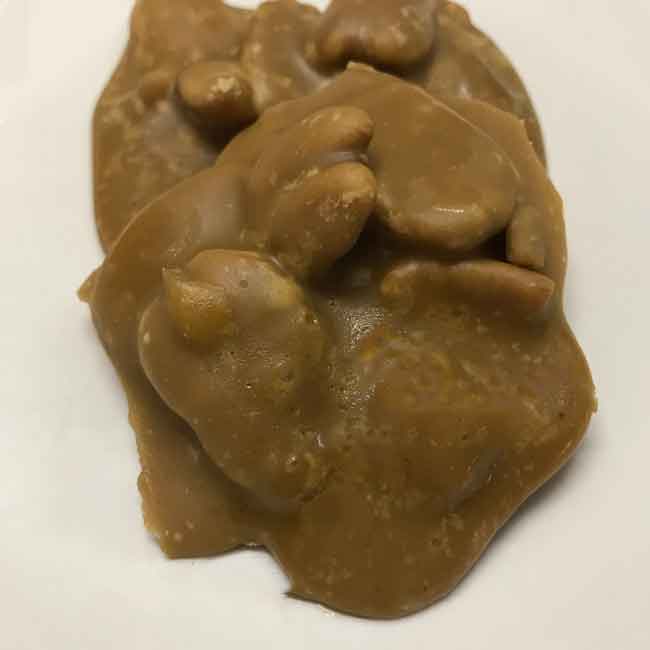 Recipe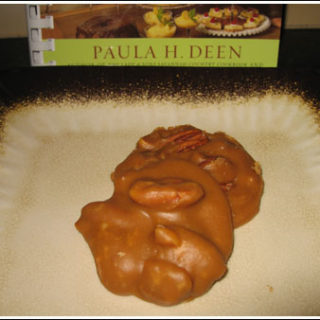 Pecan Pralines
Southern style pralines made with heavy cream.
Ingredients 
3

cups

light brown sugar

600 grams

1

cup

heavy cream

2

tablespoons

corn syrup

1/4

teaspoon

salt

4

tablespoons

butter

2

cups

pecan halves

toasted

1

teaspoon

pure vanilla extract

use a good double strength vanilla
Instructions 
In a 3 to 3 1/2 quart saucepan, combine the sugar, cream, corn syrup and salt.

Set pan over medium heat and bring mixture to a boil. Cook, stirring constantly with a wooden spoon, until mixture reaches 236 degrees F..

Remove from heat at 236 degrees and butter, but do not stir.

Let mixture cool to about 170 degrees F. then stir in pecans and vanilla.

Beat with a spoon by hand until candy is slightly thick and begins to lose its gloss.

Quickly drop heaping tablespoons onto a tray lined with parchment paper and allow candy to set.
Notes
To toast the pecans, lay them on a rimmed skillet and bake at 350 to 375 degrees F. for about 10 minutes.  If using small pecan halves, 350 is best.  If using large ones (like from a pecan store), 375. After the first 7 minutes, stir the pecans around and check to see if they are releasing their oils.  Smaller pecans may be toasted in just 7 minutes, while larger pecan halves may take up to 12.  If desired, toss the toasted pecans in a little salted butter and let cool.