Today's cake is another good one from the Junior League of Palo Alto. In the intro to the recipe, they say that after much testing, this cake was deemed the richest and most appealing to their group of chocolate lovers. Now it's up to you to decide. I thought it was really good.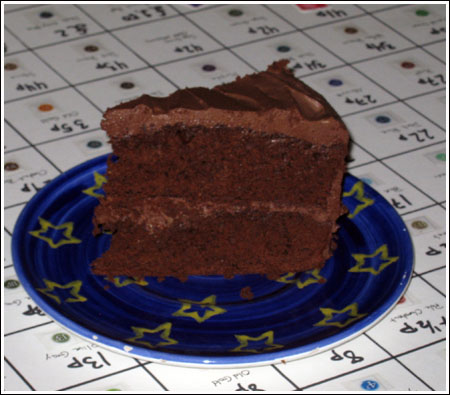 The Junior League frosts this cake with a coffee flavored icing. I love coffee flavor, but my family is not so into it, so I frosted the cake with my trusty Silky Chocolate Butter Frosting from Good Housekeeping. If you'd like to use the coffee frosting, the recipe is at the bottom.
As you read the recipe, you'll notice some of the ingredients repeat themselves. So while it appears that there are a lot of ingredients, there aren't. It's not a one-bowl cake, but it's fairly easy.
Print Recipe
Palo Alto Chocolate Layer Cake
Palo Alto Chocolate Cake can be iced with the Silky Butter Frosting or with the coffee flavored frosting recipe included in the note.
Ingredients
Custard Mixture
5

ounces

unsweetened chocolate

chopped

1/2

cup

buttermilk

1

cup

granulated sugar

1

large egg

separated - white reserved
Creamed Mixture
1/2

cup

unsalted butter

softened

1

cup

light brown sugar

packed

2

eggs

separated -- whites reserved
Flour Mixture and final buttermilk and vanilla additions
2

cups

sifted cake flour

spoon lightly into your cup, don't pack or weigh out 7 ounces/200 grams

1

teaspoon

baking soda

1/2

teaspoon

salt

3/4

cup

buttermilk

1

teaspoon

vanilla extract
Silky Chocolate Butter Frosting:
3/4

cup

granulated sugar

1/4

cup

all purpose flour

3

Tbsp

unsweetened cocoa

1

cup

milk

1

cup

butter

2 sticks, salted, softened

1

tablespoon

vanilla extract

1

cup

bittersweet chocolate chips

melted and cooled
Instructions
Preheat oven to 350 degrees F. Grease and flour 2 9-inch round cake pans.

In a saucepan, melt chocolate over low heat and add 1/2 cup of buttermilk. Whisk until mixture is smooth. Slowly add 1 cup of sugar and 1 egg yolk. Whisk constantly for 3 minutes or until the custard is thick and smooth. Let it cool.

Cream butter and brown sugar with an electric mixer. Add the 2 egg yolks, one at a time. Resift cake flour with baking soda and salt. In 3 parts, add flour mixture and 3/4 cup buttermilk, alternating between the two. Finally, stir the cooled custard and vanilla into the batter.

Beat 3 egg whites until they are stiff but not dry. Fold into batter. Make sure they are well incorporated, or you will get white streaks in the baked cake. Pour into prepared pans and bake for 25-30 minutes or until cake just begins to leave the sides of pans. When cool, spread with frosting.

Frosting:

In a 2 quart saucepan, whisk together sugar, flour and cocoa until evenly combined. Add milk and whisk until smooth - don't worry if there are a few lumps because they will smooth out as you cook. Turn heat to medium and cook, stirring constantly until mixture thickens and boils. Reduce heat to low, cook 2 minutes, stirring all the while. Remove saucepan from heat; cool completely. This should take 40 minutes to an hour.

In a large mixing bowl, beat softened butter until creamy. Gradually beat in cooled milk mixture, vanilla and melted chocolate. Frost the cake.
Notes
Junior League's Coffee Frosting
1 cup butter, softened
1/4 teaspoon salt
2-3 tablespoons instant coffee dissolved in ¼ cup hot water
3 cups powdered sugar
2 teaspoons rum or brandy.
Combine all ingredients and beat until smooth.