Last night, while typing up a note about starting a Girl Scout troop, my wrist started hurting. The pain didn't go away, so I rubbed my wrist with Bengay and wrapped it in hot towels. This must be some sort of repetitive strain injury, so today's goals include finding a new desk, guiding the mouse with my left hand, and making an appointment with a sports medicine doctor.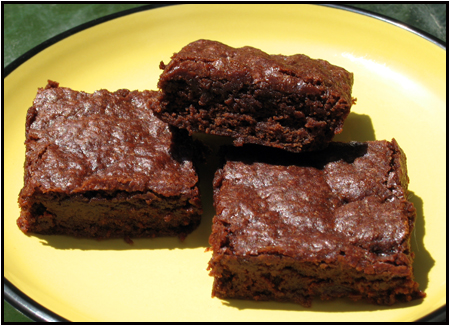 In accordance with my new ergonomically correct lifestyle and since I needed something to do while waiting for Office Depot to open, I baked some reduced fat brownies from Cooking Light magazine.
Please click on the link to read the reviews and see the original recipe with nutritional information. For convenience, and in case the link gets changed, I've typed up the recipe with a few minor changes in technique.
Here are a few things I've learned about making good, lower fat brownies
1) Follow the directions very carefully
2) Measure flour with a light hand
3) Check whatever you are baking about 4 minutes before suggested bake-time
4) Use the best cocoa and/or chocolate you can find
Bittersweet Chocolate Mocha Brownies – Adapted From Cooking Light
1/4 cup boiling water
1 tablespoon instant espresso granules or 1-2 tablespoons instant coffee granules
1/4 cup bittersweet chocolate chips
6 tablespoons butter, melted and slightly cooled
1/2 teaspoon vanilla extract
1 large egg
1 large egg white
1 1/2 cups all-purpose flour (about 6 3/4 ounces) – spooned lightly and swept
1 1/3 cups granulated sugar
1/2 cup unsweetened cocoa
1 teaspoon baking powder
1/4 teaspoon salt
2 teaspoons powdered sugar (optional)
Preheat oven to 350°. Line a 9 inch square pan with Release foil or spray it lightly with cooking spray.
In a 2 quart saucepan, bring water to a boil. As soon as water starts to boil, turn off heat and add espresso powder or instant coffee. Add chocolate chips, stirring until chocolate melts; cool slightly. Stir in butter and let cool for about 5-8 minutes. Stir in vanilla, egg, and egg white.
Thoroughly stir together flour, granulated sugar, cocoa, baking powder and salt. Add chocolate mixture to flour mixture, stirring just until moist. Spoon batter into baking pan and bake at 350 for 21-25 minutes or until a wooden pick inserted in center comes out clean. Cool in pan on a wire rack. Sprinkle with powdered sugar, if desired.
16 servings (serving size: 1 brownie)