For years I've used a scratch caramel brownie recipe, but lately I've been on a boxed brownie mix kick and wanted to try making brownie mix caramel brownies. These were the result. They are thick 8-inch square pan brownies with a layer of caramel and pecans going through the center. Sea salt optional (but strongly suggested!).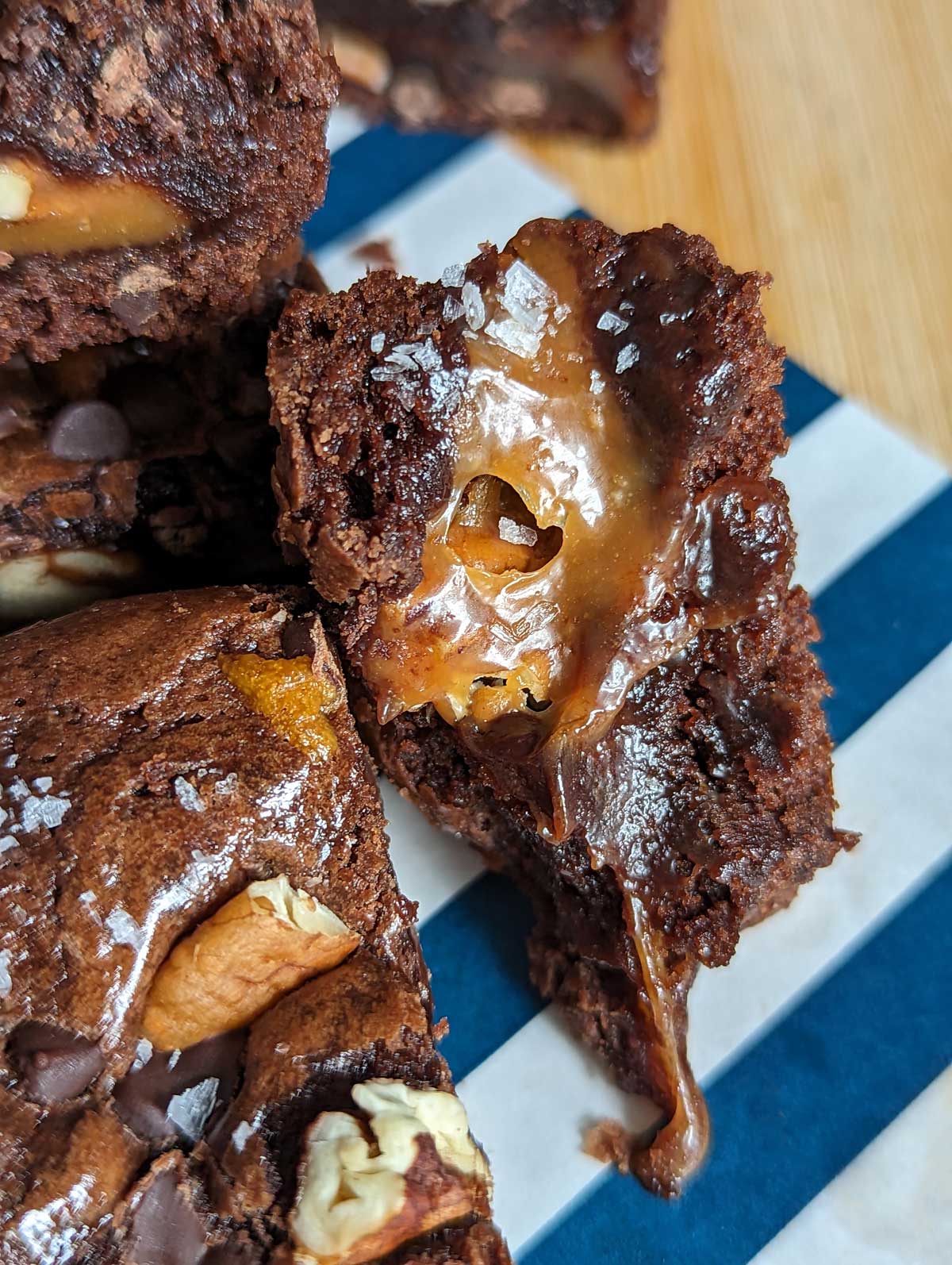 Brands of Brownie Mix and Bake Time
You could probably make these with any brownie mix, but the two I tested were Duncan Hines Chewy and Aldi's Specially Selected, which seems to be their Ghirardelli knock-off. Both work! Getting the timing just right took some trial and error. The ones in the photo below are the Duncan Hines Chewy which I underbaked a little bit. They were VERY tasty, just a little too gooey in the center.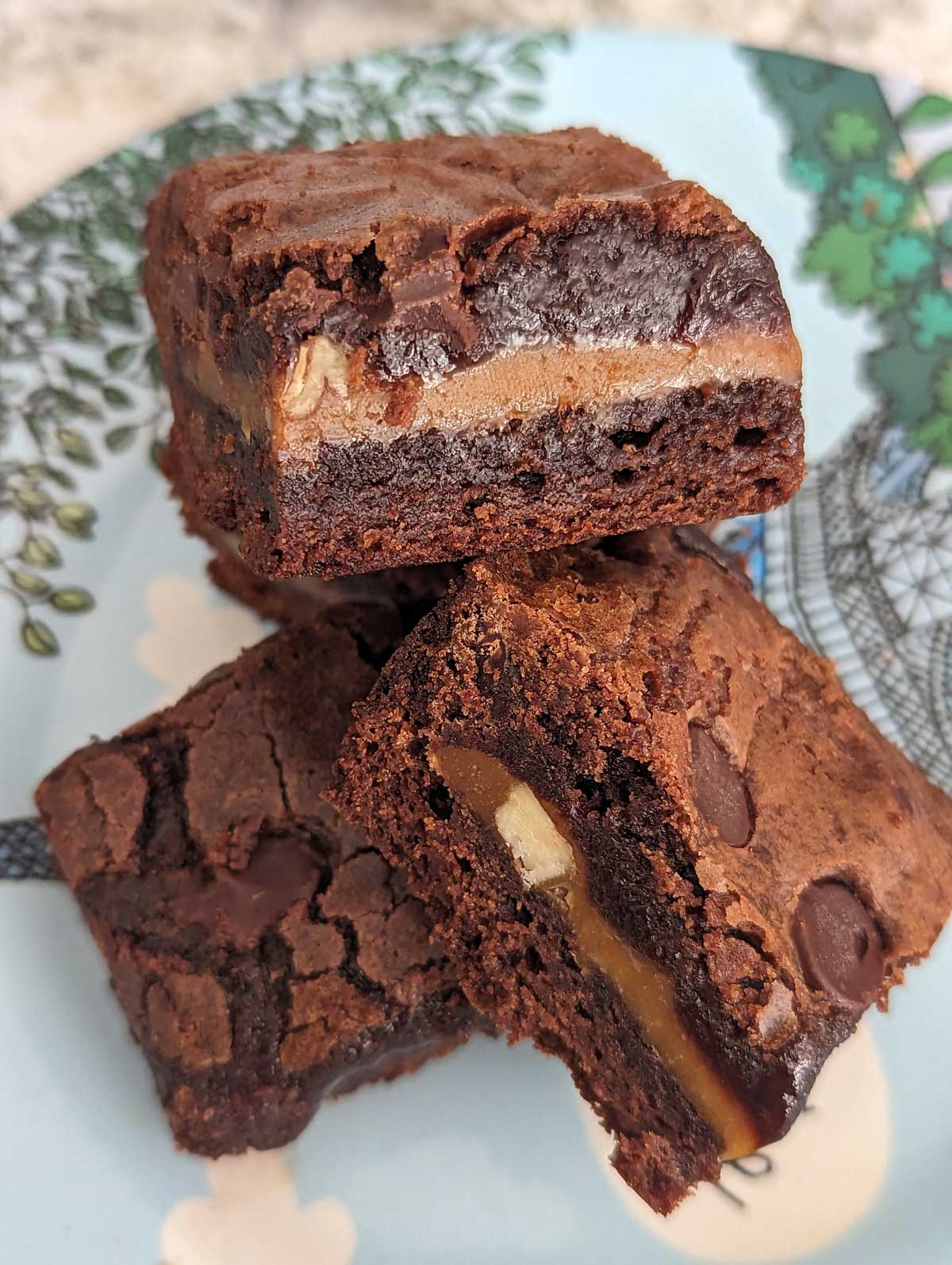 And here's a picture of the brownie made with the Specially Selected brownie mix. Those brownies are dark!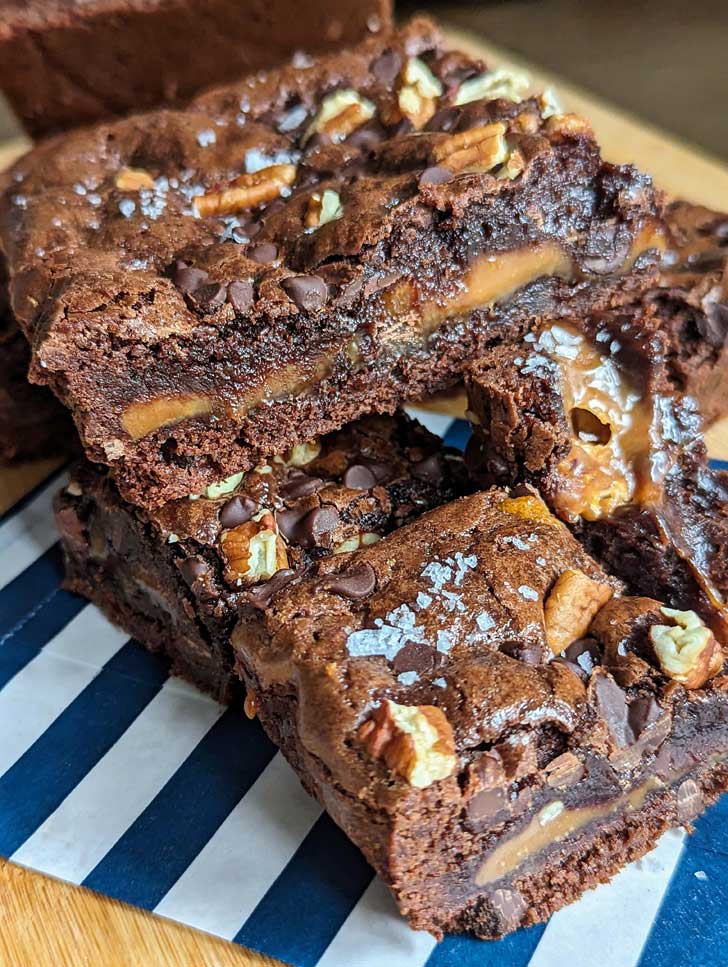 Those are the only brands of boxed brownie mix I tested with, but I'm looking forward to trying again with Betty Crocker brand, which I also like.
Type of Caramels
The first batch worked well with Kraft Caramel Bits and 5 teaspoons of cream. For the second batch (Specially Selected), I used 23 Werther's Original Chewy Caramels and again, 5 tablespoons of cream. Both types of caramel melted well and held up through the bake. The Werther's caramel filling was a bit softer.
Brownie Mix Caramel Brownie Steps and Tips
This is an easy recipe, but the bake time will probably vary a little with different brands. The good news is, it's hard to mess up anything made with brownie mix! Even underbaked or overbaked, the brownies will taste good.
Using a heaping cup of the brownie batter, bake a thin layer for 18-20 minutes and make sure it cools completely before topping with caramels. Since it bakes for a second time, you want the base to be cold at the start so that it won't over-bake the second go-round.
Melt the caramel and cream in the microwave using a lower setting and stirring. Depending on the power of your microwave, this should only take a couple of minutes total. Stir in pecans for texture and flavor.
Spread caramel over the cold base and let firm, then spread remaining brownie batter over the top.
Bake a second time for as long as it takes to get the job done. With thick brownies like these, it's best to bake at 325 so they'll bake more evenly. It will just take a longer time. My second bake took about 45 minutes. The brownies still seemed underbaked, at first, but the instant read thermometer proved otherwise and once cool, they were just right.
Recipe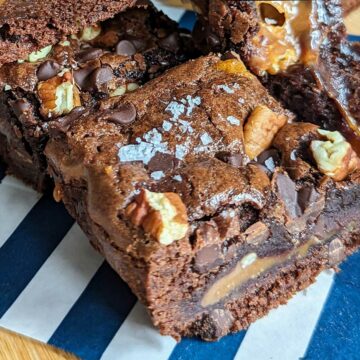 Boxed Brownie Mix Caramel Brownies
Chewy brownies with a streak of melted caramel and pecans in the middle.
Ingredients 
1

box

brownie mix designed for 8-inch pan

I tested with Aldi and Duncan Hines Chewy

1-2

large

eggs OR amount listed on box

⅓

cup

vegetable oil OR amount listed on box

¼

cup

water OR amount listed on box

½

cup

chocolate chips (optional)

150

grams

Kraft Caramel Bits (around 1 cup) or equivalent other caramel (23 Werther's Original Chewy)**

Feel free to use more caramel

5

teaspoons

heavy cream

⅓

cup

chopped and toasted pecans

¼

teaspoon

Maldon Sea Salt
Instructions 
Preheat oven to 325 degrees. Line an 8-inch square pan with nonstick foil or parchment or line with regular foil and grease bottom only.

In a large mixing bowl, prepare brownie mix as directed on the box using egg(s), oil and water as called for. Stir in some extra chocolate chips if desired.

Spread a thin layer (10 oz, if you have a scale) over the bottom of the pan. Cover the bowl with the remaining brownie mix and set it aside. Bake the thin layer for 18-20 minutes at 325F or until just barely cooked. Remove from the oven and let cool for 30 minutes. Transfer to the freezer and freeze for about 15 minutes.

Combine the caramels and cream in a microwave-safe bowl and heat at 50% power for 1 minute. Stir and heat again at 50% power, stopping every 30 seconds and stirring until caramel is smooth and creamy. Alternatively, melt caramels and cream in a saucepan. Stir pecans into melted caramel.

Spread the caramel mixture over the cold brownie base, keeping about a ½ inch distance from the sides. The caramel should begin to firm up from the cold temperature of the brownie base. If for some reason it doesn't, chill briefly so that the caramel is firm.

Spread reserved brownie batter over the now firm caramel layer. Sprinkle top with extra chocolate chip or pecans if desired, then bake for another 30 to 45 minutes at 325 F, then let cool slightly before chilling. Also, don't forget to sprinkle with sea salt if you have some!

Lift from the pan and cut into squares.
Notes
You can use more caramel if you like. 150 grams is the minimum about and will not go all the way to the edge. I usually trim the edges, so I didn't want it to go all the way.
The bake time for the second bake will vary among brands, but if you keep the temperature at 325 it will take at least 30 minutes. My brownies were less gooey and still soft and fudgy at a little over 40 minutes. 
If you end up doubling the caramel and baking in a larger pan, the second bake time will most likely be around 25 minutes because the batter will be spread thin.