Chewy Chocolate Coconut Cashew Cookies were created by Kathy Nasano of Montvale, New Jersey. Kathy's recipe was one of the semi-finalists in the Mrs. Fields 30th Anniversary contest. I made a few tiny changes to the text. And Kathy, whom I contacted via email and who is a very nice person, gave me some tips.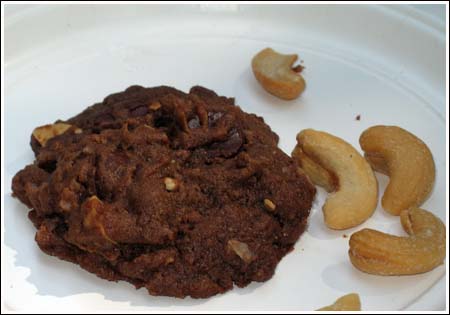 Kathy's Tips:
Use the best cocoa powder you can find. Kathy tested these with a few different brands and noticed a remarkable improvement when she used Valrhona.
Kathy says when you pack the coconut, pack it like you're putting on jeans two sizes too small.
Be careful chopping the cashews. If you use the food processor, you might accidentally chop them too small.
Chewy Chocolate Coconut Cashew Cookies
2 1/4 cups all-purpose flour
1/2 cup unsweetened cocoa powder (natural and Dutch both work here)
1 teaspoon baking soda
1 cup (2 sticks) unsalted butter, softened
3/4 cup brown sugar
3/4 cup granulated sugar
1 teaspoon vanilla extract
2 large eggs
1 firmly packed cup sweetened flaked coconut
1 cup chopped salted cashews
2/3 to 1 cup semi-sweet chocolate chips (optional – added by Anna)
Preheat oven to 350 degree F. and have ready a couple of ungreased baking sheets.
In a small bowl, stir together the flour, cocoa and baking soda.
Beat butter, brown sugar, granulated sugar and vanilla extract in a separate large bowl until creamy. Add one egg at a time and beat until light and fluffy.
Stir the flour mixture into the larger bowl. Stir in coconut and cashews. If using, toss in the chocolate chips
Drop heaping round tablespoonfuls onto ungreased baking sheets. Bake eight to nine minutes (Anna's took 10) or until cookies have spread and are done on the outside and a bit moist on the inside. Cool about a minute on baking sheets, then move to wire racks to cool completely.
Yield: Two dozen.