Yesterday I posted a recipe for Pumpkin Crunch Dessert – something I found in a Yahoo Newsgroup. I'd seen it in other places over the years, but had never gotten around to trying it because pumpkin wasn't exactly our family's favorite flavor. Times have changed.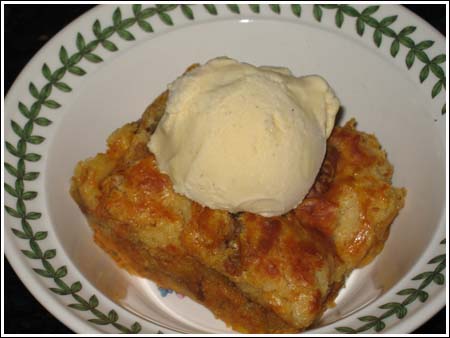 Based on the comments under yesterday's recipe, it seems everyone already knew about this dessert, yet most knew it by the name "Pumpkin Dump Cake". Some people, like Cindy, prefer a version called Pumpkin Cobber, which is similar, but free of cake mix.
At the last minute, I decided to make a half batch of the cake mix version, but in an 8 inch square (2 quart) glass dish. The results were delicious and I can see why this dessert could easily take the place of pumpkin pie. Here's the small batch version for people who don't need to feed a big group.
Small Batch Pumpkin Dump Cake
Author:
Prep time:
Cook time:
Total time:
Small Batch Pumpkin Dump Cake (or "Pumpkin Crunch Dessert"). This recipe uses a half box of cake mix. For a full batch, use the whole box of cake mix and bake in a 9×13 inch pan.
Ingredients
7 1/2 oz pumpkin (half a can – about a cup)
3/4 cup evaporated milk
1 large egg plus 2 tablespoons of a second egg (see note)
1/2 cup granulated sugar
1/8 tsp. salt
2 tsp. pumpkin pie spice
1/2 of an (18.25 oz) box yellow cake mix
6 tablespoons regular butter, melted
1/2 cup chopped pecans
Some ice cream (optional)
Instructions
Preheat oven to 350 degrees. Spray an 8 inch metal pan or 8 inch glass dish with cooking spray. If using a glass dish, preheat to 325 degrees F.
Combine pumpkin, evaporated milk, egg, sugar, salt and pumpkin pie spice in a medium bowl. Pour into pan.
Sprinkle cake mix evenly over top, then drizzle butter over cake mix. Sprinkle pecans over top.
Bake for 40 minutes or until golden brown.
Let cool. Cut into squares and serve with ice cream. This can also be served slightly chilled and a lot of people believe it is better the second day.
Makes enough for 5 or 6 people
Notes
ote: To halve an egg, crack the egg into a bowl, whisk it to break up the yolk, then measure out about 2 tablespoons.