I recently went through my files and realized I had at least four different versions of Pumpkin Dump Cake all going by different names. Pumpkin Dump Cake, though tasty, is really not an appealing name. So how about some Pumpkin Crunch Dessert to make your house smell like the holidays!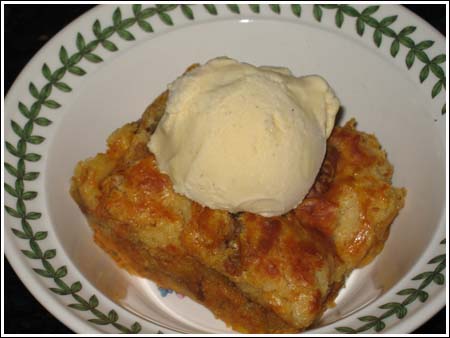 The Other Pumpkin Pie
Pumpkin Dump Cake aka Crunch Dessert aka Great Pumpkin Dessert is such a good alternative to pumpkin pie. If you've never had it, you should know that it's not truly a cake. It's more like a pie or thick custard with a cake mix topping baked on. Or some might consider it the pumpkin version of a cobbler. But don't expect it to be cake even though it's made with cake mix.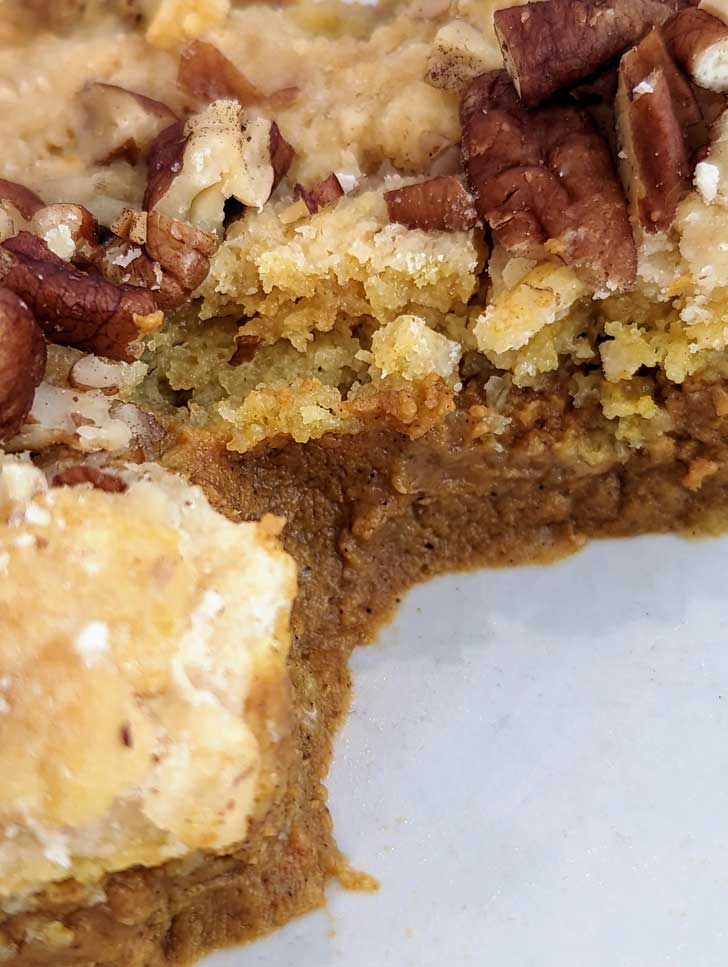 Dump Cakes and Cake Mix
And speaking of cake mix, old versions of the recipe call for an 18.25 oz of cake mix, but cake mix now comes in 15.25 oz boxes and that size works just fine. My change with this recipe is that I've increased the amount of pumpkin in the custard because I think it tastes better with 2 cans (30 oz) rather than 1 (15 oz) which is what some old versions call for. If you want a sweeter, denser filling with less pumpkin, just use 1 (15 oz ) can but keep all the other amounts the same (so 12 oz evaporated milk, 3 large eggs, 1 cup sugar, etc.).
Unbaked Cake Mix on Dump Cake
When assembling this "cake", be sure to pour the butter evenly over the cake mix. Exposed cake mix will just sit there and stay white. Here's an example, and this after I tried to cover it up with pecans. So if your butter flows to the side or you just feel like there's too much exposed dry cake mix, add a little more melted butter.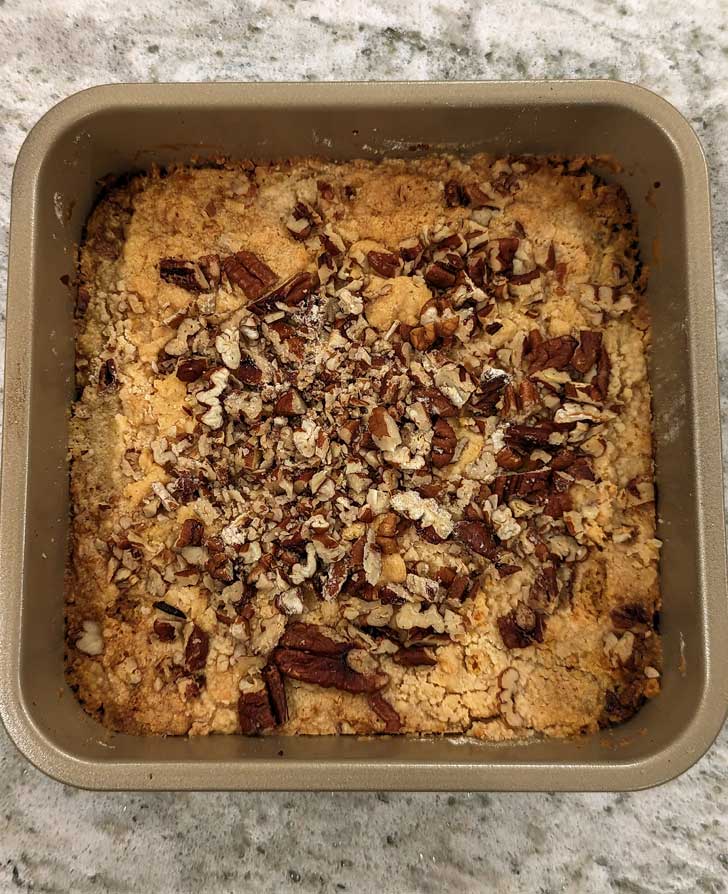 Another option is to just mix the cake mix with cooled melted butter. Freeze briefly so that it will crumble, then crumble over the filling. The topping will look different and you'll lose some crunch, but you won't have unbaked cake mix. I've also seen recipes where the butter is cut into very thin slices and laid evenly over the cake. I haven't tried it, but will update when I do.
Small Batch Pumpkin Dump Cake
This recipe is easy to scale down. If you are baking for two, you can make ⅓ of it in a loaf pan or small casserole. If baking for a small family, you can make half and use an 8-inch square dish. For the smaller batch versions, just check at 40 minutes. If you don't want to do the math for the half batch version, here are the measurements. I thew in directions as well. Bake time is just slightly shorter than for the full size, but that could vary from oven to oven and dish to dish.
15 oz can of pumpkin
¾ cup evaporated milk
1 large egg plus 2 tablespoons of a second egg (fork it around in a little cup and measure)
½ cup granulated sugar
⅛ tsp. salt
2 tsp. pumpkin pie spice
½ box 15.2 oz size yellow or spice cake mix (1 ⅔ cup or weigh out half the box)
6 tablespoons butter, melted, plus more if needed to evenly coat the crumbs.
½ cup chopped pecans
Preheat oven to 350 degrees F. Grease an 8-inch square pan or similar sized dish. Mix together the pumpkin, milk, evaporated milk eggs, sugar, salt and spice. Spread the pan. Sprinkle cake mix over the top, then evenly pour butter over cake mix. Sprinkle pecans over top and bake for about 45 to 50 minutes or until edges are brown.
Recipe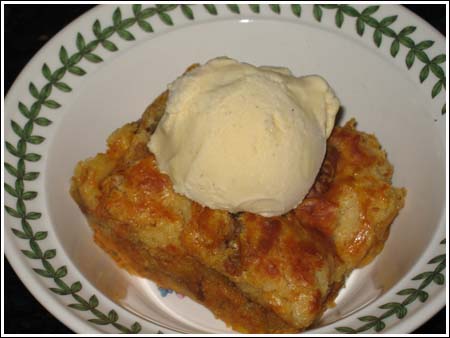 Pumpkin Crunch Dessert
Pumpkin Crunch Dessert AKA Pumpkin Dump Cake
Ingredients 
2

cans

pumpkin or about 30 oz total, so one large can

12

oz

can evaporated milk

3

large

eggs

1

cup

granulated sugar

or use ½ granulated and ½ brown

¼

teaspoon

salt

4

tsp.

pumpkin pie spice (or just use 1 teaspoon cinnamon

1

15.25 oz

box yellow cake mix

6

ounces

melted butter, salted (¾ cup) - Can use more if needed**

1

cup

chopped pecans
Instructions 
Preheat oven to 350 degrees. Spray 9x13 pan or glass dish with cooking spray.

Combine pumpkin, evaporated milk, eggs, sugar, salt and pumpkin pie spice in a large bowl. Pour into pan.

Sprinkle cake mix evenly over the top. Pour butter as evenly as you can over the cake mix, then sprinkle pecans all over the top. If you prefer you can mix the butter with the cake mix separately and then sprinkle it over. If it's too soft to crumble, throw it in the freezer for a few minutes.

Bake for 45-50 minutes or until golden brown. Let cool completely then cut into squares and serve with a scoop of ice cream.