I posted Pumpkin Dump Cake Pie a while back and I've gotta say -- I really love this recipe. I kind of regret not calling it Pumpkin Crunch Cake Pie, but on the other hand it is a form Dump Cake, it's just baked in a pie shell or pie dish. I first made it once when I had a half box of pumpkin cake mix left from Pumpkin Cake Mix Cookie Bark. The pumpkin flavored cake mix worked, but now I always make it with yellow cake mix. Or better yet, Duncan Hines Golden Butter! That gives it a really buttery flavor.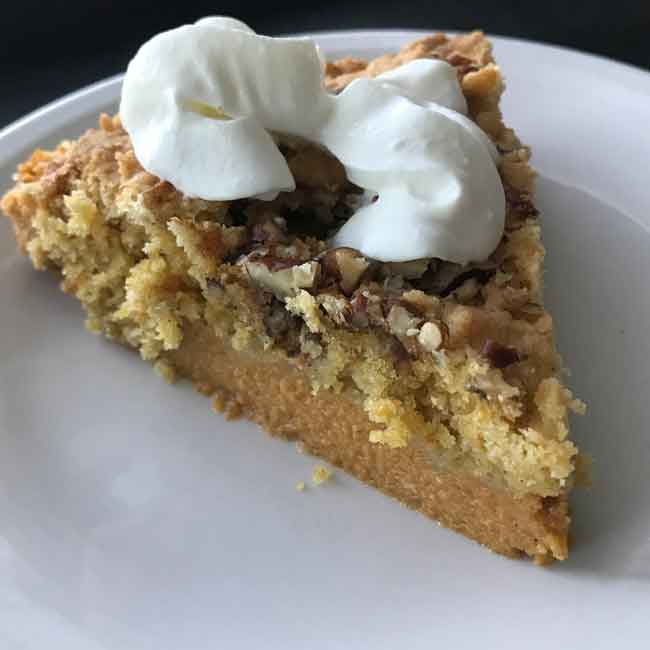 What is a Pumpkin Dump Cake?
If you've never had Dump Cake, the most important thing to know is it tastes way better than it sounds. It's a type of cake where you pour canned pie filling (usually pumpkin, cherry or apple) into a large cake pan. Next, you sprinkle the top with dry cake mix, drizzle with butter, add pecans and bake.  In theory you are supposed to just dump everything into the pan, but some people like to toss the cake mix with the melted butter. I tend to do this because I get obsessed with distributing the butter evenly. I don't think it really matters, as it all seems to come together in the end. The mess bakes into a delicious cake with a soft layer on the bottom and a crumb layer on top.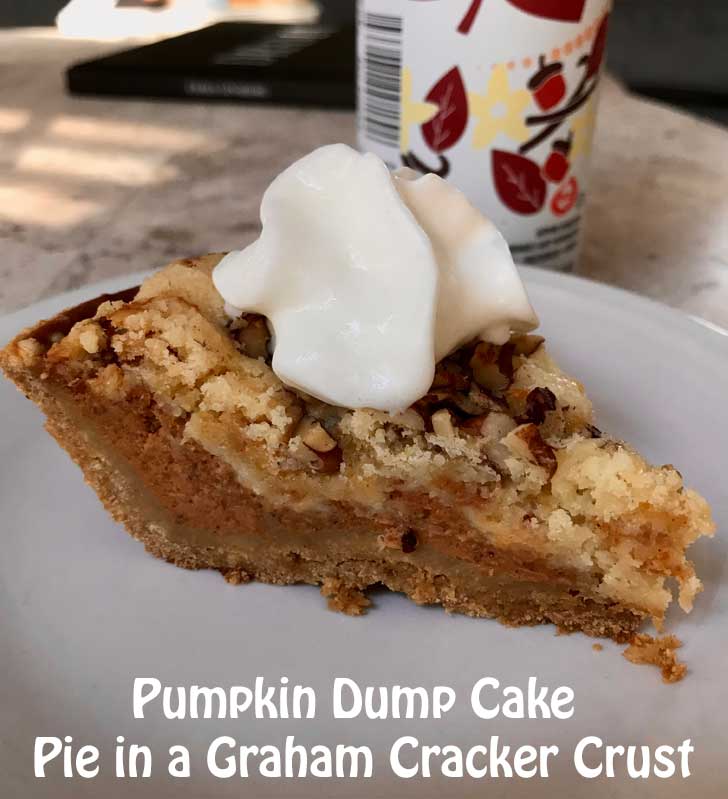 Pie Version Plus Maple Whipped Cream
So this version is just your usual Dump Cake, but you make it in two pie dishes. You can use an empty pie dish or one lined with pastry or graham crackers. I made the latest one in a store bought graham cracker crust from Aldi. They cost about 79 cents and are perfect for this recipe. And speaking of Aldi, if you can find their Friendly Farms Maple Non Dairy Cream, you are in business. It taste SO good on this pie. If that's not an option you could add a little maple extract to sweetened whipped cream.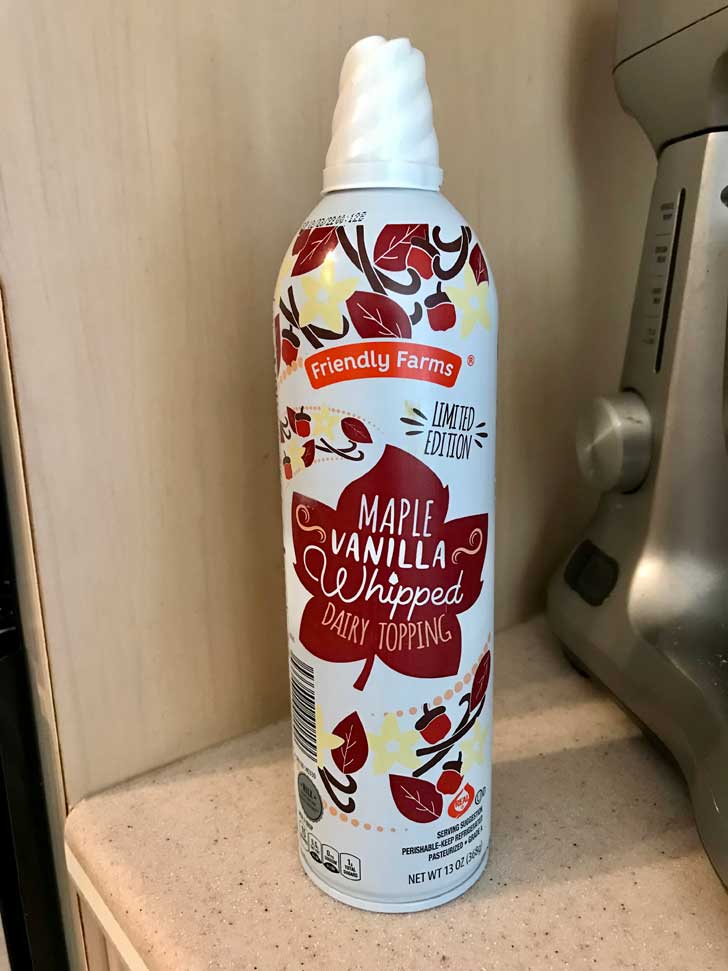 Two Pies in One!
Because most Dump Cake recipes call for a full box of cake mix, you actually get two pies out of this recipe. Alternatively, you can halve it like I did and just make one. If you halve it, you can use your half box of cake mix on something else like cake mix pumpkin cookies or a myriad of other things.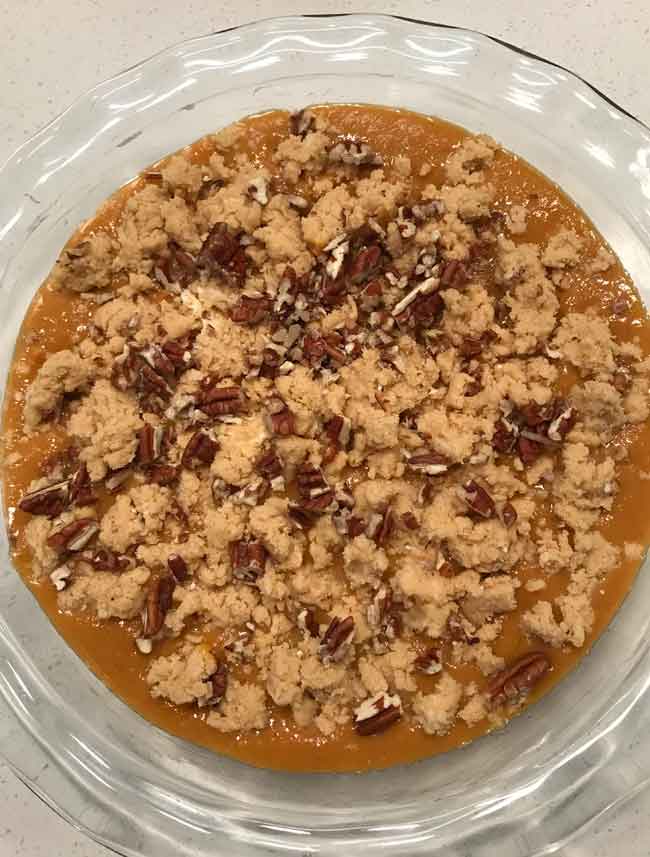 Here' what Pumpkin Dump Cake Pie looks like in a glass dish sans crust. Bring on the whipped cream!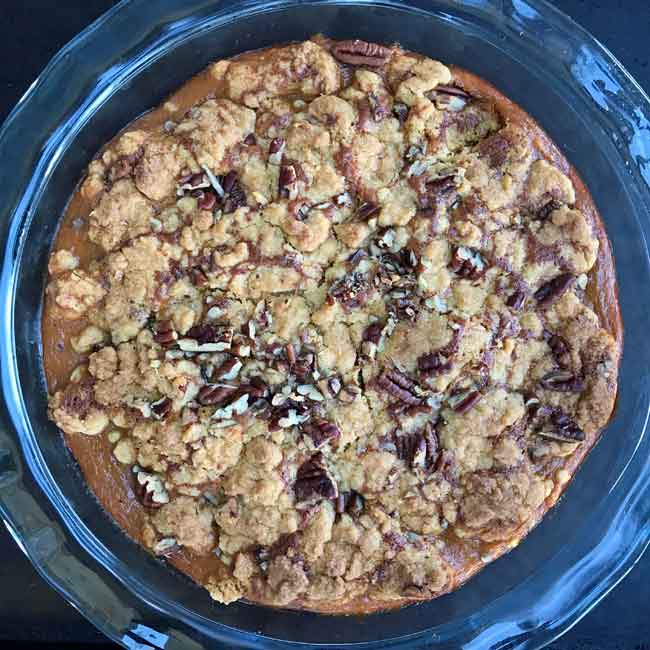 I have posted the full batch recipe rather than the half batch so you can make two pies and have one for yourself and another for a friend. If you don't want two pies you can (as mentioned) halve the recipe. To use half a box of cake mix, just weigh out half the gram amount listed on the box.
Recipe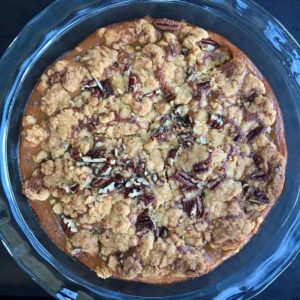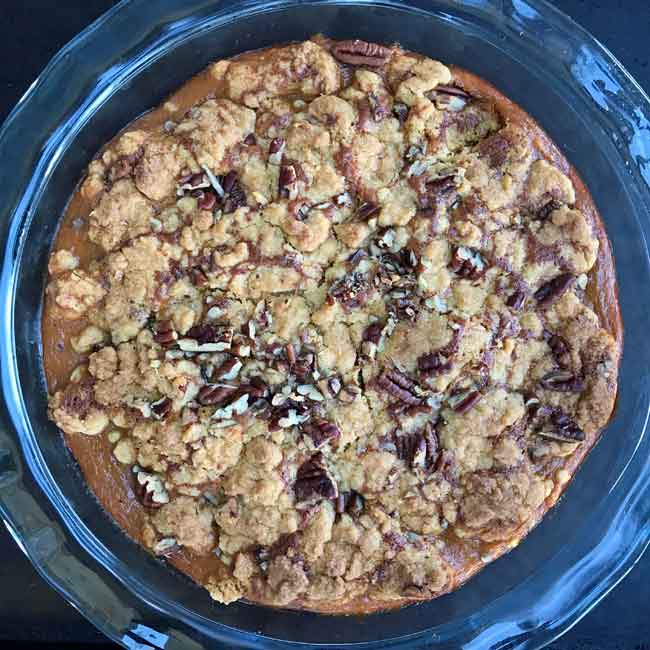 Pumpkin Dump Cake Pie
A classic cake mix based dump cake baked in a pie plate. I've added a few notes below which you might want to read before making.
Ingredients 
1

can

pumpkin (15 oz)

12

ounce

evaporated milk

3

large

eggs

1

cup

granulated sugar

or use ½ cup brown and ½ cup granulated

1 ½

tablespoons

pumpkin pie spice

1

box

yellow cake mix (15.25 oz)

Or you can use other flavors

1 ½

sticks

unsalted or salted butter, softened

(170 grams)

1

cup

chopped pecans (pie is good without them too!)
Instructions 
Preheat oven to 350 degrees. Grease two 9 inch pie plates generously with some butter. You can use cooking spray, but butter will give the crust even more flavor. if using a store bought crust, just set them on a rimmed baking sheet and get ready!

Whisk together pumpkin, evaporated milk, eggs, sugar, and pumpkin pie spice in a medium bowl. Pour into greased pie plates or graham shells distributing evenly.

Put the cake mix in a bowl and pour in melted butter, stirring until mixture is crumbly. Sprinkle evenly over the pumpkin mixture, then drizzle on the remaining butter. Alternatively, mix the cake mix with SOFTENED butter to make a very soft and crumbly dough. Sprinkle over top of the pumpkin mixture, then sprinkle pecans on top.

Bake for 50 minutes or until golden brown.

Let cool to room temperature and then chill until ready to serve. To serve, bring back to room temperature.

Slice and serve with whipped cream or ice cream.
Notes
If using a graham cracker crust such as the ones from Aldi (or possibly Keebler deep dish), you'll need two.  You might also have what seems like a lot of pie filling even for two pie dishes.  I was able to use it all, but I put the pie dishes on a rimmed baking dish to catch drips. 
Don't get too fixated on distributing the butter evenly through the cake crumb mixture.  It will all work out!   You can mix the cake mix with softened butter and sprinkle it on as clumps, in which case it will sink more, or you can mix melted butter into the cake mix, sprinkle it on, then pour over the remaining melted butter.
If you use the melted butter technique and don't mix it all with the cake mix, it will puff up more and look ridiculous when you pull it from the oven. It sinks and sets up nicely, so don't worries.